A Continent on Her Musical Map
<![CDATA[Angélique Kidjo Has Never Left Africa Behind By JON PARELES*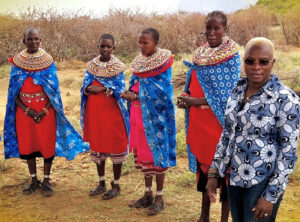 Angélique Kidjo, the songwriter and singer from Benin, was in Kenya being a do-gooder when the concept of her new album, "Eve," came to her, she said, "like a light bulb blowing up in your head."
Ms. Kidjo, who is a Unicef good will ambassador, was visiting small Kenyan villages, seven hours by car from Nairobi, along with the executive director of Unicef, Kenya's minister of health and a CNN crew to draw attention to the widespread malnutrition that can leave children stunted for life. In the village of Merti, where a pilot program was helping mothers and children, Ms. Kidjo was greeted by women harmonizing and dancing to a joyful traditional welcome song. Soon, Ms. Kidjo was singing along. Her husband and songwriting collaborator, Jean Hébrail, caught the moment on an iPhone camera, and the women's voices became the core of Ms. Kidjo's version of the song, "M'Baamba," the first song on "Eve" (429 Records).
In an interview at her apartment in Brooklyn, over slices of homemade salted caramel cake, Ms. Kidjo, 53, recalled thinking: "This is the album right here. It has to be about these women, how they prevail in hard surroundings and still smile."
Village traditions, cosmopolitan transformations, female solidarity, African pride and perpetual energy have been constants in Ms. Kidjo's recording career. She's an expatriate who has never left Africa behind; in a career of making transnational hybrids, she has kept African languages and an African sensibility at the core of her music.
She has worked with musicians and producers from Europe, Africa and across the Americas, and the inevitable cultural blends have been a major factor in building Ms. Kidjo's worldwide audience. "Ninety-five percent of the audience doesn't understand her lyrics," Mr. Hébrail said. "So we have to find a way to make it interesting sonically and musically for people who don't understand."
Yet her words, her sense of melody, and the primal cry in her voice always announce her music as African above all. "When I succeed, and a song comes," Ms. Kidjo said, "there is this sense of relief and of pride, because you succeed without adulterating the truth of it. I don't want it to be diluted. I just want it to be there the way it is. The modern music can have the life of the traditional music, because they have the same bedrock history."
Along with the "Eve" album, Ms. Kidjo has just released her autobiography, "Spirit Rising: My Life, My Music" (HarperCollins), which traces the story of the determined woman with the potent voice who emerged from the small town of Ouidah, on the coast of Benin in West Africa, where her family's ancestral home still stands. From there, she went on to reach an international audience, win a Grammy Award and stand alongside world leaders as a voice of Africa.
In conversation, Ms. Kidjo is as animated as she is onstage. She has a rich and frequent laugh that's often at herself — particularly her stubbornness, her bluntness and her general lack of what she calls "a filter." She's voluble and open, ready to talk about her family history, or recipes with cassava flour, or the practicalities of making education available to African girls through her Batonga Foundation — shoes help them walk farther to school — or the sleepless nights she has had since visiting a refugee camp in Chad for survivors of brutality in Darfur. "Behind the cry, the pain of those women, they were still resilient," she said. "It doesn't matter what the circumstances are. They are always thinking about moving forward."
Ms. Kidjo has not lived in Benin since she slipped out in 1983 and settled in Paris. She was leaving behind a Communist dictatorship that wanted songwriters to praise the revolution continually, but she was also setting aside her growing stardom in West Africa and losing contact — for six years, until democracy came to Benin — with a family that had been uncommonly supportive of her ambitions.
Yet she still writes most often in the West African languages she grew up speaking, Fon (her father's heritage) and Yoruba (her mother's). She also speaks two more of Benin's local languages, Mina and Goun, along with French, English, the German she studied in school and the Portuguese and Italian she is learning now.
"It's the song that brings the language," she said. "Fon is the hardest language in which I write music. But if the song came in Fon, I have to stick to it."
Ms. Kidjo does not read music. Like a traditional musician, she has an extraordinary memory, singing everything by ear — including, this month, the premiere of "Ife," an orchestral piece with her lyrics (from Yoruba creation legends) set to complex, meter-shifting music by Philip Glass.
When she attended the CIM jazz school in Paris in the 1980s, she would memorize the music she was pretending to read. Once her instructor realized what she was doing, he exempted her from studying notation, saying that she had the kind of memory he would kill for.
Her approach to songwriting also follows African tradition: She sings as the conscience of a community. She still abides, she says, by advice that her family gave her. One of the first songs she wrote, as a teenager, was an angry denunciation of apartheid in South Africa; her father insisted that she rewrite it without the hate and anger, telling her: "An artist's role is not to ignite violence. You ignite peace."
Another lesson came from her uncle after she attended a traditional funeral ceremony and was surprised to see people dancing to songs with grim lyrics. "People are dancing but they're listening," her uncle told her, she said. "The message is sinking in. It's not up to us to make people feel guilty, to patronize them, or to give them any lesson. It's up to us to put it out there bare naked. What each one does with it is their choice. That's how you do music. That's what you're there for. You be the facilitator, the one that triggers things to change, but you're not God. You're not telling them what they have to do."
She said, "So every little song that I've written throughout the years to tell a story is always like that, to put it out there as it is."
The songs on "Eve" celebrate women's strength and potential in African contexts. "Bomba" is about the pride women take in traditional African dresses. "Kulumbu" suggests that since women suffer during wartime, they should have a say in negotiating the peace. A pair of songs addresses the practice of forced marriage: "Cauri," the lament of a young girl whose parents have chosen a husband for her, and "Hello," about the happiness of a love match.
During the 1990s, Ms. Kidjo recorded her albums using typical pop methods: layering parts together. But a decade ago, she decided, "Enough of this nonsense," she said. "I want everybody in the same studio. I want the feeling of us sharing. The song is written like that, it can go somewhere else. Let's give life to those things. If it goes to another route we follow it, because it's the right one, because we're all taking the same road. We cannot all be wrong."
Her core band includes the guitarists Lionel Loueke, who is from Benin, and Dominic James, who has worked with her since 2002. In a telephone interview, Mr. James said that six of the songs on "Eve" were recorded in a daylong session, complete with vocals. "She's just a powerhouse," he said.
Various songs on "Eve" feature the New Orleans pianist Dr. John, the guitarist Rostam Batmanglij from Vampire Weekend, the Kronos Quartet and the Luxembourg Philharmonic. But they also feature Ms. Kidjo's mother, Yvonne (nicknamed Eve), who just turned 87, all sorts of Beninese percussion played by members of the Gangbe Brass Band, and nine local choirs of women that Ms. Kidjo recorded across Benin. Once she finished her version of the Kenyan song, Ms. Kidjo said, she decided: "Now I've put East Africa in there. I need to go back to Benin."
Ms. Kidjo and Mr. Hébrail had traveled around Benin recording traditional musicians for her 1996 album, "Fifa." When she made "Eve," she reunited with some of them — this time, bringing her own songs for them to perform with her. The traditional women's choirs were initially surprised at the idea of singing along with a loudspeaker, and sometimes skeptical of what Ms. Kidjo wanted them to learn. She recalled reactions like: "You think we're going to sing that? It's too complicated." She continued: "Then I start singing with them. Then at one point, I turn the music off, and we start singing, and then I'll remove myself and that's it. And then there was no way to stop them."
Even as they are mixed into the album's polished productions, the Beninese women's tracks still hold the sharp metallic sounds of local percussion instruments and, now and then, the chatter of background conversation. They are live keepsakes from present-day Africa, the voices of the kinds of women Ms. Kidjo wants to reach most.
"I just want them raw," Ms. Kidjo said, beaming.
Angélique Kidjo is to perform a World Music Institute concert on Feb. 15 at Town Hall, 123 West 43rd Street, Manhattan.
* Source New York Times 
]]>