South Sudan says arrests 10, hunts ex-VP over 'foiled coup'
By Andrew Green*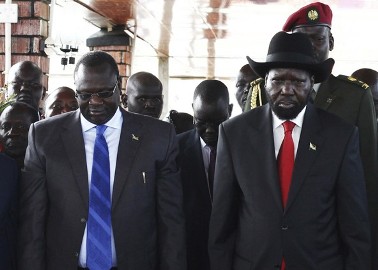 JUBA (Reuters) – South Sudan said on Tuesday it had arrested 10 senior political figures and was hunting for its ex-vice president, accusing him of leading a "foiled coup" in the oil-producing nation's capital, where gunfire rang out for a second day.
The prominence of the names – including former finance minister Kosti Manibe among the detained – underlined the size of the rift in Africa's newest state, less than 2-1/2 years after it seceded from Sudan.
The United States urged its citizens to leave the country immediately, saying it was suspending normal operations at its embassy.
Rival groups of soldiers started fighting in Juba Sunday night into Monday morning and gunfire and blasts continued sporadically up to Tuesday evening, leaving at least 26 people dead, a health ministry official told Reuters.
President Salva Kiir appeared on television on Monday in military fatigues saying forces loyal to former vice president Riek Machar, whom he sacked in July, had attacked an army base in a bid to seize power.
South Sudan remains one of the poorest and least developed countries in Africa for all its oil reserves, and is plagued by ethnic fighting, fuelled by weapons left after decades of war with Sudan to the north.
The rift at the heart of its political elite will dismay oil companies who had been counting on a period of relative stability after South Sudan's independence to step up exploration. France's Total and a group of largely Asian groups, among them China's CNPC, all have interests there.
It will also be closely watched by South Sudan's neighbours, who include some of the continent's most promising economies, including Ethiopia and Kenya. Past conflicts have sent thousands of refugees over South Sudan's borders.
THOUSANDS TAKE SHELTER
Kiir and Machar are from different ethnic groups which have clashed in the past. Machar leads a dissident faction inside the ruling Sudan People's Liberation Movement (SPLM) and was planning to run for the presidency.
Fighting erupted outside his compound in Juba on Tuesday, but his whereabouts were unknown, foreign affairs spokesman Mawien Makol Arik told Reuters. Machar has so far not released a statement.
The government on Tuesday accused him of being the "coup leader" and listed four other wanted men, including Pagan Amum, the SPLM's former Secretary General and the country's main negotiator in a prolonged oil dispute with Sudan.
"Those who are still at large will be apprehended," Information Minister Michael Makuei said in a statement on a government website. He added he believed they had fled to an area north of the capital.
The 10 officials had been arrested "in connection with the foiled coup attempt," the statement added.
Around 16,000 people had taken refuge in U.N. compounds in Juba by noon on Tuesday and the numbers were rising, the United Nations.
Streets were empty at the start of a dawn-to dusk curfew, ordered by the president. Mobile phone signals were down for a second day.
"Food and water an issue for the population as they don't have fridges or city power so they buy food almost daily," said one aid worker in Juba, who asked not to be identified. "They haven't stocked up and are getting worried."
U.N. Secretary-General Ban Ki-moon spoke to Kiir on Tuesday and called for his government to provide an "offer of dialogue to its opponents and to resolve their respective differences peacefully".
The president, who comes from South Sudan's dominant Dinka ethnic group, sacked Machar, a Nuer, after mounting public frustration at the government's failure to deliver tangible improvements in public services and other basic demands.
The government played down suggestions the conflict had an ethnic element, saying Kiir had met Nuer leaders to dispel the "misleading information" they were being targeted.
Tensions have been building in the army, broadly along ethnic lines, independently of the Kiir-Machar rivalry, said analysts.
"The personalities involved are clearly important, but we think this is more fundamentally about the SPLA rather than necessarily being completely controlled by the SPLM political figures," said Cedric Barnes, Crisis Group project director for the Horn of Africa, based in Nairobi.
South Sudan is the size of France but has barely any tarmac roads. The government's critics complain it suffers the same ills as old Sudan – corruption, poor public services and repression by the state of opponents and the media.
*Source Reuters