South Sudan Offers Olive Branch To Rebels, Releases Prisoners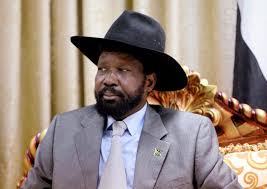 South Sudan said on Friday it was ready for a ceasefire and would release eight of 11 senior politicians arrested over an alleged coup plot, raising hopes it was edging towards a deal to end ethnic-based fighting ravaging the world's newest nation.
JUBA, (Reuters) – There was no immediate reaction from Riek Machar, the former vice president who the government accuses of starting the conflict that has spread quickly over the landlocked state, threatening its vital oil industry.
"We have agreed in principle to a ceasefire to begin immediately, but our forces are prepared to defend themselves if attacked," the government said on its Twitter feed.
Fighting between rival groups of soldiers erupted in the capital Juba on December 15, then triggered clashes in half of South Sudan's 10 states – often along ethnic lines.
The U.N. Security Council approved plans on Tuesday to almost double the number of U.N. peacekeepers in South Sudan to 12,500 troops and 1,323 police in a bid to protect some 63,000 civilians sheltering at its bases.
The additional peacekeepers are being drawn from other nearby missions and the first reinforcements arrived in Juba on Friday: 72 Bangladeshi police officers from the U.N. peacekeeping operation in neighbouring Democratic Republic of Congo.
Washington, other Western powers and regional governments, fearful of a civil war in a fragile region with notoriously porous borders, have tried to mediate.
The release of eight of the 11 people detained in the aftermath of the fighting suggests South Sudan's government may have softened its stance over who is to blame.
"It's my expectation … that once released, they (the eight) will participate in a constructive manner in the efforts to bring about peace … and resolve the political issues that sparked this conflict," U.S. Special Envoy to South Sudan Donald Booth said on Friday evening.
However, it may not be enough to satisfy Machar, who demanded all the 11 released as a condition for negotiations.
Presidential spokesman Ateny Wek Ateny told Reuters the authorities would continue to hold three of the most prominent figures – ex-Finance Minister Kosti Manibe, ex-Cabinet Affairs Minister Deng Alor, and the former Secretary General of the ruling Sudan People's Liberation Movement (SPLM), Pagan Amum.
Two of the eight were already free, Ateny said.
WINDOW OF OPPORTUNITY
President Kiir's hand was strengthened earlier in the day when South Sudan's neighbours threw their weight behind him, saying they would not accept any bid to oust him.
Addressing a special summit of the Inter Governmental Authority on Development (IGAD), an east African regional body, Kenyan President Uhuru Kenyatta urged Kiir and Machar to seize "the small window of opportunity" and start peace talks.
"Let it be known that we in IGAD will not accept the unconstitutional overthrow of a duly and democratically elected government in South Sudan. Violence has never provided optimum solutions," Kenyatta said in a statement.
The army also said it had regained control of Malakal, capital of Upper Nile state, a territory which currently supplies all of South Sudan's crude after fighting shut down oilfields in other areas.
"(Government forces) are 100 percent in control of Malakal town and are pursuing the forces of the coup," army spokesman Philip Aguer said by phone in South Sudan's capital Juba. There was no independent confirmation of the report.
Kiir sacked Machar as vice president in July and accused him of trying to start a coup when the fighting between rival groups of soldiers started in Juba.
Machar denied the charge, though he acknowledged he was leading soldiers fighting the government in the days that followed.
The IGAD leaders said peace talks should start by December 31 and called for a creation of an "aid corridor" to help badly-needed supplies reach remote areas.
The United Nations said about 121,600 people have been displaced during the 13 days of fighting. Well over 1,000 people have already been killed, according to the head of the U.N. mission in Sudan.
Kenyatta said South Sudan and regional governments had to move quickly to resolve what he called a political problem within the ruling SPLM party which had degenerated into a violent confrontation.
"The present crisis, if not contained, will produce millions of internally displaced persons and refugees and set back this region immeasurably," Kenyatta told the regional leaders.
South Sudan seceded from Sudan in 2011 under a peace agreement to end decades of war with the Khartoum government in the north. That conflict also saw fighting between southern factions, including one splinter group led by Machar.
*Source Gurtong