South Sudan crisis: East Africa leaders to hold emergency talks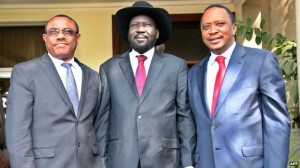 East Africa's leaders are to meet in Kenya to discuss growing violence in South Sudan, where more than 1,000 people are believed to have died.
The talks come a day after South Sudan's President Salva Kiir met the prime ministers of Kenya and Ethiopia.
Meanwhile, the UN said the first peacekeeping reinforcements were expected to arrive in 48 hours.
Violence erupted 12 days ago between forces loyal to Mr Kiir and those backing his ex-deputy Riek Machar.
More than 50,000 civilians have sought refuge at UN compounds in South Sudan.
'Give peace chance'
East African regional leaders from the eight-member bloc, known as Igad, will meet in Kenya's capital Nairobi to follow up on issues raised during Thursday's talks with President Kiir in South Sudan's capital Juba
The talks were described by Ethiopia as "very constructive and very candid".
However, South Sudan Information Minister Makuei Lueth told the Associated Press news agency that no contact with Mr Machar had yet been established.
The head of the UN mission in South Sudan, Hilde Johnson, earlier urgently called on the country's political leaders "to give peace a chance".
"The nation that [was] painstakingly built over decades of conflict and strife is at stake," she said, speaking via a video link from Juba.
Ms Johnson said "well over 1,000" people had been killed since the start of the violence on 15 December and the casualty figures were likely to rise.
She said she expected some UN military reinforcements and critically needed equipment within 48 hours.
This came after the UN Security Council voted to almost double the number of peacekeepers to 12,500 in the world's newest state.
'Oil wells seized'
Ms Johnson said there had been heavy fighting in Malakal and Bor, while the town of Bentiu had become calmer.
The Bishop of Malakal, Hilary Garang, said the situation in the main town in Upper Nile state was one of lawlessness.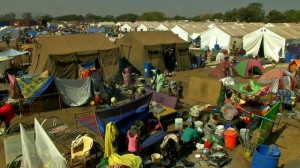 "There is no government functioning, there is no light, there is no water and people are fleeing, are going away. The town is divided in two," he told the BBC's Newshour programme.
"The two sides are taking positions and fighting can erupt any time they choose.
The fighting is also affecting oil production, which accounts for 98% of government revenue.
"Some oil wells are in the hands of rebel soldiers loyal to… Machar and we fear they may cause damage to the facilities and the environment," Petroleum Minister Stephen Dhieu Dau told Reuters news agency.
He said the Thar Jath oil field in Unity state had been captured by the rebels.
'Political conflict'
Ms Johnson said there had been internal tension within the governing Sudan People's Liberation Movement (SPLM) before the outbreak of violence.
But, she said, no-one had expected "the unravelling of [South Sudan's] stability so quickly".
She insisted that while the rival leaders came from different ethnic groups – Mr Kiir is a Dinka and Mr Machar is from the Nuer tribe – the conflict was political.
The violence first erupted after a meeting of the SPLM's high council, when President Kiir accused the former vice-president, who had been sacked in July, of plotting a coup.
Mr Machar denied any involvement and said the accusations were an attempt by Mr Kiir to get rid of his political rivals.
The fighting quickly spread to half of Sudan's 10 states.
South Sudan has struggled to achieve a stable government since becoming independent from Sudan in 2011.
*Source BBC