RwandAir looks to widen West African market share
RwandAir will in February receive a 67-seater Q-400 aircraft of this model. Officials say the new acquisition will boost the national carrier. Net photo.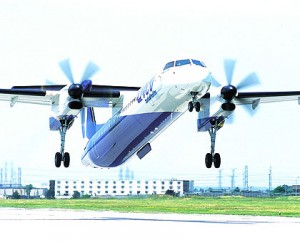 RwandAir is set to receive its new Q-400 NextGen aircraft end of February next year, in what official say would help the national carrier consolidate its west African route once.
The brand new 67-seater dual-class Q-400 NextGen aircraft will ensure RwandAir is well-positioned to offer increased capacity on existing popular routes and new, upcoming ones, according to company officials.
RwandAir chief executive John Mirenge in a statement yesterday, said the arrival of Bombardier Q-400 NextGen will put the company in position to surpass the impressive set targets with ease.
"The introduction of the increased number of seats as well as the business class option meets the demands of our domestic market. It also allows RwandAir to embrace its long term expansion goal while staying on target to grow our fleet to 17 by 2020," he said.
There is growing demand for domestic and regional travel in Africa.
The new aircraft will be delivered just in time for the unveiling of Douala, Cameroon as RwandAir's 16th destination, added the statement.
The aircraft was manufactured by Bombardier Aerospace, a Canadian company with headquarters in Quebec.
The national flag carrier will reportedly become the 12th operator of the Q-400 NextGen aircraft in Africa.
The cabin configuration and design of this brand new Q-400 NextGen is similar to the CRJ-900 NextGen aircraft already amongst WB fleet.
Operations
This new acquisition is hoped to complement, on domestic routes, what the CRJ-900 NextGen achieves on regional destinations.
The Bombardier Q-400 NextGen can operate on Brazzaville, Libreville, Entebbe, Nairobi, Kilimanjaro, Bujumbura, Dar es Salaam, Mombasa and Kamembe the only domestic route, according to the statement.
RwandAir's fleet now consists of four Boeing 737 series aircraft and one Bombardier Dash-200 series.
Two brand new Bombardier CRJ-900 NextGen regional jets arrived in November 2012, and the next acquisition is expected to introduce business class to domestic routes in February.
RwandAir serves one domestic destination, many regional cities such as Nairobi, Entebbe, Mombasa, Bujumbura, Dar es Salaam, and Kilimanjaro. The airline also serves Johannesburg, Dubai, Lagos, Accra, Libreville and Brazzaville. Juba in South Sudan, Douala in Cameroon, and Abidjan in Ivory Coast are also planned for 2014.
The airline is credited for its economic contribution towards the development, especially on trade promotion, tourism and aviation industry.
The government is trying to uplift the face of Kigali International airport and will build a new airport in Bugesera District, which is expected to be ready by 2017 to boost the country's aviation industry.
*Source New Times