President Mandela's name is cast on the echelons of history
-Uhuru Kenyatta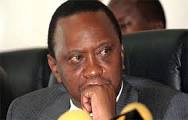 It is with profound sorrow that I have learnt of the passing away of 'Shujaa' Nelson Rolihlahla Mandela, former President of the Republic of South Africa and an outstanding African statesman and icon.
On behalf of the Government and people of the Republic of Kenya and on my own behalf, I wish to express our deepest condolences to the family and friends of the late Mandela and to the people of the Republic of South Africa.
I have dispatched messages of my heartfelt sympathy to His Excellency President Jacob Zuma, and to Mama Graca Machel. We share the pain of this irreplaceable loss and mourn with our South African brothers and sisters. Our prayers are with them at this moment of national grief.
President Nelson Mandela was an exceptional transformational leader who was gifted with unique, admirable abilities and strong values. He believed in the noble principles of equity, justice, cohesiveness and inclusiveness in governance. He had faith and confidence in the ability of his people to realize the dream of a free, united and prosperous South Africa.
Mandela lived and worked for a world in which people should live together in peace and tranquility regardless of colour, race or religion. His strong belief in Africa and its people epitomized the best of the Pan-Africanism spirit. His courage to confront apartheid transcended across the world and propelled the fight against colonialism and discrimination. As a free man, President Mandela led the fight to free Africa not only from political bondage but equally important from the scourge of disease, poverty, poor governance and illiteracy — ills of modern life.
President Nelson Mandela embodied the power of hope; and believed in the power of forgiveness. He bequeathed us the understanding that we can and should unconditionally forgive those who wrong us. He was a firm believer that reconciliation is an imperative and is possible.
His life story teaches the great lesson of the power of will in turning adversity to victory. In his humility President Mandela did what was right, made tremendous sacrifices and did not seek any form of personal praise. In short, President Mandela's name is cast on the echelons of history. His image and standing among all men will forever stand tall. Madiba's story defined and reflected the history and struggles of our continent. In President Mandela, we learn never to backtrack in our journey to chart our destiny. We have the responsibility of living by the ideals that he stood for.
Only the truly exceptional people leave their mark in the world and Nelson Rolihlahla Mandela was one of those. Madiba was a child and traditional chief of the Transkei and a leader in this world.
We will miss this most cherished of Africa's sons, a true African "shujaa".
President Nelson Mandela lived an extraordinary life in an ordinary way. His legacy encrypts the story of humanity, now and tomorrow.
South Africa, Africa and the whole world is a witness of Madiba's goodwill.
Fare thee well, Tata Madiba!