Mali ex-president Amadou Toure in high treason probe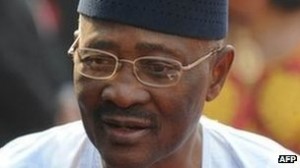 Mali has announced plans to investigate former President Amadou Toumani Toure for high treason.
The office of Prime Minister Oumar Tatam Ly said in a televised statement it had presented the case to Mali's highest court.
The government accuses Mr Toure of failing in his duty as commander of the armed forces when Islamist militants attacked the country's north last year.
Mr Toure was ousted in a military coup in April 2012 and fled to Senegal.
The coup plunged Mali into chaos, allowing an alliance of ethnic Tuareg separatists and Islamists to take over the whole northern desert region.
Earlier this year, the al-Qaeda-linked insurgents were ousted from the major towns with the help of France and West African troops.
'Questionable patriotism'
On Friday, government spokesman Mahamane Baby said Mr Toure would be investigated for "his participation in an exercise to demoralise the army by naming incompetent officers and soldiers, whose patriotism was questionable, to high-level posts".
Mr Toure formally resigned in April last year, as part of a deal for the soldiers to hand back power.
He is thought to be residing in Senegal's capital, Dakar.
Mr Toure first seized power in 1991 from long-time military ruler Moussa Traore.
He then organised multi-party elections and stood down before returning to power after winning polls in 2002.
The coup, which was partly triggered by anger at government corruption and failure to equip the armed forces, took place weeks before Mr Toure was due to step down.
His toppling caused a rift between pro-junta soldiers, known as green berets, and those loyal to the former president, known as red berets.
Last month, the coup leader, Gen Amadou Sanogo, was charged with murder and a series of other crimes.
Analysts said his arrest was seen as a sign that the recently elected civilian government was showing its teeth to the military.
*Source BBC