Africa's richest man Dangote plans $16bn investment push
By UCHE OKORONKWO, EMELE ONU*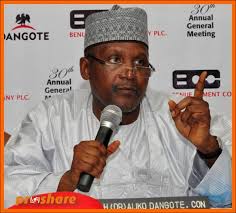 Dangote Group, the Nigerian company controlled by Africa's richest man Aliko Dangote, plans to invest about $16-billion in cement, petrochemicals and agriculture over the next four years to boost expansion.
"We are investing $4.7-billion to finish our projects in cement in about 18 countries, including Nigeria," Dangote, the company's president, said in an interview. "We are also spending about $2.3-billion on agriculture, which is sugar and rice."
The investment will help the Lagos-based company grow by almost a third in 2014, said Dangote, who is worth $22.1-billion according to the Bloomberg Billionaires Index, making him the world's 34th richest man. "We are very, very optimistic for 2014 – we are expecting average growth of 30 percent groupwide," he said.
Doubling output
Dangote Cement, Africa's biggest producer of the building material, said in April it plans to double annual total cement output to 55-million metric tonnes by 2015, boosted by new production in Cameroon, Zambia and South Africa.
Dangote Sugar, which plans to start exports to Liberia, Senegal and Mauritania next year, aims to almost double refining capacity to 2.75-million tonnes by 2017 and increase sugar crop production, chief executive Abdullahi Sule said in August.
"We are going to do a backward integration for rice "by growing the crop as well as distributing it," Dangote said. "We think Nigeria can be self sufficient in rice in the next three to four years."
Dangote plans to invest in a natural gas power plant to help provide electricity to Africa's most populous nation, where a supply of 4 000 megawatts of electricity is less than half of demand. Nigeria, Africa's biggest producer of crude oil, relies on motor fuel imports to meet more than 70% of its needs.
"The only new investment we are looking at is upstream – to look for gas to secure our future businesses," Dangote said. "We want to step in and make gas available, and this will translate into more stable power in the country."
Source Mail& Guardian South Africa