Video on demand poised to change how Africa watches
By Sean Robson*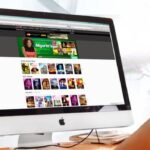 On taxis, buses and trains across Africa, people are plugging in and tuning out as they catch up with the latest episode of the XYZ Show from Kenya or reminisce with a movie from their childhood in Zimbabwe.
Thanks to the reach of video on demand (VoD), Africans can finally access content of their choosing from across the continent.
The Kenyan Buni TV, launched in April last year, has grown to reach more than 500,000 viewers. The Nairobi-based company, headed by media veteran Marie Lora-Mungai, has committed its efforts to grabbing a piece of a potentially massive market.
Attractive arena
"Across the continent, there is a very strong demand for content that has so far not been satisfied and this has traditionally been one of the drivers behind piracy," says Ms Lora-Mungai.
"Pay TV is only reaching about 10 million people out of Africa's one billion, whereas Africans are connecting to the internet en masse, mostly through their mobile phones."
She points to World Bank estimates of an African middle class of 350 million people and how, as discretionary income continues to rise, access to improved internet connections and video watching devices will increase. These factors make VoD an increasingly attractive arena.
'Freemium' model
Nollywood, as Nigeria's film industry is known, is second only to Bollywood in terms of movie output. It makes an estimated 2,000 movies each year, according to a McKinsey report carried out in 2011 for IrokoTV, a VoD site.
IrokoTV has already secured 5,000 of these films in its extensive catalogue and has quickly set the tone for the nascent African industry.
According to its chief operating officer Bastian Gotter, IrokoTV has signed 20,000 subscribers to its premium content package, which retails at $5 (£3) a month.
"We run a freemium business model, which means the vast majority, around 95% of the movies, are free, but we also have a subscription service called IrokoTV Plus. Our users get first access to all the brand-new movies we upload, roughly three a week," says Mr Gotter.
VoD in Africa faces unique challenges, not least limited bandwidth and lack of internet access. These obstacles have forced the market to adapt their models and in many cases look outside the continent to build their brands.
Mobile is the key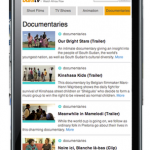 "Fixed-line internet is slow going around the continent so the answer is to go mobile," says Simbarashe Mabashe, chief executive of Wabona, a Cape Town-based start-up focused on South Africa, Zimbabwe and Tanzania.
"Mobile is the VoD infrastructure of choice and I think whoever cracks that wins the game."
Wabona, meaning "you see" in the Sotho language, is looking to exploit social media to distribute its content and has begun to do that using an application called Cinemo. The app is a mobile video distribution service and will distribute Wabona's content on MXit and Google Android, respectively.
Mxit, a free instant messaging service with an estimated 50 million users across Africa, does not require a smartphone, which makes it instantly attractive to the average consumer.
"Cinemo with Wabona content can reach markets and audiences not many VoD services can today. People don't necessarily need smartphones or fixed-line internet," Mr Mabashe says.
Diaspora audience
Bastian Gotter and his IrokoTV team have also had to adjust to the specific intricacies of working in Africa and are now catering for a feature phone market that is some 60% of the continent.
They have done so by building a mobile site that allows users to download short clips and catch up on Nollywood's latest gossip.
Hard data on how big the opportunities for video on demand in Africa really are remains hard to come by, but what has become clear is the importance of the continent's diaspora.
"IrokoTV would not exist without its diaspora audience. Over 50% of the audience comes from the US and UK alone. More people watch www.irokotv.com in London than the whole of Nigeria," says Mr Gotter.
Freedom of expression
While financial success is plainly important, the likes of Wabona, Buni TV and IrokoTV have made their commitment to the African film industry clear as they regard VoD as an opportunity to fight piracy, improve the film industry and support independent cinema.
Buni TV recently took the opportunity to offer the controversial Cameroonian film The President free on its website. The movie, banned in Cameroon for its reference to the sitting President Paul Biya and his 30 years in power, is part of the media company's continuing support of freedom of expression.
Ms Lora-Mungai says: "We believe it's the responsibility of artists, writers and film-makers to comment on their times, and that includes tackling political issues, or issues that can make various people uncomfortable. Unfortunately in some countries these voices are still stifled."
As the mobile market in Africa continues to grow and fixed-line internet access improves there is little doubt that video on demand will be one of the continent's most exciting business opportunities.
*Source BBC