US-based Rwandans start online airtime top–up firm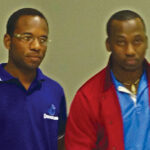 Enterprising Rwandans in the Diaspora have started a mobile phone top up service, IStayConnected LLC, that will operate in over 100 countries, with Rwanda as the main target.
The company started by US-based Rwandans in their early twenties, will serve the rest of the world through easing transfer of airtime and recharging mobile phones.
"This will allow Rwandans in the diaspora to top up their loved ones' mobile phones online. It is easy to use. You just go on our website, www. Istayconnected.net, follow simple instructions and airtime is sent to your loved one in a matter of seconds," pointed out Diogene Ishimwe, the chief technology officer at IStayConnected LLC.
Rwandans abroad have had many options of transferring money and other things to their loved ones, but they never had a chance to transfer small amount of money, like airtime in a direct way, he added. "The service is convenient and will help Rwandans stay in touch with their country no matter where they are," noted Alex Rugema, the IStayConnected chief executive officer.
He added that the firm offers cheap and easy services to other members of the Diaspora and works with 250 mobile operators around the globe. One can top up from your computer or any device you use that has access to the Internet.
The new company is expected to increase the flow of money from abroad, thus boosting the economy of Rwanda. "Rwandans abroad usually do not send small amounts of money home, but we have made this possible through the airtime top up facility. Imagine if 40,000 Rwandans living in Belgium today would send just Rwf500 to their friends and family back home only once in a year? That is an extra Rwf20m to the country's Gross Domestic Product," Jean Leon Iragena, the chief financial officer notes.
IStayConnected also helps people to top up their respective phones in their countries of residence.
*Source New Times Rwanda