Race remains a measure for disadvantage, says DA's Mazibuko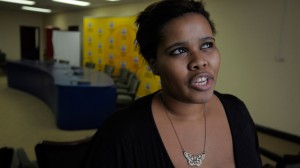 Speaking at her party's federal council meeting, the DA's Lindiwe Mazibuko says race is still a legitimate proxy for disadvantage in South Africa.
Race remains a legitimate measure for disadvantage in South Africa, the Democratic Alliance said on Sunday.
"A non-racial society is a goal – it doesn't exist today," DA parliamentary leader Lindiwe Mazibuko told journalists, speaking at the end of her party's federal council meeting in Cape Town.
The event, which ran over three days, was attended by about 150 delegates from around the country.
Mazibuko said the "big thing" to come out of the meeting was "the question of whether or not the DA accepts race as a legitimate proxy for disadvantage".
"The reality is, we don't live in a non-racial society … So we had to answer a very big policy question, which is going to underpin every redress policy we have – from social development to land reform, and many others in between.
"The question is: Do we believe that in 2013 race is still a legitimate proxy for disadvantage? And the answer was yes."
Mazibuko stressed this was not a "permanent proxy" for disadvantage.
"It has a horizon," she said, adding that this limit would depend on future measurements of how successful black advancement proved to be.
Fundamental principles
DA leader Helen Zille said the message from the conference could be summarised in three broad messages.
"The first is we support BBBEE [broad-based black economic empowerment] that creates jobs … The second is that black advancement benefits everyone. And the third is we support BBBEE when it is broad-based and productive."
She said this did not imply the party supported the ANC approach to redress.
Zille listed what she called the fundamental principles underpinning the party's so-called economic inclusion policy, and spelled out why the party rejected racial quotas.
"We reject racial quotas in favour of programmes that actively promote black advancement by extending opportunity."
Responding to a question on whether there had been tensions between members of the DA's so-called "black caucus" and its "old guard", as reported in the media, Zille said this had never been an issue.
"There was never an issue … There never really was anything such as a 'black caucus' … There wasn't any division or racial polarisation on issues at all," she said.
'Reduce poverty and inequality'
On whether there would be "recriminations" over the DA's apparent confusion in Parliament over its position on employment equity and BEE legislation, Mazibuko said this would not happen. The matter had been dealt with by party structures.
"There will be no recriminations. I have re-allocated two portfolios and that is the extent of the change that will take place at a personal level," she said.
Zille said the set of policies finalised by her party over the weekend would "drastically reduce poverty and inequality".
Economic growth had to be inclusive, she said.
"That is why we support corrective programmes that actively promote black advancement without hampering growth and jobs."
Asked how she thought the party's voters might respond to these policies in next year's general election, Zille said black advancement was aimed at benefiting all.
"If there are South Africans who don't like this, there are many other parties to choose from," she said. – Sapa
*Source Mail & Guardian