President Jakaya Kikwete says Tanzania is concerned about land, immigration, employment and acceleration of political federation
By BERNARD OGINGA*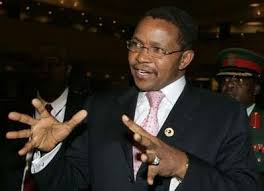 DODOMA, TANZANIA: Tanzanian President Jakaya Kikwete has spoken about the fate of his country's future in the East African Community ( EAC) saying Tanzania will not leave the regional bloc.
Addressing the Tanzanian Parliament in Dodoma,Kikwete said accusations that his country is an unwilling partner are unfounded adding that Tanzaniahas never been invited to any meeting attended by leaders from Kenya, Uganda and Rwanda, nations that have come to call themselves willing partners.
"If they invited us but we refused, then they can claim so, but I have not received even a sing le invite."Kikwete said.
Kikwete also refuted claims that Tanzania is delaying quick intergradient of the region, insisting that such claim are not even close to the reality urging thatTanzania has practically shown that it is not opposed to integration as evident by it the coming together Tanganyika and Zanzibar to form Tanzania.
"The Tanganyika Zanzibar union is the only one in Africa that has lasted longest, many countries have tried but failed, next year we will be celebrating 50 years" Kikwete told parliament in his speech delivered in Kiswahili.
Kikwete said Tanzania remains a faithful member of EAC because it has implemented the treaty that revived the community and obeys its various protocols and lawful agreements arrived at by the community's organs.
"If there is something we have not done well, it is because of its foundation and not because we have ignored decisions. If the commission wants to decide how we will relate to Mozambique, have we reached that level yet?" Kiwete wondered.
The president also told parliament that Tanzania has spent a lot of time and resources in making EACreach where it is and it would be very expensive for them to quit or act in a manner that would weaken its growth.
"We contribute Usd12 million to the community's budget every year, nobody in their right mind would throw away such investment."
Kiwetete however, listed to the applause of the full house why Tanzania is seen to be dragging its feet in the integration process.
"We are concerned about the fast tracking of the integration, land, employment and immigration these are the only aspects we do not agree on."
Kikwete questioned why such issues would make other leaders isolate Tanzania even on matters that it agrees with, insisting that Tanzania wants a gradual implementation of the EAC treaty.
"The treaty outlines that the entry point is a customs union, a common market, subsequently the monetary union and ultimately a political federation."
Kikwete said no nation joins or continues to be a member of a regional bloc for purely political reasons without economic benefit to its citizens.
In recent weeks other EAC members namely Uganda, Rwanda and Kenya have held talks and initiated infrastructural projects without the participation ofTanzania and Burudi fuelling talks that Tanzania was considering pulling out of the community and instead concentrate on its membership in the Southern Africa Development Community (SADC).
*Source Standard Media