The inseparable friendship of John Dumelo and Majid Michel through the years
Wow!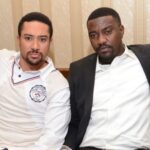 That's what can be summed up of the paired and inextricable bond between the two leading figures from the Ghana Film industry. Two bright figures, each with a different skill set but equally captivating for each movie they feature in.
John is more cool headed calm and collected often considered the ladies guy. After the movie "The King is Mine" which set the path for his illustrious journey in the movie industry, John has continued to rise and grow from strength to strength. Not only has he achieved more than his expectations, he has also volunteered much of his wealth to charity with the establishment of a foundation to support the needy and building a school for one of the deprived communities in Ghana.
Beyond that, John has also demonstrated great entrepreneurship and business acumen with the creation of the J.Melo brand that comprises o t-shirts, hoodies, ladies handbags, etc all as a means of buttressing the financial rewards he has gained through acting, but also for a legacy of an enterprise that will keep his relevance for years to come.
Majid is more unpredictable; sometimes very aggressive and highly poised, but other times churn out emotional tenderness that is second to none. Unlike John, Majid flirted with acting much earlier during his late teen years in the TV Show "Things we do for love" which was coincidentally the first acting avenue for Jackie Appiah. But since the show ended, he went quiet for a few years and Van Vicker became the central face of the Ghanaian movie industry. But when Van was becoming overly exposed, it was time for a change and the real Majid era began. Movie after movie, he has maintained a level of excellence that is second to none; and the sky will only be his limit if he keeps on this way.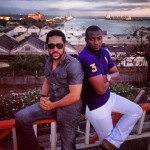 But beyond their individual achievements, what's remarkable about them is the good sense of friendship and shared closeness they retain. Instead of loathing and finding ways to undercut each other that some people unfortunately do when in fierce competition to succeed in the same field of work, Majid and John remain the best of friends and undertake most activities together.
All we can say to what they have offered us is Ayekoo! …and we wish them even more success ahead.
*Source African Movies News