IBM Opens Doors of First African Research Lab – Continent's Grand Challenges in its Sights
Develops solutions in Africa for Africa and the World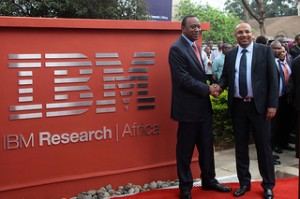 Yorktown Heights, N.Y. and Nairobi, Kenya – 08 Nov 2013: IBM (NYSE: IBM) and His Excellency, the President of Kenya, Hon. Uhuru Kenyatta, officially opened the first commercial technology research facility in Africa at an inauguration ceremony in Nairobi today.
IBM's 12th global research lab – supported by the Kenyan ICT Authority – and located at the Catholic University of Eastern Africa in Nairobi, will conduct applied and far-reaching exploratory research into the grand challenges of the African continent by delivering commercially-viable innovations that impact people's lives.
The 2000m2 facility features one of Africa's most powerful, cloud-enabled computing hubs giving IBM researchers the ability to analyse and draw insight from vast amounts of data in the search for solutions to Africa's most pressing challenges such as energy, water, transportation, agriculture, healthcare, financial inclusion and public safety.
The lab's research agenda will include the development of cognitive computing technologies which integrate learning and reasoning capabilities enabling experts to make better decisions in areas such as healthcare delivery and financial services. In the new era of computing, IBM believes that Africa has a strategic opportunity to become an early adopter of cognitive systems.
"The establishment of this research laboratory underpins the government's commitment to innovation ecosystems that are already available in Kenya,"  said His Excellency, the President of Kenya, Hon. Uhuru Kenyatta. "Using innovation to drive homegrown solutions, Kenya continues to lead the continent in ICT. My government is proud that Kenya, and indeed Africa, will benefit from the presence of one of the most advanced research facilities, with some of the world's most talented people, using some of the most powerful technologies to develop solutions for some of
Africa's most intractable problems."
The lab brings together some of the best technology talent globally driven by a passion for Africa and almost 70 years of experience in running a world-class research organization. Over the past year, the IBM Research – Africa team has been conducting research projects while the laboratory was under construction. It now comprises seasoned IBM scientists and new recruits, starting with 20 PhDs  and growing in line with the lab's development.
"We are currently experiencing the emergence of a new Africa – one where science and technology are enabling a pivotal 'leap frog' moment allowing governments and businesses to drive economic growth, raise the standard of living and compete with their global counterparts," said Dr. Kamal Bhattacharya, Director, IBM Research – Africa.
"The launch of  Africa's first full-scale, technology research facility signifies a new era in African innovation – one where commercially-viable solutions to Africa's grand challenges are developed in Africa for Africa, helping to lay the foundations for the continent's future scientific and economic independence."
IBM Research – Africa will be deeply embedded into Africa's innovation ecosystem and will forge partnerships with businesses, research organizations and universities across Africa and around the world. Already operational, IBM Research – Africa has a number of important projects underway based on collaborations that include:
 Twende Twende (Let's Go)
Urbanization is a global trend but one with unique urgency in Africa with some cities expected to grow by as much as 85 percent in the next 15 years. As the pressure on city systems increases, IBM is researching solutions which address interconnected urban issues such as public safety and human mobility.
According to government estimates, traffic costs Nairobi US $600,000 a day. In an effort to tackle this growing problem, IBM has  partnered with Kenyan internet service provider Access Kenya to develop a pilot solution to enable Nairobi commuters to use their mobile phones to get advice on driving routes through the city depending on estimates of traffic congestion.
Using deep analytics and specialized algorithms to interpret visual data received from CCTV cameras positioned around Nairobi, citizens can use their mobile phones to receive updates on road conditions and suggestions for alternative routes. With only 36 cameras currently installed around Nairobi, IBM researchers have augmented the available data using mathematical network analytics to predict traffic in parts of town where no data feeds are available.
Dubbed Twende Twende – meaning 'Let's Go' in Swahili – the system works on basic phones via a SMS-based query system and on smart phones via an app through which users can view a map of the city showing route options and potential traffic hotspots. IBM's researchers are currently working to extend the capabilities of the solution to include data on public safety, weather conditions and road works to create a Nairobi-specific view of human mobility.
IBM has launched a public trial of the service to Nairobi commuters and is available on the major mobile phone networks Safaricom and Airtel.
 Mattangazo (Digital Advertising)
Many African cities rely on complex networks of public buses and smaller private minibuses to get people to and from work each day. Nairobi is well known for its 60,000 matatu minibuses which race around carrying a third of the city's 830,000 public transport users. In recent months there has been an initiative to bring the city's matatus into the digital age by introducing free onboard wifi.
In partnership with local firms Flashcast and Kuza Biashara, IBM has developed a solution that enables micro entrepreneurs to target commuters with location-based advertisements.  The solution relies on GPS enabled display units with a 3G connection which are installed on buses and matatus and display simple advertisements about local small businesses such as restaurants, hairdressers and computer repair shops.
IBM researchers developed the app with which small businesses can upload slogans and messages for their advertisements and are now looking at how to use analytics to create spin off business opportunities such as business registries.
"We want to learn from Africa and tap into the continent's appetite for innovation," said Nik Nesbitt, Country General Manager, East Africa. "The work of IBM Research – Africa is not just about science and technology, it is also about innovating new business models and partnering with local enterprises to ensure that our new solutions have the maximum impact on business and society."
IBM Research – Africa joins existing labs in Australia, Brazil, China, India, Ireland, Israel, Japan, Switzerland and the United States. IBM Research laboratories are credited with the creation of many of the foundations of information technology, including the invention of the relational database, disk storage, DRAM memory and more recently the Watson computing system which used cognitive technologies to compete alongside humans in a major television quiz show. Watson is today being used by healthcare and financial service providers around the world to augment human knowledge and deliver better quality services. IBM Research has been recognized with five Nobel Prize Laureates, and many leading scientific and technical medals and awards. 
 About IBM in Africa
IBM is making a significant investment in Africa, the world's fastest growing region, ramping up its profile on the continent as part of its focus on emerging markets. The expansion program is part of a major business plan to increase IBM's presence in growth markets and support global strategy. The company is present in more than 20 African countries and recognizes the huge potential of research and smarter systems in transforming business, government and society across the continent.
 Virtual Recruiting Event
Scientists from IBM Research – Africa will be hosting a live virtual job fair in the IBM SmartCloud and Google+ on 05 December to talk about several open positions.
For more details, visit http://bit.ly/ibmjobfair