HEADS OF STATE PUSH FOR STRONG ICT GROWTH
By Frank Kanyesigye*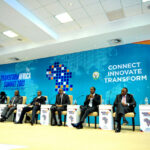 Presidents Ali Bongo Ondimba of Gabon, Blaise Compaoré of Burkina Faso, Ibrahim Boubacar Keïta (Mali), Salva Kiir Mayardit (South Sudan), Uhuru Kenyatta (Kenya), Yoweri Museveni of Uganda, and Paul Kagame of Rwanda, were speaking during a panel discussion at a major ICT conference underway in Kigali.
The seven African leaders sat down with delegates from around the world on the second day of the four-day Transform Africa Summit 2013, which is also attended by executives from Microsoft, Samsung, Facebook and IBM, to devise ways on how Africa can leverage broadband to transform communities, governments and the private sector.
President Kagame said Africa needed to embrace a digital revolution which has the power to transform communities with greater access to information.
"We must understand how technology is opening up new opportunities and what we can do to prepare for it. During the technological change success belongs to those who can innovate and those who see the available opportunities," he added.
Kagame observed that, since the 2007 Connect Africa Summit, also held in Kigali, many changes had taken place both globally and on the African continent, adding that the Transform Africa Summit presented enormous opportunities to create strategic partnerships and maximise the benefits that come with them.
Leveraging ICTs
"We want to equip the African youth with these technologies so that we can leapfrog and reach at a level where the developed world is. In Rwanda, we believe that ICTs have the potential to boost our economy and improve the living standards of our people considerably," stated the President.
He underlined the critical importance of Private Public Partnerships in the ICT industry, calling for technology-driven innovation that can transform the continent.
"Transformation is all about our people and how we can bring our citizens on board to participate and benefit."
He challenged suggestion that for African countries to invest in broadband and 4G LTE (Long Term Evolution LTE) is a luxury, saying that ICTs support the growth of other sectors.
In Rwanda, Kagame noted, we consider ICT as a utility like electricity, water and other necessities. "So far I haven't seen anything to discourage me from investing in ICTs".
Kenyan President Kenyatta also observed that there are immense opportunities presented by ICTs, which he said provides a great opportunity for innovation, job creation and efficiency governance systems.
"If we look back and assess what drove the growth of developed economies it was railway line, sea transport and air transport; we in Africa are still struggling to connect our people and have free flow of goods on the continent," he said.
He added, "The true and single driver that will propel us from a developing to a developed world in a shortest possible time is for us to recognise that railway lines, sea and air transport of yesterday is broadband today."
On his part, Ugandan President Museveni warned that ICTs alone will not drive the continent forward unless other sectors get as much attention.
While ICT should be developed, he said, focusing on it exclusively without using it to promote other sectors such as agriculture, manufacturing and services, is like someone 'eating dry food without sauce'.
"Electronics and ICTs help us to solve a number of issues such as automation of machines, retrieving and storing information, identifying persons (offenders) quickly, defence and waging purposes, among others, there is no doubt about the importance of electronics and ICT.
Presidents Kirr, Ondimba, Compaoré and Keïta all said that, if harnessed, ICT can serve as a vehicle that drives Africa to a desired level.
Without setting specific targets, the Heads of State pledged that their governments will continue to invest in ICTs for the benefit of their people and the continent as a whole.
The summit, co-hosted by President Kagame and the Secretary-General of the International Telecommunication Union, Dr Hamadoun Toure, is running under the theme, "The Future Delivered Today."
On his part, Dr Toure talked of the pillars of Smart Africa Manifesto that seeks to transform Africa through the power of ICT.
The manifesto puts ICT at the centre of socio-economic development, developing capacity of all people to develop ICTs, improving accountability and transparency, putting private sector at the engine of economic transformation as well as promoting cost effective technology.
Jean Philbert Nsengimana, the Minister for Youth and ICT, demonstrated how 4G broadband is faster than 3G in terms of internet speed.
In June, the South Korea's largest telecom company, Korea Telecom, entered into an agreement with the Government of Rwanda to deploy 4G LTE broadband network across the country, to help ensure faster, more reliable and cheaper internet services.
*Source The New Times