Femi Kuti is a chip off the old block
NIGERIAN singer Femi Kuti is continuing his father's work – using music to fight evil and corruption.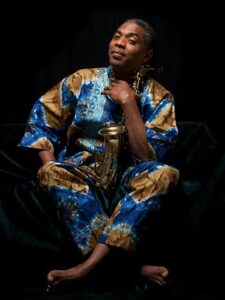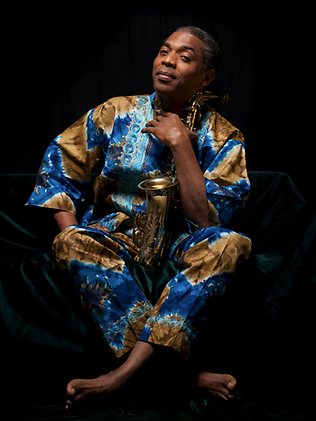 Femi Kuti doesn't have an entourage of 100 people, as his father, the late Nigerian Afrobeat legend Fela Kuti, did at the height of his stardom.
He has never done time in prison, smoked igbo (marijuana) on stage, or married all 27 of his female backing singers at once. But he is still very much his father's son.
"Fela used music to fight evil and corruption and stand up for justice," says the three-times Grammy-nominated Femi, whose current album No Place For My Dreamblends jazz, funk and African rhythms with pidgin English lyrics that tell of everything from the dangers of global warming to his hopes for world peace.
"My father never compromised or surrendered." Lean and wiry in a purple dashiki shirt, Femi is sitting backstage at KOKOs in Camden, London, where he played a sold-out gig earlier this year. "Fela talked about the suffering of the people," adds Femi, "and the people respected him for that."
They still do. Sixteen years after Fela Kuti's death, his memory burns brighter than ever.
The man they called the Black President always had a large cult following in the west, but when the award-winning musical FELA! opened on Broadway in 2009 – with help from associate producers Shawn "Jay-Z" Carter and Will and Jada Pinkett Smith, suddenly the whole world knew his name.
A smash hit in London, now touring the US, FELA! told the story of a classically-trained London College of Music graduate who could have lived a comfortable life outside Africa but chose to remain in Lagos, the largest city in Nigeria, where he was a thorn in the side of a brutal military government that repeatedly tried to shut him up.
Officially, Fela Kuti died from complications relating to AIDS – but there are those who insist that he suffered one beating too many.
With a back catalogue of more than 50 albums, Fela Anikulapo Kuti's legacy is Afrobeat, a hard driving African answer to American funk that boasts long, groove-laden tracks with languid solos; a female vocal chorus that takes part in thrilling call-and-response and, when performing live, some serious booty-shaking. Then there are those simple yet biting lyrics.
"No work no job no money/See the suffering of the people" sings Femi, whose own brand of Afrobeat incorporates genres such as soul, R&B and hip-hop, and even the visceral energy of punk. "Them no getting nothing/Them they're hungry/From the country where they get oil and many other different resources."
Nigeria is as messed up as it ever was, says 52-year-old Femi, whose powerful saxophone style, charismatic stage presence and Positive Force orchestra will blow Adelaide's hair back when he appears at WOMADelaide next March, four years after his last visit to Australia.
"Nigeria is in turmoil," he says of his gigantic western African nation, home to 250 ethnic groups and 140 million people. "There is corruption and poverty beyond your wildest imagination. My music reminds people what is going on. My songs are part of the fight."
Femi also chooses to live in Lagos, where he has several girlfriends, is father to eight children – four of whom are adopted – and runs the New Afrika Shrine, a hangar-like venue named after the nightclub that was founded by Fela in 1970, razed to the ground by police in 1977 and rebuilt by Femi and his sister Yeni in 2000.
It's a space where professional dancers gyrate in wooden cages, a free weekly disco night attracts thousands and the walls are hung with portraits of Malcolm X and the other black leaders who helped shape the thoughts of Fela Kuti – honoured here each October by the annual Felabration festival.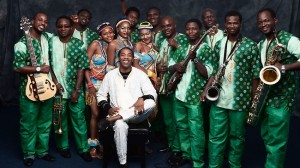 "The government has tried to shut the Shrine down many times," says Femi, who joined his younger brother Seun Kuti, who fronts their father's original band Egypt 80, at this year's Felabration. "But the last time there was very big international outcry."
Stevie Wonder was one of a number of high-profile stars that signed a petition to have the venue reopened: "There was so much worldwide press from FELA!, so many people talking about Afrobeat, that my family have stopped being persecuted. The government even opened a Fela Kuti museum."
None of which has made Femi Kuti any less outspoken. This, after all, is the man who, when presented with a new four-wheel-drive by a local politician a few years ago, daubed "Government Bribe" on its sides and drove it from the Shrine to his home 16km away – a journey that with gridlock and diversions can take anything up to two hours.
"We need a pan-African government that loves its people and the continent," he says, eyes flashing. "Colonial structures are keeping us separate; it suits the west and the corrupt African leaders to leave us like this. We should be opening the borders and building roads down to South Africa.
"But Nigeria still belongs to the people in power. There is no electricity, bad roads, terrible health care. My hope is for a new generation that will stand up to this nonsense," he adds. "That will speak out and fight."
Femi was 16 when he started playing saxophone in Egypt 80, and 23 when he stepped in for Fela – who'd just been arrested in Lagos – at a gig at the Hollywood Bowl.
Fela was allegedly a strict taskmaster who rarely praised his son's achievements, and a man who bore a grudge: when, aged 26, Femi left Egypt 80 to found his own band, father and son didn't speak for six years.
"Fela had a stubborn character, but that is the character that people now love."
While Femi eschews monogamy, as his father did, he insists he spends more time making music, playing pool and reading autobiographies ("Miles Davis, Dizzy Gillespie, [the late Ghanaian president] Kwame Nkrumah") than chasing skirt.
"I am 51 now," he says. "I have other priorities. I would love to build a studio in Nigeria, to help young artists with their dreams. You know, there are people who tell me that my dreams of peace and love are futile; I tell them I am determined. I am going to keep practising, working hard, touring and dreaming."
He pauses, smiles. "Big things come out of following your dreams," he says.
Femi Kuti and Positive Force play WOMADelaide, March 7-10, womadelaide.com.au
*Source http://www.news.com.au