Eaglets get N2m each, national honours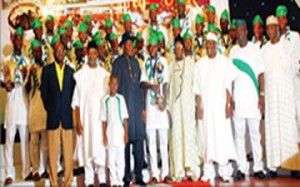 President Goodluck Jonathan on Sunday announced a cash gift of N2m each for all the players of the nation's Under-17 team, the Golden Eaglets, who won the 2013 FIFA Under-17 World Soccer Championship on Friday in Abu Dhabi, United Emirates.
The players, their handlers and key members of the Nigerian Supporters' Club, according to the President, will also be honoured with national honours during the next award ceremony.
Jonathan announced the rewards at a reception he held in honour of the players at the Presidential Villa, Abuja.
The President announced a N3m cash gift to the team's Head Coach; the assistant coaches get N2.5m each; the team doctor, physiotherapist and team secretary get N500,000 each while the team technical officer, team coordinator, medical officers and the curator will get N300,000 each.
Jonathan said with the gifts, he was keeping his earlier promise to the team when he charged them to go and conquer the world.
Describing the cash gifts as token, the President encouraged state governments and members of the organised private sector to join the Federal Government in appreciating players, saying no amount of reward could be adequate for the young Nigerians.
"The team, the handlers, the coaches and the officials including some key members of the supporters club and the Nigerian Football Federation will all be rewarded when we give national honours," he said.
The President said he was pleased to host and honour the players who he said by their outstanding performance had brought pride and honour to Nigeria and Africa.
He said the players won fairly and convincingly, adding that the victory is for the whole of Africa.
*Source Punch Nigeria