DELL APPOINTS MARA GROUP FOUNDER ASHISH J. THAKKAR TO ITS GLOBAL ADVISORY BOARD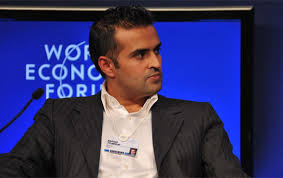 Dubai, UAE, 21 November 2013: Dell has this week announced the launch of a 'Global Advisory Board' as part of the Dell Center for Entrepreneurs. The Board, which comprises a hand-selected group of influential entrepreneurs and experts from around the world, includes Ashish J. Thakkar, Founder of Mara Group – a pan-African, multi-sector investment group.
The Global Advisory Board, which is the brainchild of Dell's entrepreneur-in-residence Ingrid Vanderveldt, will serve as a collective voice for entrepreneurs worldwide, with members lending their local insight and on-the-ground experience to Dell.
Together, the Global Advisory Board members will act as an extension to Dell's existing global entrepreneurial initiatives, currently led out of the US. The Board will convene in-person for the first time in December, during Dell World 2013.
Ashish J. Thakkar, Founder of Mara Group, said:"Having started my first company at the age of 15 selling computers in Africa, I have first-hand experience building a business from scratch and understand the challenges that face young entrepreneurs in getting ahead. I admire the work that Dell is doing to empower entrepreneurs to run and grow their own businesses and feel honoured to be joining their Global Advisory Board, particularly at such a crucial turning point in Dell's history, when the business will return to private.
"I look forward to working with the 'world's largest startup' to help shape the way we support young business leaders globally. Entrepreneurs are the innovators and job creators of tomorrow, so we should do all we can to support and nurture their growth, particularly in developing nations like Africa."
Ingrid Vanderveldt, entrepreneur-in-residence at Dell, said:"For Dell, supporting entrepreneurs isn't just a business strategy, but a corporate philosophy. Since launching in the United States a year ago, the Dell Center for Entrepreneurs has been a true testament to the collaborative win-win of startups and corporations partnering for growth." "Today, we're excited to be taking big steps forward in expanding this footprint globally."
The appointment of the Global Advisory Board follows the recent news that Dell is returning to become a private company, under the leadership of its Founder, Michael Dell. The multi-billion dollar deal was completed last month.

Ashish added: "This is a hugely exciting time to start working with Dell. I'm sure we'll start seeing a dramatic shake-up in the PC market over the next 12 months."
Ashish will be joined on the Board by: Ido Leffler, Co-Founder of Yes To Inc., the No. 2 natural beauty brand in the US; and Catherine Graham, President and Co-Owner of RIGHTSLEEVE and Co-Founder and CEO of commonsku.
Last month, Ashish was awarded Young Entrepreneur of the World at the World Entrepreneurship Forum in Singapore. In 2012, Ashish was appointed a Young Global Leader by the World Economic Forum, and invited to sit on their Global Agenda Council on Africa.
About Mara Group
Mara Group is a pan-African multi-sector business with extensive operating experience in both African and international markets. Mara's current investments and operations span technology, manufacturing, real estate and agriculture. The Group is currently active in 19 African countries and 21 countries worldwide.
Mara possesses in-depth knowledge and unrivalled expertise in Africa. Its approach to business is built around creating value for its shareholders, whilst ensuring a genuine and lasting impact on the communities in which it operates.
In 2009, Mara Group founded the Mara Foundation to foster and support entrepreneurs through mentorship and venture philanthropy.
Mara has been recognised as a Global Growth Company by the World Economic Forum.
 About Dell
Dell Inc. listens to customers and delivers innovative technology and services that give them the power to do more. For more information, visit www.dell.com.
Dell World
Join us at Dell World 2013, Dell's premier customer event exploring how technology solutions and services are driving business innovation. Learn more at www.dellworld.com, attend our virtual Dell World: Live Online event or follow #DellWorldon Twitter.