ANC Youth League faces bankruptcy over debt
By Andrew Harding*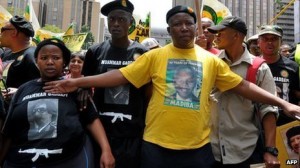 A political organisation founded by Nelson Mandela is begging the South African public for cash to save it from a looming collapse triggered by the "reckless mismanagement" of its former leaders.
"We are in trouble," said Mzwandile Masina, national convener for the ANC Youth League.
The league – once a cauldron of political radicalism and a training school for future liberation struggle icons like Oliver Tambo and Walter Sisulu – says it needs to find up to 17 million rand ($1.6m; £1m) to pay its debts by next January or a court will order its closure
The new "National Task Team" currently running the Youth League made their plea at a news conference held in the crowded lobby of the ANC's Johannesburg headquarters, Luthuli House. Portraits of Mr Mandela were placed conspicuously behind them.
The League lashed out at the judge presiding over their bankruptcy proceedings for making "silly" and "political" decisions. But the biggest criticism was reserved for a man whose name, it quickly became clear, none of the League's leaders could bear to even mention.
"We don't have time to promote self-seeking individuals," said Mr Masina curtly, when I asked him if he was accusing the League's former leader, Julius Malema, of being a crook.
"Former leaders milked the organisation dry, then went off to create a new self-enrichment scheme in the form of a new political party," he said.
"We've made it our business not to talk about them. We are not calling for [them] to be investigated. We are taking ownership of what has happened," said Mr Masina, insisting the organisation had been reorganised and still "resonates with millions of young people."
Mr Malema was expelled from the ANC last year for bringing the party that has ruled South Africa since democracy arrived in 1994 into disrepute and for sowing division. He has since gone on to form a new party, the Economic Freedom Fighters (EFF), which will compete in next year's election.
Mr Malema remains a profoundly divisive figure here. An electrifying public speaker, his fiery brand of populism and his unashamedly "bling" lifestyle, have kept him in the headlines for years.
But he is facing fraud charges and a tax investigation, and his calls for the seizure of white-owned land and the nationalisation of mines have alarmed the financial markets and prompted one political rival to compare him to Hitler.
The League's current leaders say the organisation has been pushed into provisional liquidation by debts incurred during the organisation of a national congress in 2008.
"We want to call on active citizens of South Africa to help with rescuing the organisation of Nelson Mandela. We either pay or close shop. We have not collected a cent to date. We call on progressive business people to contribute," said Mr Mzwandile, who raised some eyebrows in the room when he said donors would be guaranteed anonymity.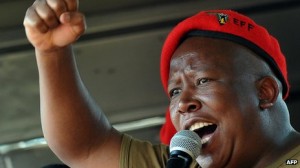 A suited man in the audience raised his hand and said he represented a "holding company" and wanted to know how to help financially.
The timing of all this is awkward for the ANC, as it heads towards elections next year and the possibility that its share of the vote could slip below 60% for the first time.
This is in part because challengers like Mr Malema are expected to chip away at its overwhelming electoral majority. A desire to avoid more bad publicity could very well see the ANC bail out its prodigal and chastened youth division.
On a lighter note, relations between the ANCYL and BBC News appear to have improved since this now infamous encounter between Mr Malema and my colleague Jonah Fisher.
"You're from the BBC?" the League's national spokesperson Bandile Masuku asked me after I'd posed a question at the news conference. "Allay your fears. You're not going to be thrown out!"
*Source BBC