An Amazon.com for Africa?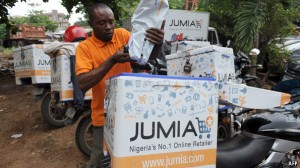 IT IS impossible to shop in Lagos, Nigeria's commercial capital, says Jeremy Hodara, the French co-founder of Jumia, an online retailer that began trading in the country 18 months ago. The roads are terrible; the traffic is crazy; the city has only a handful of shopping malls between 20m people; and when you get to a mall many of the branded products on sale are fake. Rich people go to New York or London to shop. "They have no other option," says Mr Hodara.
There is no shortage of demand. Nigeria has a rapidly-growing economy and a population of 170m, most of them young. But supply is another matter. The boss of Shoprite, Africa's biggest supermarket chain, said in August that his firm would like to open 700 stores there but it is hard to find places to build them. It has just seven stores in Nigeria. Woolworths, another South African chain, recently announced it would close its three stores in Nigeria because of high rents and gaps in the supply chain.
This creates an opportunity for a business like Jumia. Only online shopping can grow quickly enough to bridge the "shocking" gap between demand and supply, says Mr Hodara. Access to the internet is no bar: Nigeria is smart-phone crazy. The challenge is to offer a wide range of goods and reliable delivery. Jumia stocks 100,000 separate items at its main warehouse near Lagos airport, including phones, TVs, clothes and white goods. It has satellite storage units in the seven other cities it serves. And it has a fleet of 200 mopeds and vans to get the stuff to its customers quickly.
Gaining the trust of shoppers is the biggest test. Web-based scams are common in Nigeria. Shoppers will not pay upfront for goods that may not arrive. So Jumia offers a pay-on-delivery service: "It was the only way," says Mr Hodara. The firm aims to deliver goods in one to five days. Its customers do not tolerate poor service. "If you say you will deliver on Tuesday, you have to deliver on Tuesday."
The payoff for Jumia could be huge. Mr Hodara reckons spending online might eventually account for as much as half of all retail sales in Nigeria. But the hassles are also big. It took six months to find a suitable warehouse in Lagos and several more to get it in shape. "Everything in Nigeria is a nightmare," says Mr Hodara. Then again if it were an easy place to do business, Amazon.com would already be there.