Wikipedia pilots articles-via-SMS service aimed at Africans
By Dave Lee*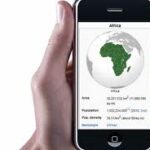 Wikipedia has begun piloting a service that sends articles via text message, primarily aimed at users in Africa.
The online encyclopaedia has partnered with mobile operator Airtel to offer the free initiative which is being tested out in Kenya.
It is hoped the service will be used to reach people who do not have internet access.
The trial will be active for three months, said Dan Foy, technical partner manager for the Wikimedia Foundation.
"Throughout most of the developing world, data-enabled smartphones are the exception, not the rule," he wrote.
"That means billions of people currently cannot see Wikipedia on their phones."
To activate the service – called Wikipedia Zero – users need to dial *515#, after which they will receive a text message prompting them to search for articles.
Next five billion
Adoption of cheap mobiles in Africa is widespread, and in many regards the mobile industry across the continent is more advanced than in more developed parts of the world.
For instance, the sending of money via text message is extremely popular – one service, M-Pesa, boasts 17 million users in Kenya alone.
Western technology companies see the region as a major source of future growth. Facebook, for example, is approaching saturation point in its current markets, and so it is looking at methods to adapt its services to suit those with more basic technology.
The social network also launched a drive to get other technology companies looking at ways to make access easier – starting with bringing down costs of accessing mobile data.
Tom Jackson, who edits African technology news website HumanIPO, said Wikipedia's initiative would be warmly welcomed.
"There has been a steady move towards putting educational material online in many African countries, led mainly by the private sector rather than governments, but access to the internet remains a problem given that most Africans surf on their phones rather than browsers.
"This step increases the chances of access, especially as there is functionality to provide Wikipedia via SMS. Feature phones are still dominant in Africa, so this is a helpful addition."
He added: "I just hope it comes with the same warnings that European and American kids are given about taking Wikipedia at face value!"
*Source BBC.Follow Dave Lee on Twitter @DaveLeeBBC