Mara Group gets behind Dubai Expo 2020 and calls on African leaders to back the UAE's bid
Mara Group urges African business leaders not to miss out on the long-term growth and investment opportunities that a World Expo in Dubai in 2020 could bring

(Dubai, UAE) October 7, 2013: With less than 8 weeks to go until the 167 member nations of the Bureau International des Exhibition (BIE) cast their votes for the host of the 2020 World Expo, Mara Group – the pan-African, multi-sector business conglomerate – has declared its official support for the UAE's bid, stating that Dubai Expo 2020 is an opportunity not to be missed for the future development of African nations.
 Ashish J. Thakkar, Founder of Mara Group, said: "As the world witnesses one of the most transformative geo-economic shifts from the West to emerging markets, Africa is becoming an increasingly important focus for global businesses today. With the UAE already serving as a gateway for international investment flows both in and out of Africa, a World Expo in Dubai in 2020 would further cement Dubai's position as a global trading hub, opening up even more opportunities for countries, businesses and individuals across Africa to capitalise on this historic moment."
"Dubai has been the home of Mara Group since 1996 and remains critical to our pan-African expansion. I would urge leaders across the African nations to embrace the opportunity that Dubai Expo 2020 represents and proactively support the bid in order to ensure its success."
Her Excellency Reem Al Hashimy, UAE Minister of State and Managing Director for the Dubai Expo 2020 bid said: "From the very start, our bid has always been about more than just Dubai and the UAE. Hosting the World Expo in the Middle East, Africa and South Asia region for the first time, on the eve of the UAE's 50th anniversary celebrations, carries profound meaning and creates an environment for exceptional opportunity. The UAE is not only well connected to Africa but we share many historic trade and cultural ties and the support from Mara is warmly welcomed. We remain committed to making the first ever Expo for this region one of promise, innovation and creativity that will deliver opportunity and impact for all under the theme Connecting Minds, Creating the Future."
With the strength of the UAE's robust infrastructure, geographical positioning and global connectivity, Dubai Expo 2020 can expect to attract 25 million visitors, offering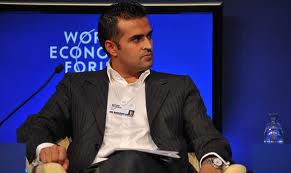 a diverse and exciting international profile for visitors and participants alike. Furthermore, for the first time in the history of World Expo, more than 70% of the visitors are likely to stem from beyond the host nation, offering opportunities to both the developed and developing world.
"The UAE is an important hub for African nations, as it acts as a gateway to Asia, Europe and North America. Dubai Expo 2020 would not only be a win for the UAE, but for us in Africa too. Let's back it!" added Ashish.
Dubai is competing against three other candidate cities for the honour of hosting the World Expo 2020. The final decision will be made on November 27th in Paris at the BIE General Assembly.
– Ends –
 For media enquiries, please contact: media@mara.com
 About Mara
Mara Group is a 17 year-old Pan-African multi-sector business conglomerate with extensive operating experience in domestic and international markets. With current operations spanning ICT, manufacturing, real estate, hospitality, agriculture and financial services, the group has investments in businesses that employ over 8,000 people across 21 African countries.
Mara Foundation is Mara Group's not-for-profit social enterprise. Its core focus is to empower, enable and inspire young leaders and female entrepreneurs, predominantly in Africa.
 In 2010, Mara Group was selected by the World Economic Forum as a 'Global Growth Company'.
 For further information, please visit www.mara.com
 About the Higher Committee for Hosting the 2020 World Expo in Dubai:
The Higher Committee for Hosting the 2020 World Expo was formed by decree by His Highness Sheikh Mohammed bin Rashid Al Maktoum, UAE Vice President and Prime Minister, in his capacity as Ruler of Dubai. His Highness Sheikh Ahmed bin Saeed Al Maktoum, President of Dubai Civil Aviation Authority and Chairman of Emirates Group, serves as Chairman of the Committee.
Additional Committee members include: His Excellency Mohammed Ibrahim Al Shaibani, Director-General of His Highness the Ruler's Court of Dubai, who serves as Deputy Chairman; Her Excellency Reem Al Hashimy, UAE Minister of State and the Committee's Managing Director; His Excellency Mattar Mohammed Al Tayer, Chairman of the Roads and Transport Authority; His Excellency Hussain Nasser Lootah, Director General of Dubai Municipality; Major General Khamis Mutar Al Muzainah, Deputy Commander General of Dubai Police; and Mr. Helal Saeed Al Marri, CEO of Dubai World Trade Centre and Director General of Dubai Tourism and Commerce Marketing.
The Committee submits regular reports directly to His Highness Sheikh Mohammed on the outcomes, milestones, challenges, solutions, proposals and recommendations towards achieving the ultimate goal of ensuring success in hosting World Expo 2020.
For further information about the UAE bid, please visit:
Website: www.expo2020dubai.ae
Facebook: www.facebook.com/DubaiExpo2020
Twitter: @Dubaiexpo2020
About the Bureau International des Expositions:
The Paris-based Bureau International des Expositions (BIE) is the intergovernmental organisation in charge of overseeing the calendar, bidding, selection and organisation of World Expos. The BIE was created by an international convention signed in Paris in 1928, which established the rights and responsibilities of Expo organisers and participants. The role of the BIE is to supervise and ensure the application of this Convention.
The BIE's mission is to maintain the integrity and quality of Expos so that they may continue to educate the public and promote innovation in the service of human progress. Expos must be able to not only provide a benchmark for the human progress made in a given domain, but also propose a roadmap for the way forward – and the BIE works to ensure this.
For further information about the BIE, please visit: www.bie-paris.org