African Union Rejects Moves that Could Destabilize Mozambique
By Peter Clottey*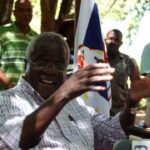 A spokesman says the African Union (AU) sharply condemns any attempt by individuals or groups to undermine peace, stability and development in Mozambique.
El-Ghassim Wane says the continental body is closely monitoring security in the southern African country.
"Mozambique has made tremendous progress both politically and economically over the past decade, and we believe it is important that progress … is preserved, and that we ensure that no attempt to destabilize the country succeeds," said Wane.
His comments came after the opposition Mozambican National Resistance (RENAMO) group announced its decision to withdraw from a 21-year-old peace accorded with the ruling FRELIMO party that effectively ended the country's civil war.
In a communique, the AU called for dialogue between President Armando Guebuza's government and the opposition RENAMO to resolve differences that could lead to renewed conflict.
"The African Union is calling for restraint and dialogue and also clearly stating the rejection of any attempt to destabilize Mozambique," said Wane.
Some analysts have expressed concern that an end to the agreement could signal a resumption of violence between the opposition and the government.
"The only way to resolve the issue at hand is through dialogue. The government has expressed its commitment to dialogue and RENAMO should accept that offer," said Wane. "Mozambique has come a long way, and no efforts should be spared to ensure that the gains made in the past decade are preserved and consolidated."
Mozambique government officials told VOA that on Tuesday supporters of RENAMO attacked a police station in Maringue. There were no reports of casualties in the town, which is located in the central part of the country near a RENAMO military base.
Wane said the AU supports negotiations between the two groups.
"We strongly believe that Mozambique and Mozambicans have the means and have the capacity to resolve this issue and to overcome the challenges facing them," said Wane. "What we felt was necessary was of course to call for dialogue and in this we welcome the commitment of the government of Mozambique to dialogue, and we are calling on the RENAMO leadership to accept that offer unconditionally."
*Source VOA