Cameroon Citizenship Council Urges President Biya to convene Sovereign National Conference
-Count on us for a new Cameroon in 2018
-Focus more on policies and programmes and not personalities
 -It is time to bring back the remains of President Ahidjo……….
 -Hafis Ruelfi on the way forward for Cameroon
 By Ajong Mbapndah L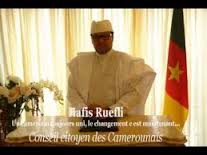 If there is one thing that sums up what Hafis Ruelfi of the Cameroon Citizenship Council will love to see President Biya do before leaving office, it is to convene a sovereign national conference. The conference Hafis says will put Cameroon on the rails towards confronting 21st century challenges. Issues like a new electoral code, a new constitution, the Southern Cameroons problems, reconciliation and more could be debated at such a conference. Although his party is in the process of legalization and will not participate at the upcoming legislative and municipal elections, Hafis Ruelfi says the CCC is aggressively putting in place structures across the country so as to make a strong showing in the 2018 elections. As Aminatou Ahidjo makes news by joining the ruling CPDM, Hafis says like any other Cameroonian, the daughter of late President Ahidjo has the right to militate in a party of her choice. President Ahidjo however deserves a state burial with full honors and his remains need to be brought back to Cameroon Hafis said.
Mr Hafis, it is election time again in Cameroon, how significant or important are the upcoming elections and what role is your movement the Cameroon Citizenship Council playing now in shaping political developments?
Hafis Ruelfi: I remain convinced about the greatness of Cameroon, its potentials, and also convinced that it is only through the political process that you can make the greatest impact in terms of changing the society. It is the political processes under a democracy; there is no other way. I remain convinced that we need to engage, those who believe they have something to offer to a country like Cameroon at its level of development; everybody who has something to offer must get involved from the aspirants to the electorates. As this elections will be a foundation and a hallmark to kick start the political transition and transformation to a true democratic country with the observation of the rule of law come 2018. In other to boost its presence all across the national territory, CCC has put up a formidable structure to mobilize support and convince the electorate on why they believe there must be a change in the leadership of Cameroon come 2018. The electorate has a very big role to play because people must have a change. That is why we said that this change we are talking about in the CCC is not just a change of government, but the change of attitude and people must vote according to their beliefs and consciousness of accepting who will do the right thing. Conscious of the challenges ahead, the CCC has constituted a powerful interim national executive, which compromise representatives from all the ten regions of the country. This interim national executive is presently on the field implanting the party in their respective regions.
A few months ago, Cameroon had Senatorial elections, what reading did you make of those elections and the composition of its leadership considering that in case there is a power vacuum, it is the President of the Senate who runs the country?
Hafis Ruelfi: The creation of the house of senate was a welcome development for our constitutional democracy first on the ground that it lays to rest and answered the questions which Cameroonians have been asking as to the successor of president Paul Biya where there is an unforeseen vacancy at the head of the presidency which our constitution does provides that it's the president of the senate who will assume the powers of the head of state for three months while he calls a presidential election which the emphasized that he (the interim president) cannot contest in the election.
 A very interesting recent development is the return of the daughter of former President Ahidjo, Aminatou to Cameroon and her strong embrace of the ruling CPDM, what is your take on this? What impact do you think such a move on the part of President Ahidjo's daughter can have on the politics of the country especially in the Grand North?
Hafis Ruelfi: Well it is true that the return of Aminatou to Cameroon and her embracing the CPDM is seen as a major event in the national political scene, to me these are reasons best known to her. As a Cameroonian who has attained the voting age has the free will to join and militate in any political party of his or her choice. And I think this is not different from Aminatou's present position.
Secondly being the daughter of the late President Ahidjo to me still doesn't change the fact, instead of building personality cults as the case with the CPDM most other opposition parties, viable programs should be presented to Cameroonians, viable visions on how candidates and parties will help solve the problems affecting ordinary Cameroonians should be what matters at this point and not just personalities.
 Many people think that it is finally time for the remains of late President Ahidjo should be finally brought home with the honors and respects it deserves; do you share the same view?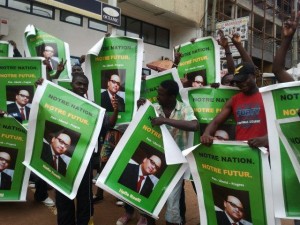 Hafis Ruelfi: The return of the remains of our late president his Excellency President Ahmadou Ahidjo are long overdue. He was a great president for our dear country who did everything possible to move this country forward by uniting the two Cameroons as a united indivisible nation and he deserves all the state honors as is done in other countries. Cameroon should not be an exception not with a leader like late President Ahidjo who did so much for the country.
The last time we had a chat with you, you said you were working towards implanting the Cameroonian Citizenship Council across the country, how far have you gone with that and may we know some accomplishments of the Council so far?
Hafis Ruelfi:  As I said earlier the interim national executive of our party are currently on the field setting up our party structures in every municipal and city council across the country.
On your own personal ambitions, you were not there for the Senatorial elections, you are not there for the legislatives and municipal elections, when do Cameroonians see Hafis Ruefli in the field?
Hafis Ruelfi: It is my conviction that led me to engage in wide consultations at the beginning of this year to ask our people; to ask wide-ranging questions. Basically, it centered around them. Does it make sense for us to get into the train again to say we are running for public office? Which office? Which level of engagement should we get into? Should we just kiss it goodbye and or should we remain engaged? In what form should we remain engaged? If we have to remain engaged in a political party system, which party? These are questions that formed the wide consultations that I said must have started January intensively. Of course, informally these discussions have been going on for some time. There is also greater demand that I should run for the office of President to help make Cameroon the true fatherland we all desire, building on the foundation that President Paul Biya has laid and his predecessor, to be able to take Cameroon to the next level. This will be a moment of peaceful democratic transition and transformation. That we need democratic transition and transformation, we need to consolidate on the gains of the past 31 years and those of his predecessors His Excellency Late President Ahmadou Ahidjo because he also built on something. That we need to continue to set the pace in leaps and bounds, so we need total transformation of our democracy and our political processes and the economy to consolidate and that can only be achieved by CCC beginning from 2018 when we will take over the presidency of our fatherland Cameroon.
The fight against corruption has led to the imprisonment of several barons of the regime from the Grand North, Marafa Hamidou Yaya, Iya Mohammed, etc., do you consider this a sign of divorce in the North-South alliance?
Hafis Ruelfi: The public institutional system of any nation is its future and hope, while the effective functioning of it is sine qua non for the total growth of our society because no nation can aspire to achieve her full potentials without transparency and accountability. Its potential cannot be realized if the institutions charged to do so are crippled by bad management, unaccountability and  profound corruption. It is, therefore, the aggregate of efforts that we put in to check corruption and other vices in public offices that will ultimately strengthen our institutions and promote transparency and accountability that will translate into a better future for Cameroon. I am happy that the present government is looking in that direction with its commitment to resolving the impasse with the public sector by investigating corrupt public officers. One of our objectives at the CCC is to promote justice and the rule of law in Cameroon. Laws of our country shall be supreme and whosoever contravene them no matter their social ranking must be prosecuted by our courts and if found guilty be punished by the law. There is no legitimacy of any alliance which will promote corruption or mismanagement of our public offices by public officers no matter which region, tribe or party they come from.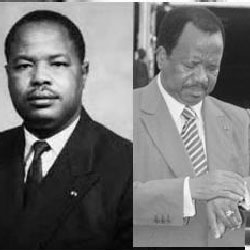 Even though you are not running, what message do you have for Cameroonians during this electoral period, from the candidates to the parties, is there a party you want your followers to vote for?
 Hafis Ruelfi: That is true and it is  unfortunate that our party the CCC was still under legalization when the electorates were convene to the polls and as such we could not file lists for these upcoming twin elections. We are now targeting but the presidential election in 2018 which Cameroonian will witness the formidable team that will lift this Cameroon to the next level. We the CCC members do not have any particular political party to ask our militants to vote but our message to all progressive Cameroonians to shun belly politics and take this opportunity presented to them by voting credible people who have the common masses at heart and have good manifestos which will bring development to their door step and not the ones to read in speeches.
We end by asking you a question on President Biya, if you were asked to name about five or six specific things that you will like to see him work on before his mandate expires or he leaves office, what will you consider as priority areas?
Hafis Ruelfi:  If I were asked today to name five or six specific things that I will like to see Mr Biya work on before leaving office will be; summed up in one which is  for him to call for a sovereign national conference to address the problems facing our country today. Beyond the facades of peace they say lies a badly fragmented polity which to me has been the reason for our underdevelopment to has led our country to regional interest politics. A national conference will lay a strong foundation for a regionalized country like Cameroon serious on being an emerging economy by 2035. With a national conference issues like separation of powers with check and balances will be looked at which will lay a good environment for the creation of strong institutions, genuine electoral reforms and the fight against corruption, with a national sovereign conference it will likely address and solve once and for all concerns of the Southern Cameroonians issue who feel to have been marginalized and are seeking the restoration of their statehood, with a sovereign national conference people will speak their minds and not hide any secret, people must be ready to listen and as hard as it might be forgive one another for this will bring a true and genuine reconciliation which to me will drive Cameroon to meet the 21st century challenges just like countries like South Africa, Ghana, amongst African nations with strong institutions and a vibrant economy, you can name a lot.