Big win for Nollywood with Actress Bessey Ikem at world music and independent film festival.
By Pandita Njoh Etta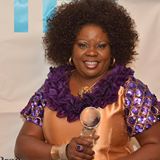 Better late than never goes the popular saying and Actress Bessey Ikem has proved that right with a highly acclaimed performance in the hit movie American Mama and a recognition for her talent at the recent world music and independent film festival in Washington D.C . At the WMIFF festival , Bessey won the Best Actress award in a Feature Film in the DMV area . The award calls for more hard work says Bessey Ikem in a chat with PAV on her career, the movie American Mama,its upcoming premiere and the state of Nollywood.
We understand you got a big award at the recent world music and independent film festival, can you tell us more about it?
It was an honor to be nominated for the category of Best Actress in Feature Film in the DMV area. Especially, this being my first lead role in a film this was big for me. When I found out that I won, I was speechless and so excited! I truly felt a mixture of emotions when giving my acceptance speech.
Many people may not be familiar with the world music and independent film festival awards; may we get some insight into what it is all about or what it represents?
Yes, the World Music and Independent Film Festival is an IMDB-qualifying international film festival. It started in 2010 and it is held annually in Washington, DC. This film festival showcases achievements for international cinema artists and independent artists in music and film.
What were some highlights of the event and were then any other Africans who got awards?
For me, it was just exciting meeting other talented business people, musicians, directors, actors and actresses who are veterans in the industry. The opportunity I got to be able to network and gain insight from others was priceless. The other Africans that won an award are Binta Goudiaby – Best Supporting Actress In A Feature Film/Dmv And John Uche – Best Director In A Feature Film/African.
Your award came from the movie American Mama, can you walk us through the story line and situate its importance in the context of present day challenges?
As the movie opens, American Mama gets the news that her son Kenneth wants her to come and visit him in the United States. Her sister Nneoma, pretends to be happy for her, but she is green with envy. I soon arrive in the US and instantly start to give my son's girlfriend a very hard time. Deep down inside I want Kenneth to marry an African girl, but the rest you will have to watch the movie to see what happens next! Overall, I believe that this movie communicates the message that in life you have to learn to accept and embrace the differences in other people and cultures. Its important to respect other cultures and at least be open try and learn new things in order to be comfortable in a different setting.
 How long have you been in the movie industry and what pushed you into it?
I have always had a love and passion for
the entertainment industry. Although my primary career is focused in business
 management, I continued to pursue my passion for acting, via self-studying. My debut on the big screen came as the result of a movie shot in the US titled Busted Life produced by Chima Empire. Then I featured in a Canadian movie
 titled Missing Link. After that, I was featured in Hunted by Love, which was shot in the US and a Cameroonian produced movie titled
Victimized. Then I got my big break through in the industry, when I received my 
first lead role in this feature film American Mama produced by Lion Films Production here in the
States.
What is your take on the Nollywood as a whole, there are complains despite the production of more movies the standards are dropping?
Not really, I think that Nollywood has come a long way from the early days, with better production equipment, camera shots, scenes and story lines, but there is always room for improvement. That goes for anything you do in life. The ultimate goal is to keep the viewers entertained and connect with them. As technology advances and becomes more accessible, I believe that you will see the positive changes in Nollywood as well.
Back to the movie American Mama, there are plans to screen the movie in MD, how is that evening going to look like and what will it take to be part of the event?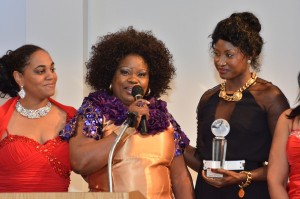 Yes, we plan to have the first movie premiere on Friday, September 6th, 2013 at Martins Camelot  (13905 Central Ave. Upper Marlboro, MD 20774). Red carpet starts at 8pm , the screening will start at 9:30pm and tickets are $30 regular admission or $50 VIP. Tickets can be purchased at www.lionfilmsproduction.com or purchased at the door. The evening will be filled with laughter, fun and fashion, as we would like people to come dressed in black-tie or traditional clothing. This event will also be an amazing networking opportunity for people to mix and mingle with professionals in various industries.
What next after your big award, any big projects you are working on for the rest of the year?
Be on the look out for the sequel to American Mama!! I also do have a few other projects I'm working on, but as soon they are ready to be revealed to the public I will be sure to let you know!