Zimbabwe's Mugabe should not face sanctions, Sadc says
Southern African leaders have called for the West to lift all sanctions imposed on Zimbabwe after endorsing President Robert Mugabe's victory in disputed elections last month.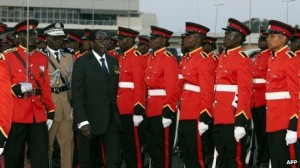 Zimbabweans had "suffered enough", Malawian President Joyce Banda said.
The EU and US imposed sanctions on Zimbabwe in 2002 after accusing Mr Mugabe of brutally cracking down on his opponents – a charge he rejected.
Mr Mugabe, 89, is due to be inaugurated for a seventh term on Thursday.
The European Union (EU) has a travel ban in place against President Mugabe and nine other of officials of his Zanu-PF party and has sanctions imposed on two companies.
The US also has a travel ban on Mr Mugabe and other top Zanu-PF officials, and has blacklisted companies linked to them from doing business with US companies.
'Confidence in Mugabe'
Mr Mugabe won with 61% of the presidential vote against 34% for Morgan Tsvangirai, the outgoing prime minister and leader of the Movement for Democratic Change (MDC) party.
On Friday, the MDC dropped plans to challenge Mr Mugabe's victory in court, alleging it would not get a fair hearing.
The MDC had alleged that the poll was marred by widespread fraud, a view rejected by African Union (AU) and other international observers.
Ending a meeting of the Southern African Development Community (Sadc) in the Malawian capital, Lilongwe, on Sunday, regional leaders said in a statement that "all forms of sanctions" imposed on Zimbabwe should be lifted following the holding of "free and peaceful" elections.
"I believe Zimbabwe deserves better, Zimbabweans have suffered enough," said Ms Banda, Malawi's leader and incoming chairperson of the 15-nation regional body.
In a further display of support for Mr Mugabe, regional leaders appointed him as the next Sadc chairman and said the group's next annual summit would be held in Zimbabwe, AFP news agency reports.
The EU described last month's election in Zimbabwe as generally peaceful, but said it was concerned about alleged irregularities.
In March, the EU suspended sanctions against 81 individuals and eight entities in Zimbabwe after hailing a referendum to approve a new constitution expanding civil liberties as credible and peaceful.
However, it kept sanctions in place against two firms and 10 top officials, including Mr Mugabe.
Zimbabwe did not invite the EU and the US to monitor the elections, with Zanu-PF accusing them of bias.
The US described the vote on 31 July as "deeply flawed" and did not regard the results as a credible expression of the will of Zimbabweans.
The MDC has said that more than a million voters were prevented from casting their ballots – mainly in urban areas considered to be its strongholds, allegations backed up a 7,000-strong group of local observers, the Zimbabwe Election Support Network.
Allies of President Mugabe have dismissed the allegations of voting fraud and accused Mr Tsvangirai of being a bad loser.
Mr Mugabe's victory heralded the end of the power-sharing government he formed with Mr Tsvangirai in 2009 under pressure from regional leaders following elections marred by violence and allegations of rigging.
Mr Mugabe has governed the country, a former British colony until 1964, from independence in 1980.
*Source BBC