A humble billionaire, asking tough questions
By JAY NAIDOO*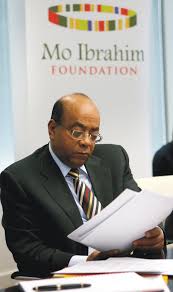 Mo Ibrahim is a unique billionaire, with an important message for the continent. As mobile networks continue to expand at rapid rates, the country is being given an opportunity for growth. But without good governance, and a reining in of corruption, the country that walks on diamonds and gold will remain poor and desperate.
"If Barack Obama had gone to Kenya with his father, he definitely would not be the President of Kenya. Going to the US with his mother he became President and the most powerful person in the world, at the age of 47. In Africa half our citizens are under 19; the average age of our head of state is 62. Your next door neighbour starts his 7th term at the age of 90," says Mo Ibrahim in his Annual Nelson Mandela lecture in Pretoria this past week.
How can Africa prosper when we are not listening to the hopes, needs and aspirations of present day youth? They are not the leaders of tomorrow; they are the leaders of today.
Ibrahim is a unique billionaire; we should listen to him. He has always swum against the current. Born in Sudan, Ibrahim studied in Alexandria, became an academic and the technical director of British Telecom cellular entity Cellnet, before launching his own business, Mobile Systems International, which built many of the mobile networks in Europe.
When I met Mo in the mid-90s he was determined to work in Africa, saying, "I was building networks in Europe and asked myself why we could not do it in Africa. I spoke to bankers and none of them were interested. I sold my business and started Celtel, one of the earliest of the pan-African mobile networks."
As minister of communications in the Mandela Cabinet then, we faced a bleak outlook. Sub-Saharan Africa had less telephones that the city of New York or Tokyo. Not many investors were interested in markets outside of SA and North Africa. As African ministers, we worked hard at creating legal, regulatory and spectrum policies that created the economy of scale and broke down geographic boundaries.
Mobile telephony exploded. Today, Africa is the fastest growing telecommunications market in the world. We should thank pioneering African entrepreneurs like Mo Ibrahim, who believed that Africa could be connected. From his telecom experience, Mo talks passionately about regional integration, "How can we compete with China, Europe or North America when we are 54 small economies? We do not have the bargaining power."
I have heard Mo Ibrahim decry, on countless occasions, "We do not understand our strength as the fastest-growing telecommunications market in the world. We have 700-million users today. Do we have a single telecommunications equipment supplier on the continent? This would never have happened in China. They have forced companies to open manufacturing plants there and to transfer technology and skills to Chinese people."
We end up as only a supplier of raw materials. Our African intellectual resources end up in the developed world, strengthening the stranglehold global companies have in relation to us. Our countries become markets for manufactured goods and services from developed economies.
When he sold Celtel, Ibrahim decided that he owed a debt to the continent and launched the Mo Ibrahim Foundation in October 2006 to support and advocate for good governance and excellent leadership in Africa. As he often articulates, "Good governance is not some academic pursuit. It's about the right of our people to electricity, quality education and health and basic services like water, sanitation, economic opportunities and human rights." The critical role of the Foundation is to measure the performance of governments across Africa, as published in the annual Mo Ibrahim Index on Governance.
On the role of South Africa Mo warns, "South Africa needed to step up and play a better role in the continent. But leadership is not about bossing people around … it is not about securing a seat in the UN Security Council on behalf of Africa, or chairing the African Union, It's about a true engagement with Africa." This is sound advice that we need to heed very carefully as the tide of political arrogance rises in our country.
On another very touchy subject, he asks the rather legitimate question as to whom BEE has benefited: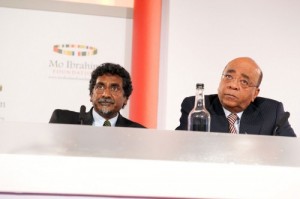 "Did it [BEE] bridge the gap between the rich and the poor? You are at the bottom of the Gini Coefficient, which measures inequality in the world. We need to have a conversation on that for the sake of social cohesion."
Across our continent we must ask the uncomfortable question of who is succeeding in Africa. This is not the story of China and Brazil, where tens of millions are lifted out of absolute poverty; where in spite of corruption, public institutions like education and health give people skills, jobs and livelihoods; where the public infrastructure like roads, highways, electricity, water, sanitation and housing are expanding. We have an incestuous web of interconnected, predatory political and economic elites who have a stranglehold on our growth potential. And if GDP is indeed growing rapidly, and even GDP per capita figures are growing, inequality is also soaring.
Mo believes that Africa faces either a demographic dividend, or a demographic nightmare: "Our population will rise to 2-billion by 2050. Our population will be younger than any other continent. With the right combination of education, skills and economic and entrepreneurial opportunities we can become the industrial powerhouse of the world."
His dire warning is that radical action is needed by governments to "help us sleep tonight knowing that the tsunami of young people" is rising on a tide of unmet expectations and is at our doorstep. "Our future depends on how we are going to deal with those young people. That is the mother of all social cohesion issues we face."
"You (SA) are the locomotive. You are supposed to pull this region forward, economically, socially and culturally," says Mo, adding, "We expect a lot from you, and we will not refrain from being critical when we see you wavering and misbehaving, because you matter for us."
I respect Mo Ibrahim. He is authentic. He speaks truth to power. His views on doing business in Africa are illuminating.
"People always claim that to do business in Africa you have to pay a bribe to those in power. I knew that just saying on paper that Celtel will not pay bribes was not enough. We agreed that nobody in the company could spend more than $30,000 without the signatures of the entire board.
"I told each board member that I would need their home telephone numbers, home faxes, wife's telephone numbers, holiday home phone numbers and faxes. If our field executives were pressurized they would say, 'How much do you want, a million US dollars? Ok. I will have to make a request to the board.' No-one asked for a bribe from us."
I understand Mo's fierce push for greater transparency and accountability. We should be demanding that all payments made by businesses are made public, information on to whom, how much and for what, including all contracts signed between governments and private companies. That transparency will contribute enormously to ending the shameful legacy that "Our people walk on gold, diamonds and platinum, yet we remain poor."
Orthodox commentators always talk about realism and being pragmatic. Mo Ibrahim is an important mirror that the connected rich and powerful should listen to very, very, very carefully.
*Source jaynaidoo.org, originally published by Daily Maverick.Jay Naidoo is founding General Secretary of Cosatu, former Minister in Mandela Government and Chair of a GAIN a Global Foundation Fighting malnutrition in the World. You can also visit hisFacebook Page orwww.jaynaidoo.org.