Accra – making a name for itself as one of Africa's top business destinations
BY KATE DOUGLAS*
Ghana's business hub and capital, Accra, has received considerable attention from foreign investors in recent years and has been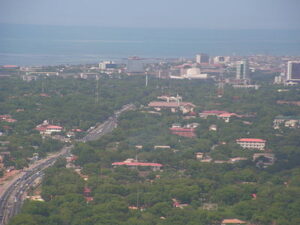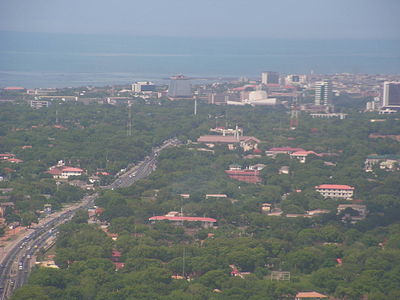 identified as one of Africa's top cities for economic growth.
The MasterCard African Cities Growth Index, for example, identified Accra as having the highest economic growth potential on the continent between 2012 and 2017. The index, released at the beginning of this year, was produced by Professor George Angelopulo of the University of South Africa on behalf of MasterCard.
The cities were ranked according to a number of criteria, including urbanisation, business travel to the area, connectivity, infrastructure, development, governance and economic performance.
According to Angelopulo, some of the reasons for Accra's high ranking are due to its GDP per capita growth over the past three years, its projected consumption growth, a strong regulatory environment, and the city's relative ease of doing business compared to other African cities.
"Accra's overall position is one of high potential and promise. In an international comparison on the same set of measures, the inclusive growth potential of the city appears similar to that of Chongqing in China, and is ahead of both Chennai in India and Jakarta in Indonesia," revealed MasterCard's research.
Due to the interest it has received as a business destination, Carlson Rezidor Hotel Group – with brands such as Radisson Blu and Park Inn – has also identified Accra as one of the top 28 African cities with strong potential for hotel expansion.
According to property group Broll, foreign investors are driving demand for office space in Accra. "Within the past decade, the demand for office space has increased substantially throughout Accra… The continued demand for space has been fuelled by the influx of foreign investors and an expansion of the white-collar workforce," states a research report by Broll.
Ghana – Africa's rapid growth market and easier business environment
Ghana has made great strides in terms of its ease of doing business in the past decade. The economy leaped up the World Bank's Doing Business rankings from 102nd in 2005 to 60th in 2011. In 2013, the country ranked 64th out of 185 countries in the World Bank's index, making it the fifth easiest country to do business in sub-Saharan Africa.
When international financial consultancy and investment advisory firm, the deVere Group, first decided to venture into West Africa, they chose Ghana as their point of entry. "Just for the ease of a soft landing," explained Craig Featherby, head of the deVere Group's Africa operations, in a recent interview with How we made it in Africa.
The deVere group opened an office in Accra just over 16 months ago, and the firm has further expansion plans for the country. "I know in 2012 Ghana was rated the fastest growing economy in the world," he added. "We were literally totally surprised about the opportunity that exists there."
South African coffee shop brand, vida e caffé, has stated its intention to enter other countries on the continent. Managing director of vida, Grant Dutton, told How we made it in Africa that he views Accra as an African city where the brand should do well.
"From a Ghana point of view you have a growth economy, so we know that," said Dutton. "We have a scenario where it's a lot easier to do business than a lot of African nations. There are many dynamics, but firstly it's peaceful. There is the first tick. It's safe to visit… trade is easy to do… So it ticks a lot of boxes."
This year global research firm, Euromonitor International, recognised Ghana as being among the top five African frontier economies, outside of the larger and relatively well known markets of South Africa and Nigeria.
According to Media Eghbal, the country insight managing editor at Euromonitor, Ghana's economy has seen strong growth due to stable governance and a wealth of commodity resources such as gold, cocoa and, more recently, oil. In 2007, off-shore oil reserves were discovered – catalysing foreign interest – and production started in 2010.
"The country has recently become an oil producer, which should lift economic growth in the medium term," stated Eghbal. "As a result, Ghana has attracted strong capital inflows, especially to the oil industry."
Euromonitor has also identified the economy as being a retail hot spot, with the growth of a mall culture, formal retail infrastructure, and a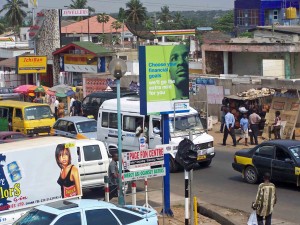 number of established brands entering the space to meet the demands of a rising consumer class.
In addition, Ghana has a mature mobile telecommunications infrastructure and it is estimated that more than 60% of the population are mobile phone subscribers.
However, the country still faces a number of challenges. According to Elikem Kuenyehia, founding partner at Oxford and Beaumont solicitors in Accra, access to credit is still the biggest barrier for business operations and growth for the many local entrepreneurs within Ghana.
"Without a proper credit referencing system and adequate information about companies, industries and opportunities, banks find it difficult to make credit evaluations. As a result banks treat entrepreneurs as an amorphous set and demand the same collateral package regardless of business sector or industry, instead of evaluating each proposal separately," explained Kuenyehia. "It is near impossible for most SMEs to obtain credit from banks in Ghana without collateral."
Nevertheless, the development of Ghana's infrastructure (catalysed in part by the discovery of off-shore oil reserves) and the country's movement to political stability, has paved the way to sustainable economic growth and attracted foreign attention across a variety of sectors.
*Source How We Made It In Africa