Microsoft's Offer and Risk Factor for Kenya
By James N. Kariuki*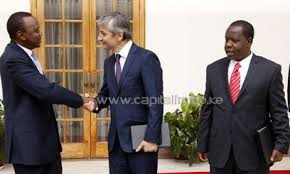 Seven months ago, Kenya banned importation of genetically modified organisms (GMOs) foods because of their potential risks to public health. That move sparked a fierce war of words between local anti-GMO activists and their pro-GMO rivals. The Government stood firm and has so far prevailed over the influential and well-resourced pro-GMO faction. Has Kenya unwittingly walked into the volatile, global GMO controversy?
On June 4, 2013, Microsoft International pledged to support President Uhuru Kenyatta's spirited project of free laptops for primary school pupils. At that stage of the game the GMO issue probably did not arise; Kenyans had moved on to new frontiers. But, had we really managed to sneak past the GMO issue?
Last year Kenya's anti-GMO crusade was spearheaded by Beth Mugo as the Minister of Public Health and Sanitation. This year, Uhuru Kenyatta is the torchbearer for the computer-skills quest. Uhuru is now Kenya's Head of State and he conceived and articulated the free computer skills idea as his 2013 campaign pledge.
Coincidentally, Uhuru and Beth are first cousins. Their point of convergence is Jomo Kenyatta, father of the nation! Could computer skills and GMO issue drive a wedge between two of Mzee Kenyatta's public offspring? It gets more involved: computers and GMOs are also akin.
The Microsoft International's gift to Kenya was in form of training the trainers to implement the computer-to-schools programme by January 2014. That attractive offer was conveyed to Uhuru by Jean-Philippe Courtois, President of Microsoft International. Courtois' official assignment is to guide global sales, marketing and services everywhere outside the US and Canada.
The GMO issue was probably never mentioned when computer skills offer was discussed. In any case, what Kenyan would resist the appetite to acquire computer skills for Kenyan youth from Microsoft, the mother of computer know-how? After all, what matters in contemporary world is not what you own; it is what you know. What do GMOs have to do with computers anyway?
On reflection, enough connectedness crops up to trigger alarm. Microsoft International is a subsidiary of US-based giant computer multinational (MNC), Microsoft Corporation. Ultimately, Courtois reports to the Chairman of Microsoft Corporation, Bill Gates. To service his $1.5 million annual income, Courtois must peddle Gate's will.
The world knows Bill Gates as a computer wizard and the richest man in the world, but he more than that. He is deeply involved in GMOs; indeed he is now a major shareholder in the world's biggest biotech MNC, Monsanto Company. Additionally, Bill and Melinda Gates' Foundation underwrites numerous GMO projects in Africa, including Nairobi-based Alliance for Green Revolution in Africa (AGRA.) For all practical purposes, he is the face of the GMO universe. GMOs and computers converge on Bill Gates.
GMO enthusiasts are said to envision a GMO world-without-borders. Hence, the obsession to control food production everywhere in quest for the world dominance which that would imply. For the same reason, Monsanto seeks to own seeds, fertilizers, pesticides and food markets worldwide. Meanwhile, the company is hell-bent on destroying food competition around the world, including its American home base.
Most unsettling of the GMO drive is that Barack Obama is now squarely part of it and he has sucked Africa into it. In May 2012, the American President launched the New Alliance for Food and Nutrition Security (NAFNS), ostensibly to save sub-Sahara Africa from hunger in a decade.
Dissenters objected loudly and clearly. They accused Obama of opening up Africa for domination by ruthless American multinationals and pushing controversial GMOs down their throats, literally. Suggestions of "saving" the continent were a smoke-screen; MNCs are profit seekers not NGOs. They are neither equipped nor inclined to engage in humanitarianism, least of all in Africa.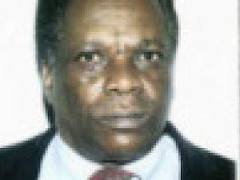 Imagine a 'misunderstanding' arising over Kenya's current GMO policy. Suppose, for example, that it is Bill Gate's will is to have Kenya's 2012 anti-GMO importation decision revoked. The opponents would be the Government of Kenya plus a few local anti-GMO voices. The supporters would be Monsanto, Microsoft Corporation, Microsoft International, AGRA, NAFNS and local GMO-enthusiasts. In addition to their deep pockets, the GMO-believers would also have the White House on their side. This would be a genuine David versus Goliath confrontation.
For several years, the pro-GMO forces have had their heydays. But anti-GMO voices, principally the US Organic Consumers Association, have recently also gathered steam. They are angry and have vowed to squash Monsanto to oblivion.
The above is the complex-mix in the sealed package that Courtois presented to Uhuru on June 4, 2013. It would be reckless to underestimate the might of the heartless global corporate capitalist system behind it, its power to seduce and to corrupt. Meanwhile, it is well to remember the American unveiled threat to Kenyans in the last election: choices have consequences.
*James N. Kariuki is Professor of International Relations (emeritus) and an independent writer. He is based in South Africa. The views expressed in the blog Global Africa are his.