Mandela's health: Zuma sings in praise of-ex-president
South Africa's President Jacob Zuma has sung a rousing anti-apartheid song for Nelson Mandela, 94, who is critically ill in hospital.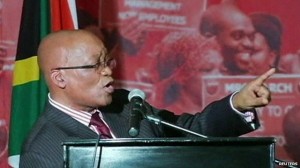 Mr Zuma said Mr Mandela's 95th birthday on 18 July would be celebrated with "vigour as it is a life spent in dedication to humanity".
Mr Mandela, South Africa's first black president, was admitted to hospital on 8 June with a recurring lung infection.
On a visit to the hospital on Tuesday, a cleric prayed for his "peaceful end".
Also visiting on Tuesday was Mr Mandela's daughter Zindzi, who said her father had "opened his eyes and smiled".
'Gratitude'
Mr Mandela's condition became critical on Sunday.
He is being treated at a private hospital in the capital, Pretoria.
On Wednesday, Mr Zuma told delegates at a conference of the National Education, Health and Allied Workers' Union (Nehawu) that he remained in a critical condition and "we must keep him and the family in our thoughts and prayers every minute".
Mr Zuma opened the conference in the main city, Johannesburg, with a popular song about Mr Mandela, the South African Press Association (Sapa) reports.
"We are walking a long distance, so said Nelson Mandela to his supporters," he sang in the local Zulu language, as the crowd ululated, Sapa reports.
Mr Mandela, known by his clan name Madiba, is revered for leading the fight against white minority rule in South Africa and then preaching reconciliation despite being imprisoned for 27 years.
He left power in 1999 after five years as the country's first black president.
On Tuesday, Cape Town Archbishop Thabo Makgoba prayed with Mr Mandela's wife Graca Machel at the hospital.
"May [we] be filled with gratitude for all the good that he has done for us and for our nation, and may [we] honour his legacy through our lives…"reads the prayer, which was posted on Archbishop Makgoba's Facebook page.
"Grant Madiba eternal healing and relief from pain and suffering. Grant him, we pray, a quiet night and a peaceful, perfect end."
Zindzi, the youngest of Mr Mandela's three daughters, told the US broadcaster ABC News in a phone conversation on Tuesday night that she had held her father's hand whilst talking to him about recent events, including the news that US President Barack Obama was due to visit South Africa at the end of the week.
During the conversation he opened his eyes and smiled, she said.
Ms Mandela felt like she was walking on air, and walked out of the hospital with a "huge sense of hope", she added.
Meanwhile, a friend of Mr Mandela and the leader of the opposition United Democratic Movement (UDM) party, Bantu Holomisa, denied that a row had broken out in the ex-president's family over funeral arrangements.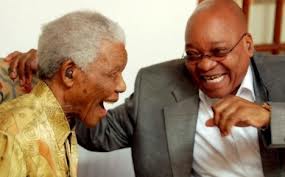 Mr Holomisa, along with Mr Mandela's children, grandchildren, traditional leaders and government ministers, met on Tuesday in Qunu, the village where Mr Mandela grew up and spent of his time after he stepped down as president in 1999, South Africa's Star newspaper reports.
"The purpose of the meeting was to brief the elders about Mandela's condition…. One does not want to leave the elders behind," Mr Holomisa told the local Mail and Guardian newspaper.
The Star reports that it has learned from three sources that Mr Mandela's grandson and his traditional heir, Mandla, wants the former president to be buried in the nearby village of Mvezo where he was born.
However, other family members want the burial to take place in Qunu. They also want the bodies of three of Mr Mandela's children, including his son, Makgatho, who died of an Aids-related illness in 2005, to be exhumed from Mvezo and moved back to Qunu, the paper reports.
The former South African president has children from his two previous wives, Evelyn Mase and Winnie Madikizela-Mandela, both of whom he divorced.
He retired from public life in 2004 and has rarely been seen at official events since.
He has a long history of lung problems, and was diagnosed with tuberculosis in the 1980s while he was a prisoner on Robben Island.
After his release, Mr Mandela said that the tuberculosis was probably caused by dampness in his prison cell.
*Source BBC