By Chido Onumah*
"Indiscipline pervades our life so completely that one may be justified in calling it the condition par excellence of contemporary Nigerian society"- Chinua Achebe, The Trouble with Nigeria.
Prof. Chinua Achebe, literary giant, celebrated author, humanist and patriot par excellence, who was buried yesterday, was Nigeria's gift to Africa, and indeed, the world. Like most people, I first encountered Achebe through his numerous books before I met him in person. I shall return to the unforgettable encounter with him four years ago.
Anywhere you go around the world, there are certain things about Nigeria that feature prominently in conversations with those who want to know about the country: corruption, the various forms of advance fee fraud or 419 as it is known locally, ethnic/religious strife, football – when Eagles were really super, and of course, Chinua Achebe or Things Fall Apart, the literary classic that has sold millions of copies and has been translated into more than 50 languages.
A decade ago, I was in the tiny Caribbean Island of Haiti where I had gone to work with and report on people living with the dreaded HIV/AIDS. Amongst the first persons I met in the rundown capital, Port-au-Prince, was a Haitian dentist. Immediately I introduced myself as a Nigerian journalist, the first question he asked, to my utter surprise, was "Do you know Agbani Darego?" I had been away from Nigeria for some time and did not know much about Miss Darego (Most Beautiful Girl in Nigeria, 2001) though I had read a report of her being the first Black African to be crowned Miss World in 2001.
I answered my interlocutor in the affirmative. He gushed about how beautiful Miss Darego was and Nigerian women were in general. He said he had met a few while studying dentistry in the US. Next question, Chinua Achebe. Of course I knew Achebe. I had read Things Fall Apart, but had not met its celebrated author. My friend then went on to tell me his Things Fall Apart story.
I have had many such encounters, the latest being during a study tour of Kenya in June 2012. It is mark of the greatness of Achebe and the impact of his literary prowess. There are a few Nigerians I grew up admiring. Achebe was one of them. The others being the literary genius, Prof. Wole Soyinka, the iconoclast Prof Chinweizu, and my ideological mentor, Dr. Edwin Madunagu. I read most of their work and followed their activities closely.
For some reason, in my young mind, I felt Achebe was not "political" enough. Then I read The Trouble with Nigeria. It reminded me of my political bible, The Communist Manifesto. You could read it a million times over and it would appear fresh each time because of its eternal verities. Achebe believed in Nigeria. That much was evident in his statement that, "There is nothing basically wrong with the Nigerian character. There is nothing wrong with the Nigerian land or climate or water or air or anything else".
However, Achebe did not let his love for Nigeria blind him to the fact that, "Nigeria is not a great country. It is one of the most disorderly nations in the world. It is one of the most corrupt, insensitive, inefficient places under the sun. It is one of the most expensive countries and one of those that give least value for money. It is dirty, callous, noisy, ostentatious, dishonest and vulgar. In short, it is among the most unpleasant places on earth".
Three decades after Achebe wrote those words, Nigeria remains a country adrift, a soulless nation where rulers pervert justice and babies are bought and sold like commodities. Today, ethnic bigots, religious zealots and all manner of charlatans and imbeciles bestride our political, economic and social space.
Four years ago, my organisation, the African Centre for Media & Information Literacy, launched a project titled "Make Your Votes Count" as part of efforts to conscientize Nigerians, particularly our youth, on the need for active participation in the electoral process by voting and protecting their votes. We had gotten permission from some of the personalities we used in the promotional posters and banners, including Profs. Wole Soyinka and Pat Utomi. We needed to get in touch with Prof. Achebe whose image we had also used.
So when I received information that Brown University in Providence, Rhode Island, USA, was hosting the first ever Achebe Colloquium on Africa in December, 2009, I went in search of Achebe. I arrived New York City in early December 2009, in a whirlwind tour of the US which took me to Washington DC, Maryland, Boston and Providence, to promote our project. That was when the Turai Yar'Adua cabal in Nigeria was running amok.
Omoyele Sowore, the irrepressible publisher of Saharareporters.com hosted me. An interview at Saharareporters' studios was followed by a joint interview on the situation in Nigeria at the National Public Radio (NPR). I left Sowore to pursue my other programmes. We connected again at Boston's Logan International Airport a few days later on our way to the Achebe Colloquium.
We were joined in the one hour drive from Boston to Providence by Prof. Richard Joseph, the John Evans Professor of International History and Politics at Northwestern University, Illinois, USA.  Known as the "father of prebendalism", Prof Joseph, an expert on African governance, political economy, and democratization, was at one time a lecturer in political science at the University of Ibadan, Nigeria, and University of Khartoum, Sudan.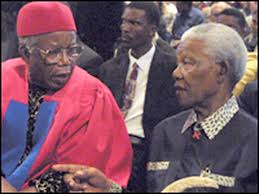 Expectedly, our discussion focused on the situation in Nigeria; how a country with so much promise had been brought to it knees because of bad leadership. I arrived the Achebe Colloquium with so much foreboding. I didn't know if I would be able to see Achebe and present my "gift". I shared my apprehension with a former schoolmate, E.C. Osondu, an assistant professor of literature and resident of Providence who said he felt Achebe would like the poster we made in his honour.  I also talked to Sowore who agreed to introduce me to one of Achebe's sons, Chidi. As it turned out, my worry was misplaced.
The introduction done, Chidi, who obviously was impressed with what I wanted to share with his famous father, asked me to wait for an opportunity to approach Achebe once the crowd around him had thinned out. Getting the crowd around Achebe to ease off was not going to be an easy task, but I was prepared to wait. Prof. Soyinka, Achebe's archenemy in the eyes of "literary hustlers and motor-park intellectuals", walked in and exchanged pleasantries with Prof. Achebe who was in a wheelchair at the back of the hall. Other dignitaries followed as participants trickled in.
I did eventually get a chance to introduce myself and my mission to Prof. Achebe. I told him how honoured we were to have his words and image as one of the faces of our electoral project. I presented the colourful posters to him and just as I was thinking of the right words to convey our apology for not seeking his permission, he looked up at me and in a measured tone said, "I like this. I'll keep it". I handed him extra copies which he placed on the table in front of him. He talked briefly about why we needed to get our electoral process right. I was elated. Of course, I didn't miss the photo opportunity, a request Achebe graciously granted. I knew how busy he was and I did not want to abuse the privilege. Mission accomplished, I took my seat amongst other participants.
The 2009 Achebe Colloquium on Africa with the theme "A Nation in Crisis and the Urgency of National Reform" was well attended and a huge success. Nigerians at the event included Prof. Okey Ndibe, Chief Odumegwu Ojukwu, former Senate President, Senator Ken Nnamani, Gov. Peter Obi of Anambra State, Prof. Bolaji Aluko, VC, Federal University, Otuoke, Bayelsa State and Emeka Ihedioha, deputy speaker of the House of Representatives. The communiqué at the end of the Colloquium noted that "elections in Nigeria have become progressively worse in quality over the years, and that this fact has gravely affected the country's international strategic significance".
I left the Achebe Colloquium fulfilled. Achebe was a dogged fighter. He taught us courage, sacrifice and optimism even in the face of adversity; he taught us love for country, not in the manner our rulers have debased the term and made us a laughing stock around the world. We should, therefore, celebrate Achebe in death rather than mourn him. While celebrating Achebe, we need to discover "where the rain started beating us" as a nation. We need to have a genuine and peaceful national dialogue which Achebe so eloquently espoused rather than the current monologue of threats and bombs.
I was thinking of approaching Achebe to write a blurb for my new book, Nigeria is Negotiable, when I received the news of his death. For Nigeria, Africa and humanity in general, Achebe's death is a huge loss. It is sad that many of those whom Achebe had nothing but contempt for while he was alive for the way they desecrated our nation are the ones crying loudest and lining the streets to honour him in death.
My utmost hope is that nobody will mourn all those who have brought us to this sad end; those who make our women die at childbirth and children from preventable diseases; those who have turned our young men to drug addicts, kidnappers, militants and terrorists and our young women to victims of the sex trade.
For those who have made a vocation of "explaining" why Achebe was not awarded the Nobel Prize and diminishing him in the process, I have just three words: shame on you!
*Chido Onumah Coordinator of the African Centre for Media & Information Literacy (AFRICMIL), in Abuja .He can be reached at conumah@hotmail.com