Stop the Plunder of Africa
By Kofi Annan*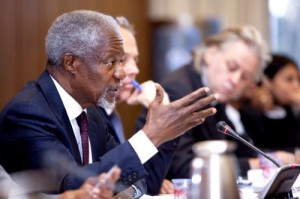 With Africa's economies riding the crest of the global commodities wave, there is an unprecedented opportunity to convert the region's vast resource wealth into investments that could lift millions out of poverty, create jobs, and bring hope to future generations.
Seizing that opportunity will require strengthened governance backed by international cooperation to stem the hemorrhage of revenues associated with tax evasion, secret deals and illicit financial transfers.
Natural resource exports have propelled Africa into the world's high-growth league. Around one-third of the region's economies grew by more than 6 percent in 2012. Strong demand in emerging markets is set to drive another decade of high prices for Africa's natural resources, and foreign investment is on the rise. Mozambique and Tanzania are poised to emerge as major exporters of natural gas. Guinea and Sierra Leone stand to reap windfall gains from iron ore exports. Demand for Zambia's copper and the Democratic Republic of the Congo's cobalt is booming.
Unfortunately, the rising tide of wealth is not lifting all boats. Poverty has been falling far too slowly, and in some countries — including Zambia and Nigeria — it has increased. Few governments have used the increased revenues generated by resource exports to counteract rising inequality, build better health care and education systems or strengthen smallholder agriculture. Moreover, corruption remains endemic.
African governments themselves must step up to the plate and address these issues. They need to recognize the urgency of converting their country's resource wealth into the human capital and investments in infrastructure on which sustained and inclusive growth depend. And they should follow the example of countries like Liberia and Guinea that are combating corruption by posting all mining contracts online for public scrutiny.
In other areas, action by African governments alone will not succeed. As we highlight in this year's Africa Progress Report, no region has suffered more from tax evasion, aggressive tax planning and plunder of national wealth through offshore-registered companies. These are global problems that demand multilateral solutions.
The scale of the losses sustained by Africa is not widely recognized. Transfer pricing — the practice of shifting profits to lower tax jurisdictions — costs the continent $34 billion annually — more than the region receives in bilateral aid. Put differently, you could double aid by cutting this version of tax evasion. The extensive use made by foreign investors of offshore-registered companies operating from jurisdictions with minimal reporting requirements actively facilitates tax evasion. It is all but impossible for Africa's understaffed and poorly resourced revenue authorities to track real profits through the maze of shell companies, holding companies and offshore entities used by investors.
There have been some encouraging recent developments in the multilateral response to these challenges. Under the Dodd-Frank Act in the United States and comparable measures in Europe, extractive companies are now required to meet higher standards of disclosure. (In what is surely an act of strategic folly, many of these companies are swimming against the tide of reform by mounting a legal challenge to the Dodd-Frank Act.) Meanwhile, the British government has taken the lead in putting international cooperation on taxation at the center of the agenda for next month's Group of 8 summit.
This is an area in which the G-8 can make a real difference. The summit should serve as a launch-pad for the development of a rules-based global system on transparency and taxation.
It is time to draw back the veil of secrecy behind which too many companies operate. Every tax jurisdiction should be required to publicly disclose the full beneficial ownership structure of registered companies. Switzerland, Britain and the United States — all major conduits for offshore finance — should signal intent to clamp down on illicit financial flows. And the G-8 and the G-20 should work together to expand the scope and reach of the Dodd-Frank legislation.
It is also critical that the G-8 helps to empower African governments. The region's revenue authorities are hopelessly ill-equipped to tackle problems such as transfer pricing or to counter illicit transfers. That is why the Africa Progress Panel has called on the G-8 to provide the technical, financial and administrative support to build capacity.
More than 50 years ago, as African states emerged into independence, Kwame Nkrumah, Ghana's first president, commented: "Never before have a people had within their grasp so great an opportunity for developing a continent endowed with so much wealth."
With political leadership at home and strengthened international cooperation we can seize the opportunity that Kwame Nkrumah identified.
* Source New York Times. Kofi Annan, former secretary general of the United Nations, is chairman of the Africa Progress Panel.