Lagos could soon be Africa's 13th biggest economy – equivalent to that of Ghana
By JACO MARITZ*
Lagos, Nigeria's commercial hub, could soon have a US$45 billion economy – equivalent to that of Ghana, according to a recent report produced by Renaissance Capital economist Yvonne Mhango.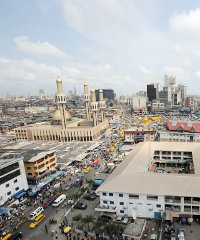 Mhango says that the size of Lagos State's economy is currently about US$32 billion, or 12% of Nigeria's total GDP. However, in 2014 Nigeria is expected to change the base year for its GDP calculation. Nigeria's GDP is currently calculated by using 1990 as a base year, which does not account for the rapid development of the services,telecoms, and entertainment industries. The rebasing is expected to boost the GDP of Africa's most populous country by about 40%.
"By our estimates, the Lagos State economy will become Africa's 13th biggest economy in 2014, around $45 billion," notes Mhango.
According to Anna Rosenberg, a senior analyst for sub-Saharan Africa at Frontier Strategy Group, Nigeria's rebased GDP figures, when they are released, are likely to make Nigeria the largest economy in sub-Saharan Africa, surpassing South Africa. "Nigeria will surpass South Africa as the continent's largest economy when GDP is revised upwards between 40-60%. It is unclear however, when the new figures will be released. But if GDP increases by 40%, Nigeria's economy would swell from $275 billion to $385 billion," said Rosenberg. "South Africa's economic output is $378.9 billion."
Although Lagos is the smallest of Nigeria's 36 states by area, it is by far the most densely populated.
"Lagos State has parallels with South Africa's smallest province Gauteng, in that it is Nigeria's smallest, but most densely populated state," says Mhango. "This will be no surprise to readers that have travelled to Lagos and experienced its congestion. Lagos State accounts for only 0.5% of Nigeria's total area of 924,000 km2, yet it has the country's second biggest population, behind Kano."
*Source How We Made It In Africa