"Empowering Africa Through the Diaspora"
By Amini Kajunju*
AAI President Amini Kajunju Delivers Speech on "Empowering Africa Through the Diaspora"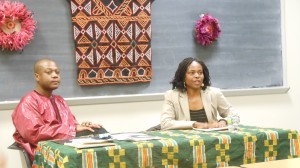 Good evening. It is such a pleasure and honor to be here with you tonight to serve as the keynote speaker for The Africa Now: Policy Series discussion on the theme, "Empowering Africa through the Diaspora" .
 I would like to congratulate the African Development Institute and the Institute for Multicultural Communications, Cooperation and Development, Inc. for organizing The African Policy Series to bring together and strategically engage the Africa Diaspora and civil society groups for the empowerment of Africa. It's truly refreshing to see these collaborative partnership happening.
 And I'd like to thank Dr. Kwame Akonor, Director of African Development Institute and Seton Hall University's Center for Africana Studies, for reaching out to me to speak on this important topic.
The theme of tonight's keynote address is quite timely and comes at a momentous time for Africa. Indeed, the African continent is experiencing a renaissance. The continent boosts one of the world's fastest growing economic regions. Six of the 10 fastest growing markets in the world are in Sub-Saharan Africa. And Africa's fast emerging middle class now comprises over 300 million people.
 With enormous progress taking root across the continent, Diasporians are uniquely positioned to contribute to boosting the economic growth and prosperity in Africa. The African Diaspora is not a monolithic group – some of you were born and reared in the United States; many came to the States at a young age; while others, like me, arrived here to attend college. No matter how you arrived here, as Diasporians, you bring a distinct perspective to the discourse on Africa because in some way you have experienced both worlds – Africa and the United States – and can serve as a bridge in fostering greater understanding between the continent and the Western world.
 The organization that I lead, The Africa-America Institute, or AAI, has served in a very similar role for nearly 60 years. AAI's core mission is to promote engagement between Africa and America through education, training and dialogue. Our focus has been on education for Africans, and about Africa. Empowering talented Africans has always been central to this mission.
 As African nations were gaining independence from colonial rule, AAI was founded in 1953 to build human capacity on the continent. With funding from the U.S. State Department, AAI assisted African students in pursuing academic degrees at top universities in the United States. After receiving their degrees in the U.S., more than 90% of our alumni returned to Africa to become business and political leaders, entrepreneurs, scientists, health care professionals and educators where they contributed to strengthening the foundation for African development.
 With 23,000 AAI alumni worldwide, we proudly count prominent alumni such as Wangari Maathai, the late Kenyan environmental and women's rights activist and Nobel Laureate; Prime Minister H.E. Nahas Angula of Namibia; and President Joyce Banda of Malawi; among other African leaders.
 Today, we offer non-degree education and professional training programs to women and men from across the African continent who exhibit talent and leadership in key fields – ranging from business and entrepreneurship, to agriculture and natural resource conservation to health – and who display a deep commitment to advancing to Africa's development.
 Through AAI's programs, we are building an educated and skilled workforce of African professionals and playing a vital role in bringing a new generation of Africans into a knowledge-based global economy.
 So, what can YOU as Africans in the Diaspora do to empower Africa? Tonight, I would like to offer 10 things that you can do….
 Now, take out your pen and paper!
 Number 1. Diasporians can help dispel myths and stereotypes about Africa to change the storyline about the continent.
All Diasporians can serve as "brand ambassadors" to bring a new vision and inspiring ideas for Africa. It's hard to believe that in this day and age many still hold very negative perceptions about Africa – but it's true. You can become the face of a "new Africa" – young, educated, optimistic, and actively working to transform and shape Africa's future. We are a new generation of African leaders. There are endless possibilities of how we can make an impact on Africa!
 Number 2. Diasporians can help shape U.S. foreign policy priorities and international policy.  Since many in the African Diaspora still maintain strong connections to the continent, Diasporians can help shape U.S. foreign policy priorities by offering informative analysis of on-the-ground realities in African nations and sharing underreported success stories of progress taking place, as well as the challenges.
Most importantly, we need to expand and strengthen a constituency for Africa in the United States. We hope all of you will become engaged in forums and other events hosted by AAI and others to weigh in on critical issues impacting Africa.
 Number 3. Africans in the Diaspora can help bring reforms to the continent.  We are at the vanguard of fostering positive changes and reforms in Africa through our deep connections across continents, especially the on-the-ground and personal relationships with individuals, business leaders and officials in the respective countries. The power of technology and social networking can strengthen the connections with other like-minded members of the Diaspora who want to bring needed reforms to accelerate progress on the continent.
 And Diasporaians shouldn't shy away from obtaining government jobs to reform that sector. Bringing their management skills, resources and expertise to government, Diasporaians can help transform that sector by assisting governments in improving their transparency, accountability and service delivery to create a conducive environment for development progress to thrive and flourish. Now — no one is saying reforming the government sector will be an easy task or will happen overnight, but there are some real opportunities to make a difference.
 Number 4. Diasporians can serve as a "bridge" between our home country and the U.S. Just as Diaspora communities can help shape U.S. and international policies and bring about reforms, you can also serve as a "bridge" to advance better communications and stronger, deeper relationships between your home country and resident country. In many ways, we have a "transnational identity" and can easily move back and forth culturally and physically between our resident and home countries. We are able to share, interpret, and understand both points of view, and provide insight and expertise on a broad range of issues relevant to each country.
 Number 5. Diasporaians can quickly mobilize resources for humanitarian disasters. When a humanitarian disaster strikes or an outbreak of conflict, an organized Diaspora can assist in quickly raising funds for the relief effort and in rebuilding countries. The Diaspora can also assist in channeling updates on what's happening in-country and how real lives are impacted by the disaster or conflict.
 Number 6. As the African continent progresses on an upward path, continue to make remittances to your family back home – for now. I know many of you are doing this now. The World Bank estimates that African immigrants living abroad send home between $32 and $40 billion a year. This figure is far more than official global development assistance from the international aid community. While remittances alone will not promote sustainable development in African nations, it can help to provide for the immediate needs of individual households and greatly improve the quality of life for families. Because of your remittances, younger family members may be able to go to school to earn an education, achieve gainful employment, and eventually increase the family's economic potential.
 Number 7. Diaspora can lead in investing in Africa's emerging markets.
Explore opportunities to invest in and launch successful African-led businesses and enterprises in Africa to create well-needed jobs and spur economic growth. The continent offers some of the highest return on direct foreign investment in the world. Increased investments are needed to expand local capacity and bolster economic growth.
 As Diasporaians, we understand the local economy and culture, and are willing to take on greater risks on the business and investment opportunities that others may opt to pass on.
You can join in launching home-grown thriving African businesses like:
 Number 8. Diasporas can spark innovation and technological know-how in their home countries. Historically, AAI brought talented Africans to the U.S. to earn higher education degrees. Our alumni returned home where they applied their world-class education to their country's development and have made remarkable achievements.
Today, Africans in the Diaspora are continuing this "brain gain" trend.  Skilled professionals are recognizing the tremendous opportunities that exist in Africa and are returning home in greater numbers, bringing new technologies, knowledge and ideas to drive innovation in their home countries.
 Number 9. Become Mentors to Young Professionals in Our Home Country.
We can empower young African professionals on the continent – as well as in the U.S. — by sharing our knowledge and expertise. Diasporians can nurture professional growth in young professionals and narrow the existing "skills gap" by exposing them to new careers and fields of study, expanding their horizons to wider opportunities in their profession.
 Number 10. Diasporians can bring our talent, energy, and skills to furthering economic progress in Africa.
Many Africans in the Diaspora want to eventually go back home after living abroad. However, one of the biggest challenges is finding suitable employment once they return.
 An educated and skilled workforce is essential to fill top positions at Africa-based multinational corporations and organizations and to ensure that the continent can effectively compete in a global economy.
 For this reason, we are launching the 1st Annual Africa-America Institute Career Roundtable in late-September. The purpose of the roundtable is to bring together talented and professional Africans living in the U.S. with private companies, NGOs and African governments for jobs, internships or volunteer opportunities.
 AAI's Career Roundtable seeks to promote African talent as well as to solve the human resource needs of the institutions and companies working in Africa. The roundtable will match participating companies and institutions with highly qualified African professionals in one place with the goal of finding the right candidates to meet their human resources needs.
We're in the planning stages now for the Career Roundtable. We hope you will visit AAI's website at aaionline.org in the coming weeks for more information. And be sure to become a Facebook "fan" and Twitter "follower". We also hope that you join us, as we celebrate our 60th anniversary by tapping into the anniversary activities and attending our Annual Awards Gala. Stay tuned for more details….
 So, there you have it! Ten ways for Africans in the Diaspora to empower Africa….
 Thank you again for the opportunity to speak to you this evening. I'll now take questions.
*Source AAI . Amini Kajunju is president and CEO of The Africa-America Institute