Down With the Sinister Tree!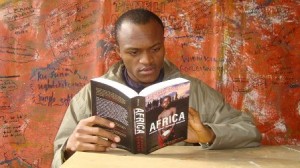 I loathe your brainless and morbid attitudes
You make us treat our own like aliens
An earthling as a Martian
on this green habitat…
unthinkable!
May the Potter of all flesh
requite those who sow discordant seeds amongst mankind designed to be one.
It's a seed that spreads like wild fire and use unsightly fruits to impair unity and oneness
and we permit it.
The gruesome tree from which it comes
stifles life, liberty, and the serene abode
of every race, creed and colour.
We must now cut down that tree lest ere long its acerbic logs come hard upon us,
the beauties and beasts, and mar our dazzling futures.
That tree breeds an ill-wind,
a wind that blows away
the intent of diversity.
Let's concertedly sharpen axes,
and cut down that baleful tree
and burn it and bury its ashes
because only then can we climb
the true tree of freedom
which our heroes,
past and present
stepped on thorns to plant.
True trees bear the fruit of love,
peace and commonality
and shade and house
the Ubuntu;
dignity of humanity.
True trees disperse
the sweet scent of liberty
that stifle the repulsive
odour of repression and racialism.
"Ubuntu" is an age-long African belief. By definition," Ubuntu" means that each one of us can only exist as fully functioning human beings when we acknowledge the roles that others play in our lives. In other words, "a person is a person through other people", or umuntu ngumuntu ngabantu or "I am because you are".
Written by Samuel Duru