Chad troops return from Mali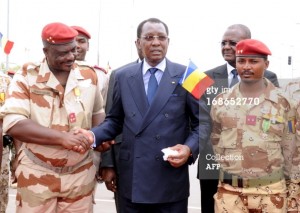 N'Djamena – Some 700 Chadian soldiers returned home to a heroes' welcome on Monday after a bloody campaign fighting Islamic insurgents in northern Mali.
They held a procession through the capital N'Djamena cheered on by several thousand people after a deployment that cost the Chadian army 38 lives and dozens of wounded.
Chad's President Idriss Deby Itno declared the day a paid public holiday and said the offensive against the insurgents had given the Malian people "reason to hope".
"The Chadian people pay their respects to you… the values of peace and democracy that you embody have triumphed," he told the flag-waving crowd.
"The offensive you launched against the jihadists on 21 February… allowed the whole international community, Africa and Mali to win time … if this offensive had not taken place, the war would have lasted at least six months," added the president.
Chad is gradually withdrawing its 2 000 troops from Mali, who fought alongside French forces to drive out extremist groups who had seized key northern cities.
Defence official Mbainando Tatola said the army had paid a heavy price.
"We have lost 38 of our soldiers, we had 84 wounded, we killed around 100 jihadists including two of their leaders," he said.
Chad's contingent joined a 6 300-strong regional African force in March (Misma), backing up the French-led operation which was launched in January.
Paris has said about 1 000 soldiers will remain in Mali beyond this year to back up a UN force that is to replace Misma.
A UN force of 12 600 peacekeepers, to be responsible for stabilising the north, will be phased in gradually from July.