Former South African Leader opens up on personal life experiences in an interview with Sunday Times.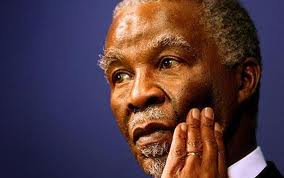 Below is a full version of an interview which former President Thabo Mbeki (TM) did with Sunday Times journalist, Ziphezinhle Msimango (ZM), earlier in March. An edited version was published on the newspaper's edition of March 31, 2013.
ZM: What are some of your most treasured childhood memories?
TM: It is difficult to answer your question because I can only remember my childhood mainly in the context of the politics of the day. Before this, one of the things I really treasure is the fact that especially my mother taught me to value education. In addition, I can also say that I grew up in political families. In this context, I can talk to you about two events that happened in Queenstown in 1952 when I was 10 years old. At that time I was staying with my uncle and his family, the musician Mike Moerane, my mother's brother. In this regard, whereas my parents were members of the ANC and the Communist Party of South Africa, (CPSA), which later became to SACP, the South African Communist Party, my Uncle Mike Moerane was a supporter of the Non-European Unity Movement (NEUM). If we had time I would discuss with you what this meant in terms of how this impacted on us at home in Queenstown in 1952. That year white South Africa celebrated the 300th Anniversary of the arrival of Jan van Riebeeck and therefore the beginning of the colonisation of our country. But this was also the year of the historic ANC-led Defiance Campaign. I participated in both these events, in the first as a curious spectator, and in the second as a failed volunteer. Malome Mike punished me for even daring to run to the then Queenstown 'Agricultural Showground' to watch the spectacle white South Africa mounted to celebrate the Van Riebeeck tricentenary, but happily did absolutely nothing to obstruct my fruitless attempt, as a 10-year-old, to volunteer to defy the unjust apartheid laws. The following year, I went back to the Transkei, specifically to Butterworth. Here I was confronted with different politics. The 'headman' in our area, who was in fact an important political regional leader, C.W. Monakali, and a friend of my father, invited me to his house – then an 11 year old – to discuss matters that were agitating the Transkei population at the time. These were government-decreed cattle culling, evidently to protect the health of the pastures in the region, and the enforcement of a system of instituting contours on the peasant farms, evidently to reduce soil erosion. C.W. sought my views with regard to both these measures, around 1953, to see what could be done to resist both. Accordingly what I can tell you about what I remember most are these political experiences. The exception to this is my two-year experience at Malome Mike's house in Queenstown when I learnt to play the piano and the flute, and to read classical musical notation. My greatest regret, to this day, is the fact that in time I lost all these musical skills, basically because in those young years, after the age of 10, I could not find a piano on which I could play! When I arrived at the Lovedale Institution boarding school as a 12-year-old, and much to my anger and disappointment, I found that the only piano at this famous and historic school was a mere wooden upright frame whose strings had over many years of neglect been completely destroyed by all manner of rot. The things I have said describe a childhood of learning as required of a pupil, an introduction to the liberation struggle, and an introduction to the creative arts, especially music. In this regard you must understand that I am merely summarising some parts of my childhood which contributed to the making of who I am today.
ZM: What motivated you to enter politics? Was it an inevitable path for you?
TM: As you can see from what I have said, I grew up in political families during the apartheid years. It was therefore inevitable that I would be involved in the struggles of the day. Accordingly I believe that the issue never occurred to me to take a decision about whether or not to be involved in the liberation struggle. Both the family circumstances of my upbringing and the fact of apartheid oppression which impacted in us as young people made it inevitable that like others of my generation, I would have to be involved not in politics, but in the liberation struggle.
ZM: If you went back in life, would you take the same path?
TM: Inevitably, yes!
ZM: Who are some of the people who influenced you in your life and why?
TM: Given my age, of course you will know that I have interacted with very many people. I think the central issue with regard to your question is not so much who influenced me as the ideas which impacted on what I became as an adult. You must therefore understand what I will say in this context, that what was important was not so much the persons as the ideas they represented. I will give you some examples in this regard. During my first year at Lovedale, in 1955, I was a member of SOYA, the Society of Young Africans. This was the youth wing of the NEUM. The following year, a much older member of the ANC, and fellow student, Themba Mqotha, spoke to me to explain why I would make a more effective contribution to the liberation struggle as a member of the ANC Youth League than as a member of SOYA. I understood and accepted what he said and therefore joined the ANCYL in 1956. I can therefore say that I owe my membership of the ANC to Themba Mqotha. Years later, in Johannesburg, I was privileged to meet Mike (Mick) Harmel, then a leading member of the SACP. I was very fortunate that I had the possibility further to interact with him during our years of exile in London, in the UK. It was in good measure because of his intellect, his palpable non-racialism, his humanity and his obvious respect for all human beings that I became convinced that the whites involved in our struggle were truly genuine comrades. In addition, he, originally of Irish origin, introduced me to the Irish liberation struggle, including my favourite poet in the English language, W.B. Yeats. I have also had the privilege to stay in the then Soviet Union and to study the writings of the revolutionaries, Karl Marx, Frederick Engels and Lenin. The writings of these renaissance and revolutionary intellectuals have taught me important lessons about the intellectual imperative to understand social development in all its complexity, the requirement of respect for objective and dynamic empirical reality, and the challenge to understand and write about this reality in an intellectually honest and disciplined manner. As a university student in England, I also had the privilege to study under the progressive and renowned Economics Professor, Tibor Barna. He insisted that in the end Economics, even as an academic discipline, had to do not with any abstruse theories, but the transformation of society and providing a better life for the people. Because of my exposure to the ideological left movement, including here at home, which insisted on the need to access all human knowledge, I was exposed, even as a student in Economics, to the wider world of literature and therefore all human thought. Because of this I became familiar with all manner of ideas presented by world-famous thinkers from all countries, including scientists, poets, novelists, playwrights, philosophers and others. It is therefore impossible for me to identify particular persons who might have impacted on my formation as a human being. What I can say in this regard is that I feel very privileged that I have had the opportunity throughout my life to access the entire spectrum of human knowledge, regardless of the originators of this knowledge. In this context I hope you will understand the impact on us as young South Africans of the clause in the Freedom Charter – the doors of learning and culture shall be opened to all!
ZM: Who is your favourite author and which is the most thought provoking of their work?
TM: Given what I have said, you will understand that for me there cannot exist such a person as a favourite author. Obviously there are particular authors I would respect, depending on the particular area of human thought and action we would be discussing.
ZM: When did you learn how to drive?
TM: I learnt to drive a car in 1961. This was because the then ANC Secretary General, the late Duma Nokwe, and particularly also his late wife, Sis Tiny, insisted that, to assist him to do his work, I had to learn to drive the ANC cars to which he had access – a 1947 Chevrolet, a 1948 Dodge, and a much more modern Zephyr station wagon.
ZM: When did you get your driver's licence?
TM: I must confess that I have never had a driver's licence. This was because to get one here at home, I had to get a "pass", the Reference Book. I was determined not to do this especially in the aftermath of the Anti-Pass Campaign. The best or worst I did was to get a piece of paper which said that I had been to a "pass office" to apply for a "pass". I used this piece of paper to pass through all police road blocks. I have therefore not driven a car since we returned home in 1990.
ZM: Have you ever had an accident and what were the circumstances?
TM: The only car accident in which I was involved occurred in Swaziland in 1975/1976. The learner-driver, the late Albert Dhlomo, could not control the car he was driving on a gravel road when the car went into a skid. The car capsized. Fortunately both of us, the only passengers, did not suffer any serious injuries.
ZM: Do you miss driving yourself?
TM: No, especially given the very poor quality of driving by many drivers in our country, which results in too many deaths and injuries on our roads.
ZM: What music do you listen to?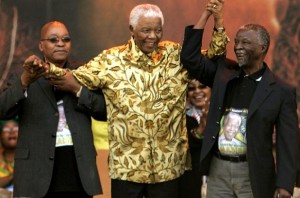 TM: All music, including European classical music, all South African and African popular music, all jazz, US blues, all gospel and church music, old and new pop, and so on. I would like to believe that I do not suffer from any prejudice about the musical form, as a result of which I would come to the conclusion, both spiritually and intellectually, to close my ears to one expression of music as opposed to any other.
ZM: What is your favourite sport? When last did you watch a game at a stadium and where?
TM: I am a fan of all sports codes, exactly, again, because involvement in sports and sports competition is about the expression of healthy human achievement, whatever the particular discipline. The last time I was at a stadium was at the home of the Nashua Titans, the Centurion Cricket Grounds, I think in 2011, to watch a T20 game between the Proteas and the English.
ZM: You spent 30 years of your life in exile. What struck you the most about the South Africa of 1990 and the one you left behind as a young man when you left the country in 1962?
TM: What was most striking in this regard was how much the value system in the country had changed for the worse. We got an indication of this even before we returned from exile. Accordingly, when we returned, we could not avoid noticing how much the personal acquisition of material wealth had become entrenched as an important social value. This included the ostentatious display of this personal wealth, regardless of how it was acquired, through the wearing of designer clothes, driving expensive cars, owning sumptuous houses, organising costly parties, and so on.
It seemed clear that the personal acquisition of material wealth had become the accepted standard in terms of which one would be judged by society as a successful citizen, and therefore a role model.
ZM: You became South Africa's Executive Deputy President after the 1994 elections. What was your first impression of the Union Buildings when you stepped foot in your office?
TM: My personal office, excluding the staff offices, was merely two or so rooms, with some furniture, a functioning telephone, and nothing else. This told the message, practically, that we had to build something new, starting from what you might call a new slate.
From inside, the building was not as imposing and therefore as intimidating as a centre of power as it had looked from the outside when we used to sing, during the liberation struggle – siyay' ePitoli! Nothing suggested that it should not be easily accessible to the people who had elected the new President and Deputy Presidents who occupied the East Wing of the Union Buildings. I would like to believe that from the very beginning of our democracy we did nothing to sustain the belief that the Union Buildings were holy territory in terms of access by all our people.
ZM: The statement you delivered on behalf of the ANC on the occasion of the adoption of the Constitution, commonly known as the "I am an African" speech, is rated by many as one of your best. What were your considerations when you wrote it?


TM:What informed me as I wrote this speech was that it was not every day that any country had the possibility and privilege to adopt a Constitution.
In addition, it seemed obvious that in our case, given that our diverse nation, through its democratically elected representatives, would for the first time together make a definitive and defining statement about its future, it was important to speak about this reality in words and images that extended beyond the ordinary.
TM: I thought that it was imperative that the ANC, a central architect of the perspective that would be spelt out in the new Constitution, should, on the historic day of the adoption of the Constitution, speak in a manner beyond what could amount to nothing more than an ordinary political speech.
Briefly, it seemed clear to me that the unique occasion of the adoption of the Constitution demanded a unique address which, among other things, would affirm the statement that South Africa belongs to all who live in it, confirm that as a nation we had agreed to live according to a particular value system, and make the unequivocal statement that we are part of the African Continent and not a European outpost.
ZM: Do you still subscribe to the same vision of South Africa's future as you contained in the speech?
TM: Yes and absolutely!
I am certain that South Africa will not succeed in its efforts to rebuild, reconstruct and develop herself if she does not inspire all our people, black and white, to accept that they share an equal and shared responsibility and opportunity to work together to ensure a happy future for all. Equally, we will not succeed in our efforts if we do not sustain the values and vision which inspired millions of our people to engage in the costly and protracted struggle whose fundamental objectives are reflected in our Constitution. Similarly, we will not succeed as a country if the rest of our Continent, Africa, also does not succeed to address the common challenges we all face as Africans.
ZM: What were some of the toughest challenges during your Presidency?
As you would know, the toughest challenge for Government was driving the process to achieve visible progress in terms of eradicating the legacy of colonialism and apartheid in all their elements. These include poverty reduction, the reduction of the racial and gender inequalities in terms of wealth, income and opportunity, and radically raising the skills levels among the people to reduce the number of the unemployed, within the context of a growing economy. Of course and fundamentally, the latter, as it relates to sustained skills development, includes the sustained improvement of the educational system as a whole, starting with Grade R.
One of the most difficult moments was when we took the decision to relieve the then Deputy President of the Republic, our current President, of his position in Government.
ZM: What in your view are the qualities of a good leader and a good leadership?
TM: I think that to provide proper leadership certainly as this relates to Government, one has to have a very good understanding of one's country and its challenges, including the global setting; work on the basis of a clear programme to address these challenges; always act on a principled basis; listen constantly to, and respect the views of the people; and conduct ones' self within the context of a value system at whose centre must be the obligation always and only to serve the people.
ZM: You have been out of public office for five years now and involved in the Sudan peace process. How far is that process and how do you spend your free time?
TM: The Republics of Sudan and South Sudan have finalised almost all the required Agreements. Essentially only two remain outstanding. One concerns an element of relations between the two countries. The other is about ending some of the internal conflicts in Sudan. In reality the major task facing the two countries now is the implementation of the Agreements they have concluded.
With regard to your question about how I spend my free time, I am afraid I still do not any free time.
ZM: What are you reading at the moment?
TM: Currently I am reading two books. These are "The Tamil Eelam Liberation Struggle: State Terrorism and Ethnic Cleansing. (1948-2009)" by Dr Murugar Gunasingam and "On China" by Dr Henry Kissinger.
ZM: What is your message to the youth of South Africa?
TM: I think our youth should understand the serious reality it faces that it will inherit the country. It will therefore have the enormously challenging responsibility to answer the question practically – what will it do with this inheritance? Accordingly, one of the main tasks it faces even today is to answer the related question, honestly – how well prepared is it to discharge its responsibilities in this regard? I would therefore say that our youth has the solemn task seriously to prepare and position itself to take over as our new leadership, a critical echelon within the nation in terms of what South Africa will be tomorrow, and even perhaps today.
ZM: What is the one thing that you've never done before that you still want to do?
TM: I would very much like to re-learn how to play the piano and learn to speak, read and write in Tshivenda, seTswana, Afrikaans and French.
ZM: When are you publishing your memoires?
TM: Precisely because I have not had 'free time', it is impossible to answer this question. We will see!


*Source Thabo Mbeki Foundation