"Corporations doing business in Africa should be held to the same high standards as if they were doing business in their home country."
Emmanuel Nsahlai on the $100,000,000 case against AES for its operations in Cameroon.
By Ajong Mbapndah L

AES Corporation, the parent company of the electricity company AES Sonel in Cameroon is facing a lawsuit of $100,000,000 in the U.S District Court of Los Angeles, California. Attorney for the Plaintiffs Emmanuel Nsahlai of the Los Angeles based Nsahlai Law Firm, which has offices in Yaoundé, cites the loss of several lives, regular power outages and the prejudice on economic activities as some of the reasons why AES is been sued. The suit is based on the "Alien Tort Statute that been used to sue foreign government officials and corporations for acts occurring outside the U.S," says Nsahlai. Corporations doing business in Africa should be held to the same standards as in their home countries, he charges, citing World Bank studies that put losses  resulting from power outages at  circa 2% of the Cameroon GDP.There has been no reaction from the Cameroon government or AES  but Nsahlai remains undaunted in his determination to take the suit to its logical end.

Mr Nsahlai, we understand you are Lawyer for plaintiffs in a case against AES Corporation for $100,000,000, on its operations in Cameroon; can you shed more light on this case for us?
Nsahlai: Certainly. AES Sonel's parent company is The AES Corporation, a U.S. registered corporation, and a Fortune 500 company. For a few years now, on frequent trips to Cameroon for business or family reasons, I heard incessant complaints about the state of electrical power and supply, and also felt the effects of regular power outages at my residence. More recently, sometime in February, 2013, I read over the internet regarding how 3 children residing at Mimboman in Yaoundé were burnt at their home during a power outage; I also read about how incensed the populations were at this occurrence and subtle riots and demonstrations occurred against AES SONEL. A similar occurrence occurred in Douala; 4 children were killed in fire incident, again related to a power outage.
As a parent, I felt very sad for the parents who lost their children due to the inaction of AES SONEL to provide adequate resources for a more reliable and stable electrical power in Cameroon.
I was contacted sometime in March 2013 by an Associate based in Yaoundé regarding the possibility of filing a lawsuit against AES SONEL in Cameroon. This Associate, having contacts with the victim families and some businesses who had suffered severe financial losses due to power outages, acted as a link between myself and the plaintiff's, as I was in Los Angeles at the time.
I had read about the Alien Tort Statute, and was fascinated by its potential applications. It's a statute that has been used to sue foreign government officials and corporations for acts occurring outside the U.S. I was intrigued and, though it is heavily litigated statute, decided that it's applicability could be put to use in this case.
I thus decided to file the lawsuit against AES SONEL in Los Angeles, the U.S. District Court, where I reside, and also where AES, parent company of AES SONEL, can be sued as a defendant.
 "Wrongful death, cruel, inhumane or degrading treatment, breach of third party contract, intentional infliction of emotional distress, negligent infliction of emotional distress, negligence, civil conspiracy, and deceptive and unfair business practices," are amongst the charges we found in a press release, what statistics do you have to back these claims?
Nsahlai:I have been provided evidence of 4 children killed in a house fire, the family of Mr. and Mrs. William Tchami; Mr. Mendefo Jean Jules lost 3 children in a fire in Yaoundé. I saw utterly shocking photos of the charred bodies of these children. I also saw photos of the burnt homes. I have read certain reports regarding the incident, and have discussed with a number of witnesses to the fires. These families have also provided to me corroborating evidence of their human loss. It's, in my view, quite a sad incident. In my legal estimation, the loss of lives related to AES SONEL power outages equates to wrongful death, cruel, inhumane, degrading treatment and the like.
With regards to the breach of third party contract, it is clear that the government of Cameroon and AES SONEL did not contemplate such regular power outages over a decade after AES signed the contract to supply electrical power in Cameroon. Cameroonians, and particularly the plaintiffs who have appointed me as their legal counsel, are the third party beneficiaries of this contract – hence the breach of third party contract claim.
The loss of human lives, property, business losses has been legally found to cause emotional distress, whether intentional or negligence.
Further, as the Press Release notes, the World Bank and its experts have evaluated the loss arising from power outages in Cameroon to approximately 2% of the GDP. In addition, AES SONEL is accused in Cameroon, in most instances, of inaccurate billings, poor customer service, and the like. That is certainly an unfair business practice, even deceptive and fraudulent.
 Why is AES been sued in the USA instead of in Cameroon?
Nsahlai: The power outage issue in Cameroon has been consistent, persistent, and never-ending. We thought it better to use AES in the U.S.A. instead of Cameroon for the following reasons:
1. AES, the parent company of AES SONEL, and one of the biggest corporations in the world, a Fortune 500 company, needs to be aware that its operations in Cameroon, one of the 27 countries in which it operates, is going very badly and causing the deaths of children, adults, and substantial economic and other harm. A lawsuit in Los Angeles brings greater visibility to its actions, and we hope, will spur better governance of its operations in Cameroon.
2. The families who lost their children, and the businesses who have suffered substantial economic losses are able to recover greater monetary compensation for their losses in U.S. courts.
3. We believe the case, if heavily litigated, will proceed quicker in the U.S. courts where the process is streamlined. In other words, the search of justice in this case from inception to conclusion is likely to be quicker and more efficient in the U.S. courts.
4. The rules of discovery in U.S. courts may enable us to obtain relevant documentation to prove our case from AES which may be harder to obtain from Cameroon courts, due to different discovery and procedural rules.
5. The U.S. courts offer as convenient a forum for this case, as do the Cameroon courts, but with the added advantage of better clarity, transparency, and fairer decisions generally. Cameroon courts generally also possess those traits; however, all put together, we gave the edge to the U.S. courts.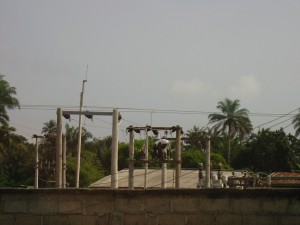 Is there any precedence for the kind of justice that you seek from the USA Courts?
Yes, there is, but not with regard to power outages. The Alien Tort Statute has been used before to sue foreign government nationals and corporations. We have cases from Liberians suing Charles Taylor in the United States Court; or of Nigerians suing Shell in United States Court; both for actions occurring outside of the United States, in Liberia and Nigeria respectively.
 So who are the plaintiffs in the case, are there individuals, is it a group of Cameroonians, may we have an idea ?
Nsahlai:The current plaintiff's in this case, as noted on the caption of the complaint, attached, are the families who have lost children, and various business Associations. Since filing this lawsuit, other potential plaintiffs have come forward, and it is very likely that the lawsuit will be amended to include additional parties.
 Any reaction from the Cameroon government or AES since the case was initiated?
Nsahlai: None so far. However, AES will certainly react, otherwise they risk a default judgment against them, and I severely doubt they want a $100,000,000 judgment against them. They are still within permissible time frames to file an Answer to the lawsuit.
Besides AES, there are people all across Africa who express concerns at the services rendered by other international corporations, what do you see as a potential fall out for the continent should the case be successful?
It is unclear to me at this point whether other western countries or Asian countries have a law such as the Alien Tort Statute, which permits its courts to have jurisdiction over actions arising in a foreign country by one of its corporations. The U.S. has such a law, hence we are using it.
None the less, corporations doing business in Africa should be held to the same high standards as if they were doing business in their home country. They should operate responsibly, be accountable for their actions, and held to a high standard, as they are in the U.S.
If the case is successful, and it leads to corporations acting more responsibly, with greater care, taking care of customers and people it does business with in Cameroon that would be great. In the U.S., the judiciary is also an instrument of social change. A lawsuit is sometimes filed to effectuate positive reactions from businesses, provider better consumer safety across the board, better protections for the populations, spur better products, and the like. It will be great if this lawsuit can also create such positive reactions from other U.S. companies to take better care of operations in Cameroon and Africa at large.
 With the case in court, can you walk us through the process it will follow, how long can it take for a verdict to be rendered?
Nsahlai: This case could take anywhere from a few months to a few years. It depends on how hard AES decides to fight it. Certainly, if trial judgments are appealed, the case would take 2 years or more. However, if all goes smoothly, we may get to trial in 12-18 months. The length of time the case may take also depends on whether numerous motions are filed, whether the rulings of the motions are appealed, and the like. It won't be an easy case; rather complex in my estimation.