Zimbabweans hope for democratic rebirth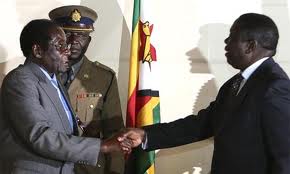 After Zimbabweans overwhelmingly approved a new constitution, there are renewed hopes that elections later this year could signal the country's rebirth. But fears remain of a return to the dark days of political violence, writes the BBC's Pumza Fihlani.
Joyce Ndlovu, one of a handful of female taxi drivers in the capital, Harare, speaks fondly of her home.
"Things have been difficult here for many years but we are starting to see a change. I now have hope that our country will be back to normal some day soon," the 45-year-old beams.
She is one of more than three million people who voted in Saturday's constitutional referendum which was declared by observers as "peaceful and credible".
Fears of widespread violence came to nothing, seen by many as a sign that political parties have learnt from the bloodshed that marred the 2008 election.
However, it should be noted that both major parties agreed on the new constitution whereas they will once more be the main protagonists in the elections expected in July.
Ms Ndlovu says she is hopeful that her vote will help usher in a new Zimbabwe – a Zimbabwe free of political violence.
She has been a cab driver for 10 years and makes about $100 (£66) a day during busy periods and half that on slow days.
Life has steadily returned to normal since a power-sharing government was formed in 2009, ending a period of hyperinflation and economic turmoil, she says.
"I am able to plan my day now and budget for groceries. I don't worry about whether shops will still be open tomorrow or how much things will cost or even if I'll have a job to go to tomorrow," says the mother of four.
At the height of the crisis, citizens left the country in their hundreds of thousands, many of them moving to neighbouring countries such as South Africa in the hope of finding much-needed jobs.
'Dark era'
Today the economy is more stable and businesses are able to operate in more favourable conditions, largely due to the government's decision four years ago to abandon Zimbabwe's currency and use the US dollar and South African rand instead, economists say.
Harare is abuzz with activity: the streets are busy; smartly-dressed men and women rush to and fro; vendors sell handmade stone sculptures, fruit, vegetables and flowers.
On the surface this is a country in recovery.
The shelves in shops are fully stocked and stable food prices, though still expensive for the poor, have brought a sense of calm.
One of the businesses that has benefited from the stability is local food chain Foodworld – a 26-year-old brand competing with the likes of southern Africa's giants Spar, Pick n Pay and OK stores.
It was forced to close seven of its 10 stores in Harare during the economic crisis, but since 2009 has re-opened four of them.
"Prices would go up as much as four times a day, you couldn't plan for tomorrow. We could only plan for the next hour. It was a dark time," says Denford Mutashu, one of the board members of Foodworld.
But Zimbabwe's business community says there needs to be separation between business and politics, if life is to keep improving.
"We have witnessed quite dramatic changes. During that dark era the state would set the price of goods but we now have a normal business model where the price of goods and services is set by demand and supply," says Mr Mutashu.
"Politics should not dictate the way business is conducted; politics should complement what is happening in business. The same way we should not interfere with politics – we need to keep the two separate," he told the BBC.
But more than economic reform, analysts say more needs to be done to ensure an independent press.
'We don't want violence'
President Robert Mugabe's allies have been accused of clamping down on independent media and using state broadcasters to promote propaganda – claims they deny.
In the suburb of Avondale, veteran journalist Mavis Moyo, 85 has lived through the worst and best of Zimbabwe.
One of the first to vote at a local polling station when it opened at 07:00 on Saturday, she believes the country will only move forward if political parties continue to work together, not as factions.
"When I arrived at the polling station for the first time I felt comfortable. People were smiling and talking to each other about a better country. We are only hopeful that the positivity that we now have will help to turn things around for us," she said, smiling.
"We cannot move forward if you still have a situation where being members of different political views can lead to violence. Zimbabweans only thrive when we are united and that is what we need. We need our leaders to help unite us," she added, her smile fading.
But the Zimbabwe story is far from a fairy tale. Some say they are apprehensive about the forthcoming elections.
"We might have the best constitution in the world but if our leaders still abuse it, what good is it?" asked a resident of the high-density suburb of Highfield, where Mr Mugabe's Zanu-PF party was founded in 1963.
The 61-year-old man, who did not want to be named and did not take part in the referendum, added: "I do not share a table with President Mugabe."
Inside the University of Zimbabwe, the country's young voters were more optimistic.
"It's up to us as a Zimbabweans to decide that we don't want violence. It is senseless for people to die just because they are from rival political parties," says 23-year-old Deborah Mafuta.
Fellow student Tatenda Chikondo agreed.
"It is time for us as young people to rebuild this once wonderful country and we can only do it if we stop fighting amongst each other," the 28-year-old marketing student said.
As Zimbabweans now look forward to the presidential polls, many believe that their mineral-rich country has a real chance to become Africa's next success story – but only if the political stability continues.
*Source BBC