Simphiwem Sesanti*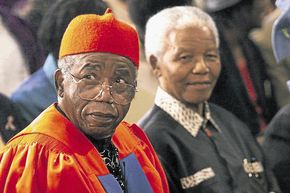 In the early '90s, Njabulo Ndebele produced a book with a fascinating title: The Rediscovery of the Ordinary.
As Africans at home and abroad celebrate Black History this month, Ndebele's title should be taken as a call from the world of our departed ancestors to search for the ordinary in their traditions that made them extraordinary people.
The act of remembrance is not merely about creating a feel-good sentiment or lamenting our losses, but to learn from the good and the bad so as to prepare a better future for our children – the living and those not yet born.
In his book The Destruction Of Black Civilisation: Great Issues Of A Race From 4500 BC To 2000 AD Chancellor Williams reminds us that, traditionally, African storytelling wasn't just entertainment.
It was also an act of teaching historical lessons so that past victories could inspire confidence, and experiences of failure and defeat inculcate caution. Storytelling was also about inculcating personality-building values.
In these our times, when even Africans themselves are questioning the very existence of African values while unconsciously and blindly celebrating the heritage of others, the challenge for us is how to coherently articulate African values in such a way that we do not expose ourselves to being ridiculed and dismissed as merely nostalgic.
I recently had the good fortune to get hold of Chinua Achebe's There Was A Country: A Personal History of Biafra.
In this book, Achebe speaks about a teacher, Okongwu, who, he says, was a pillar of his community. He expresses the frustration of his difficulty to convey how important such teachers were, "particularly as that is no longer the case today".
This Okongwu "was a generous man and sponsored a number of children in various schools in Nigeria and abroad. In those days, men like Okongwu, who had means, sent family members abroad to advance their education with the hope that they would return and improve the standard of living of their family and community."
The picture of a caring and committed teacher, a person dedicated to his family and the entire community, struck a familiar note in my mind. We had these teachers when we were children in the townships. They were treated with reverence by both adults and children. This kind of teacher was the epitome of African humanism.
I couldn't resist shedding tears as Achebe narrated how his elder brother, who after finishing his engineering studies in England, gave his younger brother the money he had saved for his annual leave so that Achebe could pay his university tuition fees.
This was after the elder brother had learnt that Achebe had lost his bursary after he, a brilliant student in physics and chemistry, had decided to drop medical studies, opting for the arts.
The elder brother appreciated that, as important as medical studies are, they are not more important than the humanities.
Human beings are in need not just of the medicine of the body but the medicine of the spirit as well.
Had he lacked this insight and foresight, we would not have had the great doctor of the spirit we have in Achebe today.
Africa is in great need of a spiritual cure, now more than ever before. We need to reproduce the calibre of the teacher Achebe reminds us of, whose lifestyle exhibited the loving and caring attitude that Africans refer to as ubuntu.
This outlook, Reuel Khoza reminds us in his book, Attuned Leadership: African Humanism as Compass, was "savaged by European colonialism and overzealous missionaries with their racism".
As a consequence of this destruction, Khoza further notes, Africans were disabled from teaching ubuntu formally in schools, colleges and universities.
Ours, as we celebrate Black History Month, is to heed Khoza's call to sensitise, rally and mobilise Africans to have ubuntu institutionalised.
This means the teaching of undistorted African history, sociology, philosophy and culture throughout informal and formal education. If and when we do so, Khoza assures us "Africa will turn from crisis to creativity, from poverty to success".
This will not be due to a magic formula. It will be because Africans will realise that our ancestors kept poverty at bay because "community" to them meant "solidarity".
When we learn our African history, we will appreciate, as Mazisi Kunene reminds us in his Emperor Shaka The Great: A Zulu Epic, that our ancestors preferred the "power of humanity and kindness" to prevail in their land as opposed to the cruelty they had seen in the conduct of Europeans.
Despite this, Europeans had the audacity to call our ancestors "uncivilised".
Traditional African culture regarded it as everyone's duty to ensure that no human being was subjected to humiliating poverty while others had surplus.
What this means is that instead of looking to the West or East to find solutions to our debilitating situation, we need not look beyond our ancestral traditions.
In celebrating Black History Month we are recalling, especially, the values that made our ancestors the great people they were.
We seek to rediscover the values that will make us the people we want to become: the agents of Bantu Biko's vision, that of Africans giving the world a human, kind face.
*  Source  sundayworld Sesanti, a lecturer at Stellenbosch University's Journalism Department, writes in his personal capacity .