Senatorials in Cameroon:Another SDF bluff to be called!
By Tazoacha Asonganyi*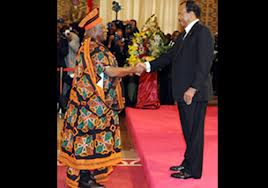 Recently, the press informed us of a declaration of Fru Ndi's that there will be no senatorial elections in Cameroon until Paul Biya meets with him. This was said to be a statement he made to those who attended his rally in one of the towns in the North West region. A few days after the "threat" was published, Paul Biya called his bluff (for the umpteenth time!) and went ahead to convene the senatorial elections for 14 April 2013. Last Saturday, the National Executive Committee (NEC) of the SDF met in Bameda and "adopted" the Fru Ndi threat, calling on Paul Biya to urgently dialogue with Fru Ndi, otherwise there will be a disruption of peace.
This is how past "resolutions" of NEC like "no good laws, no elections" came about. Like this one, it was a "slip" during a rally that made its way to NEC, and without profound reflection on how it would be enforced, it was taken up as a resolution!
Now, no one knows what Fru Ndi means by wanting to meet Paul Biya. He has met him several times before, and knows very well that he never kept any promise he made to him. He met him early this year when he joined others like him to salute Paul Biya. He told Paul Biya that he would want senatorial elections to be held after the upcoming municipal and parliamentary elections. Paul Biya has ignored his wishes and gone ahead to convene the senatorial elections for 14 April 2013. Instead of getting the people out to put pressure on Paul Biya, he is wasting his time telling everybody who wants to listen that he wants to meet Paul Biya! This is a new type of politics: confused, lack of preparation, visionless!
Interestingly, many people are saying that Paul Biya has really exaggerated this time around. These are people who do not know Paul Biya. If you lock up the public service of your country during elections because the civil servants are out campaigning for you in the field, you have really exaggerated. If you use state resources for your personal campaigns, you have really exaggerated. If you convene the electoral corps of a country like Cameroon during the rainy season, you have really exaggerated. If you allow everybody around you to be corrupt so that you can use it as a weapon of control, you have really exaggerated. If you create a political environment where there are over 200 political parties in a country of some 20 million people, and yet do not allow a two round election for some of the parties to be useful to the country, you have really exaggerated! So how much do we want Paul Biya to exaggerate before we know that exaggeration is one of his trademarks? He exaggerates, not for the sake of the country, but for his own sake!
In politics, one has to always reflect on lived experience in order to conceive more effective actions. It is such permanent reflection that makes it possible for a human grouping to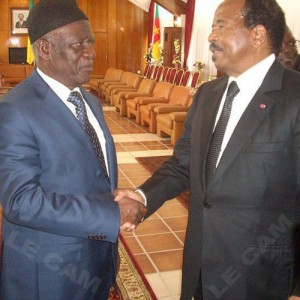 create new beginnings, new openings and breakthroughs. A political party is supposed to be a "reflective" grouping that endures, evolves over time and generates responses to new challenges that arise from time to time, ensuring that collegial, consensual, and consultative – collective – leadership is privileged over leadership based on command, control, and diktats. The SDF has issued a lot of threats before, which all ended in naught. Issuing threats without a very clear idea on how the threat would be implemented, or converting half-thought-out statements at rallies into party resolutions is nothing short of ridicule.
A journalist has already asked Fru Ndi the following question: This is not the first time you are threatening that elections will not hold if things are not done correctly. But nothing has ever been done to stop these elections. What strategy do you intend to use this time more than ever before?
And Fru Ndi gives the type of answer we have heard before: My first weapon is the population. Let the population fight now to defend their country. We believe in "power to the people." I am calling on each and everyone to prepare for the great fight that is about to start…True, the most potent counter-force to a neocolonial regime like the one we have in Cameroon is "the population" – the people. However, as Mandela says in his biography, Long Walk to Freedom, a slogan should not end at just providing a link between the organization and the people it seeks to lead, or at synthesizing a particular grievance into a succinct and captivating phrase; the party should prepare the people to live the reality of the slogan.
The SDF has neither prepared the people to use the power their slogan promises them, nor to assume it. For this reason and more, this new bluff of the SDF will fizzle out like the others, due to the fault of its leadership!
*The author is a University Don and Free Thinker who served for over a decade as Secretary General of the SDF