Kenya elections: Uhuru Kenyatta leads Raila Odinga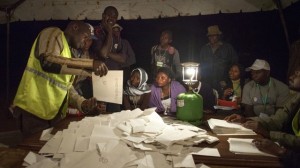 Uhuru Kenyatta, who faces trial at the ICC next month, has established a large lead over rival Raila Odinga in early results from Kenya's presidential poll.
With results in from over 40% of polling stations, Mr Kenyatta has 53% of the vote, against 42% for Mr Odinga.
The head of the electoral commission emphasised these were provisional figures and urged Kenyans to wait patiently for the final outcome.
In 2007-8, more than 1,000 people were killed in post-election violence.
Clashes broke out after Mr Odinga claimed he had been cheated of victory by supporters of President Mwai Kibaki.
Mr Kenyatta denies charges at the the International Criminal Court (ICC) that he was instrumental in organising the 2007-8 bloodshed.
Violence has also marred the current election, with at least 19 people killed on Monday – mainly in coastal attacks attributed to separatists.
Officials and the media urged Kenyans to put their faith in the electoral process.
The election was a "turning point" whose outcome would determine whether Kenya would move forward as a "civilised state", said a Daily Nation editorial.
Kenyans also voted for members of parliament and senators, county governors and members of the 47 newly formed county assemblies.
Call for patience
With 42% of polling stations reporting at 17:30 Nairobi time (14:30 GMT), the 51-year-old deputy prime minister had 2.7m votes, while the 68-year-old prime minister had 2.1m, said the website of the Independent Electoral and Boundaries Commission (IEBC).
Some 320,000 spoiled ballots have been counted so far, the IEBC noted with concern – well over double the number of votes cast for the third-placed candidate, Musailia Mudavadi, who trailed far behind with just over 140,000 votes, or 3%.
Some put this down to confusion, with voters having six ballots papers to complete.
None of the other five candidates for the presidency had more than 1%.
To win outright, a candidate must get 50% of votes cast plus one vote, as well as at least 25% of votes in half of Kenya's 47 counties. If no-one achieves that, the vote will go to a run-off, probably on 11 April.
Meanwhile, in the parliamentary vote, marathon runner Wesley Korir has won a seat representing the Rift Valley after standing as an independent candidate.
Mr Korir won the Boston Marathon in April 2012 as well the Los Angeles Marathon in two consecutive years.
In a news conference, IEBC chairman Issack Hassan called for people to "resist making early judgments about who has won", and said final results would not be released within 48 hours.
He said candidates and parties were under obligation to "accept the results peacefully".
There are fears the loser might not accept the official result, triggering an outburst of violence.
Widespread failure of newly instituted electronic biometric voting registration (BVR) kits, reports of late voting at one polling station hours after polls closed officially, and an instance of a poll clerk issuing multiple ballots have all already been cited by Mr Odinga's party as cause for concern.
"These we find to be placing in jeopardy the credibility of this process," said Frank Bett from Mr Odinga's Coalition for Reform and Democracy (Cord).
Later, Mr Odinga's running mate Kalonzo Musyoka said the party had written to the IEBC about the number of spoiled ballots and the failure of the BVR machines, which he said had opened the door to possible fraud.
"We are worried on both counts," he said – adding that the failure of the BVR machines was particularly disappointing given that Kenya had spent 7bn shillings (£54m; $82m) on them.
Both leading candidates have pledged to respect the result of a free and fair vote.
'Consequences'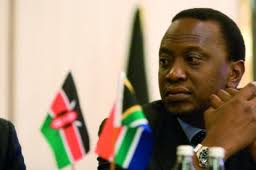 Mr Kenyatta, who heads the Jubilee alliance, is due to stand trial in April at the ICC for his alleged role in the 2007 unrest, when clashes between rival supporters degenerated into targeted attacks on members of ethnic groups linked to one or other candidate.
Mr Odinga later joined a government of national unity under a peace deal.
The US and other Western allies of Kenya have warned of possible "consequences" if Mr Kenyatta wins.
However, Mr Kenyatta's running mate, William Ruto, who also faces charges of crimes against humanity, insisted on Monday that they would be able to discharge their duties if elected and would co-operate with the ICC to clear their names. Both deny any wrongdoing.
Lines of voters stretched outside polling stations across the country on Monday and many polling stations stayed open late into the night. Turnout was estimated at 70%.
Four policemen were among the 19 killed in election-day violence mainly blamed on the separatist Mombasa Republican Council (MRC), which had demanded the elections be scrapped.
Gunfire and explosions were also reported in the town of Garissa, near the border with Somalia. Gunmen stormed two polling stations after voting ended, but were forced to retreat by security forces, the deputy speaker of parliament told Associated Press.
*Source BBC