In Kenya, the Next Big Oil Patch
By Eduard Gismatullin *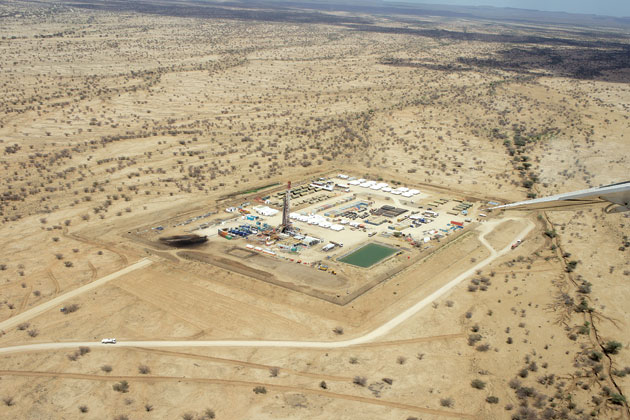 Kenya's Great Rift Valley, a 450-mile-long volcanic trench ripped open by shifting tectonic plates, is known as the cradle of mankind for the million-year-old remains of human forebears discovered there. Oil drillers say the area also holds a string of fields that could make East Africa's largest economy a major energy producer. The U.K.'s Tullow Oil (TLW) and Canada's Africa Oil found crude at two wells last year and now plan up to 11 more test wells in 2013. The valley could yield 10 billion barrels, Tullow estimates, enough to supply Kenya for three centuries.
The discovery puts Kenya at the center of East Africa's emerging oil industry. Uganda will soon start to produce the oil it discovered starting in 2006. Tullow and Africa Oil are drilling in Ethiopia. And South Sudan, the world's newest nation and an established oil producer, is looking for new export routes that would bypass the country it broke away from. All this oil would probably be piped to Kenya's coast.
With the continent's oil industry centered on Nigeria in West Africa, East Africa has been overlooked. Of the more than 30,000 wells drilled in Africa, fewer than 500 were in East Africa, according to Afren, an oil explorer active in the region. "There was a giant underexplored hole on the map," Africa Oil Chief Executive Officer Keith Hill says. "Now the world has woken up to East Africa. I've never seen a basin of this magnitude."
Kenya imports all its oil, so securing a domestic energy supply and becoming a hub for area producers would boost an economy forecast to grow 6 percent this year. Officials in Nairobi are proposing a $5 billion plan to build a network of pipelines to a terminal on Kenya's Indian Ocean coast. Tankers would then ship the oil to customers in China, India, and other Asian countries. "The interest of this country is to fast-track this process," says Martin Heya, commissioner for petroleum.
Production in Kenya remains three years off. The Rift Valley fields are in a relatively underpopulated part of the country. To move a rig to the Great Rift Valley site takes 230 individual truckloads of equipment driving on dirt roads. Supplies must be flown in from Nairobi, two hours away.
Workers are guarded by policemen carrying Kalashnikovs in an area where cattle rustling can escalate into gun battles between tribes. "We had to stop the seismic crew for a day," says Africa Oil Vice President James Phillips. "They were shooting at each other, not at us, but the guys on the seismic crew had to stop and lay down on the ground. There were a few bullets flying."
The bottom line: If Kenya can raise $5 billion to build pipelines to the Indian Ocean coast, it can export the region's newfound oil to Asia.
*Source Bloomberg Business Week