Samuel Eto'o: Cameroon soccer officials after my life
By YUH TIMCHIA in Yaoundé*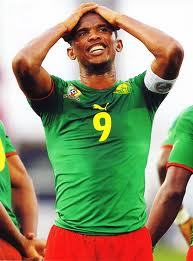 Cameroon's national football team captain Samuel Eto'o has stirred up debate about the country's football woes after he accused local federation officials of wanting to take his life and challenged them to a live debate on national television.
"They want to kill me. I live in the national team with gendarmes, not out of snobbery…I cannot put the team jerseys on, I get mine directly from Puma," the footballer said in an online video chat with young Cameroonians Wednesday organized by local satirical magazine Je Wanda.
The FC Anzhi Makhachkala striker also said he is cautious about what he eats during training camps.
Eto'o was among 11 players who did not honour a call up for a friendly against Tanzania on Wednesday. He cited an injury as the reason for his failure to show up in the game Tanzania won one nil.
However, some critics say it was a phony reason, which shows Cameroon football is still in perilous waters.
Others blame the Cameroon Football Federation (FECAFOOT) for the falling standards of the sport in the erstwhile continental heavyweight.
The four-time African player of the year does not see a bright future for Cameroon football unless the wrangling pinning it down is resolved.
Eto'o said that FECAFOOT officials are incompetent, corrupt and should all resign.
"These aged persons have swindled our money enough…instead of managing football for the general interest, they are only concerned with fictitious missions, first class travels and untraceable bank accounts in Europe."
Cameroon faces Togo in March in playoffs for the 2014 FIFA World Cup in Brazil and Eto'o does not think Cameroon in its current state will be able to beat the Sparrow Hawks.
He said the ongoing Africa Cup of Nations has had a good level so far adding that merit goes to teams like Nigeria and Togo that solved the problems plaguing their football.
FECAFOOT has still not commented on the team captain's allegations.
In a report on afrikitalia.it, Italy-based Cameroonian journalist Jean Claude Mbede Fouda said a
senior
FA official told him Eto'o was unpatriotic and his claims "frivolous".
"When you're a friend to a group of individuals currently detained for embezzlement, and are responsible for destabilizing the country's football to topple the government, you act like Samuel [Eto'o]."
The official reportedly said the FA was ready for the televised debate and said he was sure Eto'o will not emerge winner.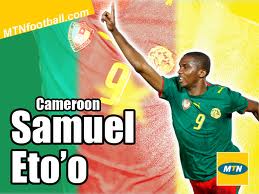 Cameroon's last performance at an international senior level tournament, the 2010 FIFA World Cup in South Africa, laid bare the country's football troubles.
The four-time African champions, the Indomitable Lions, were booted out of the
competition
without a single point. They then failed to qualify for the Africa Cup of Nations in 2012 and this
year.
*Source Africa Review