Assistant Secretary of State for African Affairs Johnnie Carson briefs journalists on the upcoming elections in Kenya.
Africa Regional Media Hub
Via Teleconference
February 7, 2013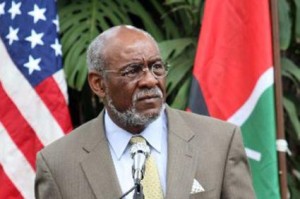 MODERATOR: Good morning and good afternoon to everyone from Johannesburg, from the Africa Regional Media Hub with the United States Department of State. A warm welcome to our participants calling from across the continent and to the media gathered in the room in Embassy Nairobi. Today, we are joined by Assistant Secretary of State for African Affairs, Johnnie Carson, who is speaking to us from Washington DC. We begin today with remarks from Assistant Secretary Carson and will then open it up to your questions. To ask a question press "star, 1" on your phone to join the queue. Today's call is on the record and will last approximately 40 minutes. And with that I will turn it over to Ambassador Johnnie Carson.
ASSISTANT SECRETARY CARSON: Carrie, thank you very much for the introduction and good afternoon to all the participants in this call. I am extraordinarily pleased to have the opportunity to speak with you today about Kenya's upcoming elections. These elections are vitally important to that country's future. Kenya has been a long standing friend and partner of the United States and probably our closest partner in East Africa, in the Horn.
These elections are vitally important. The choices that Kenyans make on March 4 will affect the stability, prosperity and reputation of Kenya for many years to come. As President Obama said earlier this week in his message, Kenya must reject intimidation and violence and allow a free and fair vote. Kenyans must resolve disputes in the courts, not in the streets. Most importantly President Obama urged Kenyans to come together even further towards a true democratic Kenya defined by the rule of law, and strong institutions which respects the rights and dignity of all Kenyans.
President Obama clearly stated that the choice of who will lead Kenya is up to the Kenyan people, but it is also important to note that choices have consequences. We live in an interconnected world and people should be thoughtful about the impact that their choices have on their nation and on the world. All Kenyans, no matter their gender, ethnicity, or geographic affiliation, have the responsibility, through their own actions, to help ensure Kenya's elections are free, fair and peaceful, and through the election process to select the country's leaders.
National leaders are responsible for their actions before, during, and after the elections. Accountability for political violence, including that perpetrated during the 2007 / 2008 electoral crisis is an important part of building a peaceful and prosperous country. We know very well the negative economic impact that past violence has caused Kenya. Kenya needs successful elections to ensure a stable and secure environment that will continue to attract foreign investment and to fuel the country's economic growth and prosperity. The United States support free, fair, and peaceful elections that will help ensure Kenya's stability and prosperity.
Since 2010, the United States government has contributed more than $35 million to support electoral reform, voter education, and elections preparation. The United States elections observation effort will complement domestic observation and other international observation programs. With this election, Kenyans have a wonderful opportunity, an enormous opportunity to build positively on the recent constitutional reforms and demonstrate to the world the vitality of Kenya's democracy. As the president said, to all that are willing to walk this path of progress, he will continue to have a strong friend and partner in the United States of America. I am going to stop right there and thank you for listening to my opening remarks. I will take a few questions.
MODERATOR: Thank you Ambassador. We are going to start today with some questions from journalists gathered in the room in Nairobi. A quick reminder to callers to press "star 1" if you have a question and that will put you in the question queue. So I will turn it over to Chris Snipes who is moderating questions in Nairobi. Go ahead, Chris.
MR. SNIPES: Thank you very much Carrie. We do have a few questions, and we will start with a question from The Star.
QUESTION: My name is Nzau Musau, from The Star newspaper. Ambassador, I just want a clarification. The message which came from the President was interpreted in some quarters, some section of the coalition of political players in Kenya, and they say that it is an endorsement from the President that they can actually run and there would be no action later. So you can expand on the fact if there would be sanctions after the election of the ICC suspects? If indeed the President endorsed any side of the coalition? Thank you.
ASSISTANT SECRETARY CARSON: Thank you very much. The President was absolutely clear that the choice of who Kenyans select as their leaders is up to the Kenyan people. We as the United States do not have a candidate nor a choice in this election process. But as I just said, choices have consequences. We live in an interconnected world and people should be thoughtful about the impact that their choices have on their nation, on their region, on the economy, on the society, and the world in which they live. Choices have consequences.
MODERATOR: Chris, we can take another one in Nairobi.
MR. SNIPES: Thank you, yes, we do have another one.
QUESTION: Mr Ambassador, please clarify what you mean by choices have consequences.
ASSISTANT SECRETARY CARSON: Let me say very clearly that individuals have reputations, individuals have images, individuals have histories, individuals are known for who they are, and what they do, what they have said and how they act.
MODERATOR: Chris, do you have another, one more question in Nairobi?
MR. SNIPES: We have one more at this time, yes.
QUESTION: My name is Antony. I am from The People. Mr. Ambassador, I want you to clarify, or to make it straight, what position the U.S. government is going to take if Uhuru Kenyatta and William Ruto [inaudible] in the ICC.
ASSISTANT SECRETARY CARSON: It would be presumptuous of me to engage a hypothetical answer about an outcome about which we are not certain at this point. I don't know who is going to win the election, and so I am not going to make any judgments about any actions that might be taken about a winner or winners who are not yet known.
MODERATOR: We are going to take a question now from callers. We are going take the first question from Peter Fabricious with Independent Newspapers in South Africa.
QUESTION: Secretary Carson, thanks very much for your briefing. Could you give me some sense of the U.S. assessment of the likelihood of peaceful or violent elections? There is a growing incidence of violence in various parts of the country and concern being expressed about the possibility that this could have an impact on the election.
ASSISTANT SECRETARY CARSON: Well, let me say that I think that we in the United States join with many, many across Kenya to do everything that we can to prevent a recurrence of the events that followed the 2007 elections and carried over into 2008. We have worked with groups across Kenya to reduce the prospect of violence in the forthcoming elections. We have worked with Kenyan groups to monitor, reduce, and eliminate hate speech on radio and in the print media. We have encouraged peace and reconciliation committees and communities in and across the nation. We have reached out to religious organizations, to civil society, to youth groups, to professional business groups, to women's groups, and to local leaders, all encouraging them to discourage violence, to look at this as a peaceful process, and to avoid any kind of acts of intimidation.
There should be no place for violence in the democratic electoral process. And we are also encouraging all political leaders to foreswear violence, to sign pledges that they will not engage in violence, encourage or incite violence from their followers, and they will not tolerate it. The Kenyan justice system should not allow for impunity for those who commit violent acts or who encourage violent acts.
We have seen some local, regionalized incidents of violence in the Tana River area and around Mombasa. We look at these as a result of some longstanding political and land grievances. We hope that these things will not spill over into the political process, but it is incumbent upon all those who are friends and partners of Kenya as well as all of those who are citizens and politicians and civil society and religious and business leaders in Kenya to recognize that violence should be eliminated from the political process.
The violence that occurred after the 2007 elections into 2008 resulted in a significant loss of Kenyan GDP that resulted in a loss of tourism, tourism revenue, a loss of several billion dollars in earnings. And, because Kenya is a gateway, a hub to all of the East Africa region, when the roads between Nairobi and Kisumu were closed, it meant that there was no overland transportation into western Kenya, into Uganda, into Southern Sudan, into Burundi, Rwanda, and into the eastern Congo.
Kenya is a keystone state. It is an economic hub, a financial center, an agriculture giant, a communications node. Kenya is vitally important to every Kenyan, but it is also vitally important to the region and to the global community. Kenya's politicians must not allow violence to dominate or interfere in this political process. It must be free. It must be fair. It must avoid '07 and .08, and I will say again choices have consequences. People should be thoughtful about the impact that their choices will have on the nation, and on the region, on their image, and on the country.
MODERATOR: The next question is from Channels TV in Nigeria, Amarachi Ubani.
QUESTION: Thank you so much Ambassador. You just answered my first question, so I will just go on to the second one. In the meantime, while the U.S. is helping Kenya to prevent electoral violence after the elections in March, what else is the United States doing to help strengthen the country's democracy.
ASSISTANT SECRETARY CARSON: Let me say that we have been a proud participant in efforts to strengthen Kenya's democratic institutions. Over a number of years we have worked very closely with the Kenyan parliament to help strengthen the committee system in parliament, to strengthen the ability of the parliamentary representatives to investigate and to review legislation, to look at budgets, to develop bills and to undertake their responsibilities as legislators.
We think that we have engaged significant efforts to strengthen the ability of the parliament to hold accountable the executive branch for its actions and responsibilities. We have also worked closely with the Kenyan judiciary. We have an enormous respect for the Chief Justice of the Kenyan court, and we have work with Kenyan jurists to help strengthen the judicial process and judicial procedures. We recently invited a number of Kenyan jurists to the United States to meet with members of our own federal judiciary, and also our Supreme Court. We believe that democratic institutions play a vital part of the democratic process. We have also worked with the media and with other trade associations as well.
MODERATOR: Thank you, we are going to turn it back over to journalists in Nairobi for a few questions, and just a reminder to callers, we will come back to you, but press "star 1" to join the question queue. Go ahead Chris.
MODERATOR: Thanks Carrie, we have a question from Nzau Musau from the Star.
QUESTION: Ambassador, some of the U.S. allies in Nairobi like the British, UK, have already announced they will adopt a policy of no contact with the ICC indictees in case they get elected. So, from the U.S., for example will you consider visa ban? Is there something along that line?
ASSISTANT SECRETARY CARSON: Let me just say again choice have consequences. Choices have consequences. Individuals have histories, individuals have images, individuals have reputations. When they are selected to lead their nations, those images, those histories, those reputations go along with them. They are not separated from them. Again, I am not going to speculate on what our actions will be, but we are not signatories to the ICC convention, but I underscore that we recognize and respect what the ICC is trying to do, and we try to adhere to what its main principles and goals are.
MODERATOR: Any more from the room?
MR. SNIPES: Yes, we have another question from the Nation.
QUESTION: Thank you, my name is Aggrey Mutambo from The Daily Nation. I would like to know how significant the U.S. sees Kenya in the region and the whole of Africa?
ASSISTANT SECRETARY CARSON: Thank you very much. Kenya is our most important partner in East Africa and the Horn of Africa. Our friendship has been strong and durable since Kenya's independence in 1963. Today, Kenya houses our largest embassy in Africa, not just in sub-Saharan Africa but all of Africa. Our quarters at Gigiri are the most significant diplomatic establishment that we have in Africa. Full stop. That is in recognition of our longstanding friendship and partnership, but it is also in recognition of Kenya's overwhelming importance to the region.
As I said before to you, Kenya is the financial and transportation hub of East Africa. It is a major agriculture producer and center. It is a major manufacturing centre. What goes on in Nairobi and in Mombasa not only affects the people of Kenya, it affects all of the surrounding states. What happens on the road from Mombasa to Nairobi and from Nairobi over to Lake Victoria and Kisumu, can have enormous impact on landlocked states in the region, on Uganda, its ability to move cargo in and out, its ability to move agricultural supplies and capital goods. On Burundi. On Rwanda. Mombasa is more important as a city and as a port of entry to Bukavu, to Kisangani, to Goma, than is Kinshasa. The same can be said of Juba. And the same can be said of many places in southern Ethiopia which have better access through Kenya.
Kenya is an important partner. It is an important state, and this is why we are focused on trying to do as much as we can, along with Kenyans, along with Kenya's friends in the international community. To appeal to all of Kenya's political class, all of the business and commercial elite, to take seriously the need to ensure that these elections do not turn out the way that the '07, '08 elections occurred.
This is not the time for violence. This is the time for reconciliation and for progress. This is the time to build upon Kenya's constitutional reforms. This is a time to take a step, a positive step forward, to make Kenya an even greater place than it is today. But the decisions are in the hands of Kenya's voters. In Washington we are looking at Kenya as a partner, as I said before we do not select rulers for other countries, but we do believe in the democratic process, we believe in democratic institutions, and we believe that there is no place for violence or intimidation or harassment in the democratic process. It is unacceptable.
MODERATOR: We are going to turn to our callers, and the next question is from Richard Lough from Reuters, calling from Nairobi. Go ahead, your line is open.
QUESTION: Ambassador, good afternoon. My understanding is that Washington already has an essential contact only stance with ICC indictees in general. I assume that includes Uhuru Kenyatta and William Ruto. Could you confirm that that is indeed the case, and is it therefore fair to assume that this stance would remain in place if Kenyatta won the election, if it was deemed free and fair. And secondly, if I can ask you a question on Mali. I just wondered if you are using, I understand that you are using drones that are based in Niger, but whether the U.S. is deploying drones that are based elsewhere over the Sahara region, whether these drones are armed and whether you have plans in place for the deployment of Special Forces.
ASSISTANT SECRETARY CARSON: Thank you. Let me take the first Kenya-specific question. We have, in respect to President Bashir, in individuals in Sudan who are ICC indictees, taken a position that we will not engage with them, and we have not. And I will not speculate here on what is not yet a fact. But I will say that it is clear that we have taken our distance, our diplomatic distance, certainly in the case of these individuals in Sudan who are ICC indictees, that we have not engaged with them directly. We believe that individuals who are accused of crimes against humanity should go before the courts to prove their innocence or suffer the consequences of the judgment of the courts if they are found guilty.
With respect to Mali and drones, drones are not part of the State Department's diplomatic arsenal. I will not comment on drones, their use, or where they are located. This is not a question for public discussion by me or my office. I will say this about Mali, that we support the actions of ECOWAS, we support the actions of the French and the non-ECOWAS forces that are operating there. We believe that it is important to do everything that we can to help to eliminate the spread of al-Qaida in the Islamic Maghreb in Mali and in other parts of West Africa.
But I will also say very clearly that Mali is a very complicated set of issues. It is absolutely imperative that that country move back to democracy through elections. It is important that the electoral roadmap and timetable be adhered to and that we see a return to democracy there. A military solution without a democratic solution is an imperfect solution. We must also seek negotiations with the moderate Tuareg, those who renounce violence. The Tuareg, many have longstanding political grievances, legitimate and longstanding. They must be dealt with, but we also must keep focus on the elimination of AQIM as a threat not only to Mali, but the region as a whole, and we should not forget the humanitarian concerns as well.
MODERATOR: Okay, we are going to take one question from a caller, then we are going to go to Nairobi and take the final question. The next question is from Jason Straziuso with the Associated Press, calling from Nairobi.
QUESTION: Hi Ambassador, you touched on this a little, but I want going to see if you can round it out a little bit. In general, you were just talking about Sudan, not only the reaction to the individuals who might be charged but what is the economic or military, security reaction as a whole, in terms of the U.S. relations to the country if it has a leader in place that is indicted or convicted by the ICC.
ASSISTANT SECRETARY CARSON: Jason, thank you for that question. I don't want to make a comparison with Sudan in its totality because Sudan is a special case in many ways. We have comprehensive economic and commercial sanctions on Sudan. Some of our most rigid and tough sanctions in the world, but those sanctions are there as a result of actions that occurred in Darfur and also because of Sudan's support in the past for terrorist organizations. Sudan is on our state sponsored terrorism list. It is against U.S. law for us to trade with Sudan, to have any financial transactions with Sudan, to fly any commercial airplanes into Sudan or have any American registered ships go into Sudanese ports. Many of those sanctions deal with the government's mishandling of the situation in Darfur, and the government's past support of terrorists and terrorist organizations. None of that, none of that applies to Kenya. Again, it is a different set of circumstances.
Let me just also add here, Jason, if I would, I am going to come back to this point, choices matter. Choices matter and they have consequences. We live in an interconnected world. People should realize that their choices have an impact, and this impact can be in terms of a country's image, it can be in terms of how leaders and countries are perceived, and people make choices in a global community on the basis of images, and on the basis of past histories, of things that have occurred. These things are not in isolation.
MODERATOR: Thank you. We are going to take the last question from Nairobi. So Chris, I will turn it over to you.
MR. SNIPES: Thank you very much Carrie, we have one more question from The Standard.
QUESTION: Thank you, my name is Moses Njagi from The Standard. Ambassador, you have repeatedly said that choices have consequences. Is that to say that the U.S. for example would have the [inaudible] if they go ahead and elect persons who have tainted images?
ASSISTANT SECRETARY CARSON: Again I am not prejudging who Kenyan voters will select. That is a choice for Kenyans to make. It is a choice only for Kenyans to make. But we do live in a broad global interconnected community and as I said, it is difficult to separate a person or persons from their images and from their histories and from their actions. It's inevitable, it's around the world, it's not one place but everywhere and every place.
MODERATOR: Thank you. That concludes today's call. I would like to thank Assistant Secretary of State for African Affairs, Johnnie Carson, for joining us and thank all of our callers for participating. If you have any questions about today's call, please contact the Africa Regional Media Hub at afmediahub@state.gov. Thank you so much.