My Appeal To Young women: Be the agents of Change Africa Needs
By Grace Ruvimbo Chirenje*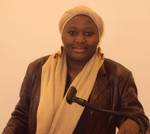 I was recently reading a book about Africa Changers by Bishop Ed Bilong from Cameroon and it got me thinking about a Youth21 Forum I attended in 2012 hosted by UNDP and UNHABITAT. It was a very insightful meeting and I was inspired to return to Zimbabwe to do the most amazing possible things so as to transform not just my nation but Africa as a whole. What Bilong stimulated recently was the perspective of Africa and how as a young feminist leader I am able to make things happen from where I currently stand. As a result of this inspiration, I thought it worthwhile to share a few insights to fellow African sisters and us all so we can begin to take the necessary steps to transforming not just our lives but the lives of those around us. Knowing oneself and leaving a legacy will be the two aspects I will focus on.
Introspection is a painful yet very necessary journey. In Africa today, women and young women in particular occupy the periphery of leadership. The reasons are best known to the powers that be but one thing for sure is that nothing will be handed to women on a silver platter. In that regard, it is important that as young women leaders, we take a stance to get to understand ourselves better and recognize where our strengths lie and manage our weaknesses enough to ensure that we create opportunities and where they are presented to us we occupy them. It is therefore necessary that at whatever leadership level and with particular reference to governance where 50-50 representation lacks greatly, young women begin to take steps to empower themselves and lead as best as they can. It will not be an easy road but it is possible hewn we focus to know ourselves and what we can offer and do just that, lead!
Generally, Africans are known to want to acquire and do not have the heart to maintain and sustain. Young women of this generation who are faced by very high unemployment rates and education curriculums that do not match the requirements of the workforce industry need to wake up and face the reality that this is the time to create employment and not seek it. Looking at whatever is within our means so as to acquire what is already in existence or create what is possible, young women have to leave a legacy for generations to come. Be gone to this nationalist talk where some have decided to utilize it as an avenue to abuse power and follow selfish personal ambitions. Young feminist changers can ensure that today they can decide to leave a lasting legacy that will inspire generations to come so that they too can acquire, maintain and sustain whatever is trusted within their care.
As the continent continues to make slow and steady strides of progress, women have to been more assertive. Despite cultural barriers which keep doors of opportunity shut for women, there is the potential for things to change. The women have the numbers, there are getting more educated and in all spheres of life, there have been ample examples to show that there can fare as well as men if not better in the face of equal opportunity. It is inspirational to see two female Presidents in the continent in the person of Joyce Banda of Malawi and Sirleaf Johnson of Liberia. It is great to see that the President of the African Union Dr Dhlamini Zuma is a female. From sports, to entertainment, entrepreneurship et al, women are taking charge and the trend must continue.   Not to forget our very own Thokhozani Khupe, Joyce Mujuru and Priscilla Misihairambwi Mushonga who have braved the male dominated political sector in Zimbabwe to ensure that women's voices are integrated into political leadership – what an inspiration!
Finally, a word of wisdom is that nothing will be handed to the younger female generation on a silver platter so now is the time to begin to ensure that we decide what we want and we go for it. Thabo Mbeki during the Forum mentioned earlier, urged the younger generation to make a difference to ensure that Africa becomes a force to reckon with and not just hang out waiting for the next best thing. If young women can stand as mothers, sisters, aunts and all sorts, it is very possible that they may know themselves better, create, acquire and leave a lasting legacy. There is no limit to our potential so let us go for it and make Africa worth the glory and change!
* Grace Ruvimbo Chirenje is a young feminist leader from Harare, Zimbabwe. Currently she is the Director of Zimbabwe Young Women's Network for Peace Building (ZYWNP).  Grace is the Vice Chairperson of Crisis in Zimbabwe Coalition and board member of Centre for Community Development in her efforts to contribute to the democratization process of Zimbabwe