Corruption And National Development
By  Nuhu Ribadu *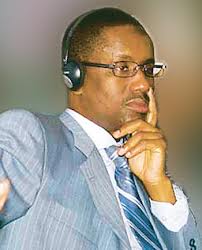 It gives me immense pleasure to be part of this distinguished gathering. I am very honored to be asked to speak on an important topic that is at heart of the national discourse and therefore the key to any solution to our various challenges. Behind every problem confronting us, there is corruption. Corruption is a recurring decimal in every change of government in this country.
We have got a problem with our country and we all know it and therefore we do not need to be constantly reminded of it, for it is an issue that we confront in our daily lives,  in  our schools, and our interaction with the police, in the army or SSS, customs and immigration offices, prisons, the legislatures, the ministries, hospitals, in our courts and in the private sector as well like our banks, markets and not to mention, the media are daily awash with mind boggling reports on corruption all over the country. Most of us here may be wondering how and when corruption took charge of our lives?
Since this event is taking place here in Kano and there will be no time to have an exhaustive coverage, let us just narrow the discussion to this part of the country. However, I will note that what happened here is a reflection of other parts of Nigeria. For starters, I would like to take a walk with you down memory lane on our recent past as a region. Sir Ahmadu Bello, the first and only Premier of Northern Nigeria and his lieutenants, most of blessed memories, led this vast region effectively for just about a decade. Keenly look at what they were able to achieve, largely with internally generated revenue because there was no oil then or it was insignificant in the revenue profile of the country. The last annual budget by the late Sardauna for the whole north was just 44 million pounds.
It is important to state that with this scanty resource, they were able to maintain law and order and ensure effective security of life and property for this vast region. They built Ahmadu Bello University, the largest in sub-Sahara Africa; they built Ahmadu Bello Stadium one of the largest and best in Africa at that time. They built NNDC, the largest black owned Conglomerate in black Africa; they built many textile factories, good roads, marketing boards, efficient water supply where it was available and good sanitation, well planned urban areas with trees and good hospitals with ambulances; good primary and secondary schools; Kaduna Polytechnic that is the largest in black Africa. Indeed everyone still recalls that golden era with justifiable pride. These were accomplished by men and women from here and not from the moon.
When Major Nzeogwu made his speech to justify the takeover of power on January 15th,  1966, he mentioned that the military took over because the First Republic politicians were collecting ten percent bribes. Though I am in disagreement with his assumption given the achievements recorded with the paltry sum, but nonetheless it presupposes that at least they were using 90 percent of the resources to do the work. It would be great to pose the question "What is happening now"?  It is either the other way around: public officials taking away 90 percent and using 10 percent to work or even out rightly looting of the treasury; in fact from recent reports, a lot of money is stolen from the source, that it does not even make its way to the treasuries of the many governments in the country today.
To be fair, it is important to mention that there is corruption in every society, including all the advanced countries. However the irony is it has not stopped development. There was corruption in the First Republic too. But it was dealt with effectively and it was not allowed to be the cancer that it is now. It was not as widespread and as rampant in scale and magnitude as it is now. As I was writing this paper, I stumbled on a tweet that got me thinking that read as follows, "The revenue Nigeria received for the whole of last year (2012) from the sale of crude oil is more than the yearly aid, the entire sub Saharan Africa received. Where is the money, where is the improvement?"
This was a question posed to us by the UK Prime Minister, David Cameron at the World Economic Forum in Davos.
Corruption is a vicious cycle. Mismanagement of public funds has direct bearing on the country's collapsing infrastructure, standard of education, health facilities, insecurity, injustice, unemployment, poverty and other challenges which are interconnected. The efficiency of public services and ability of the regulatory agencies to regulate the private sector are also affected resulting in collapsing infrastructure and poor services. Corruption dents the citizens' confidence in the integrity of leaders and credibility of governments.
Northern Nigeria which Sir Ahmadu Bello led at independence is now 19 states, the federal capital territory Abuja and 414 local government areas. These 19 states and over four hundred local government areas got a total of N8.3 trillion from the federation account between 1999 and 2010. We know quite well that every one of these local government areas has budgets per annum that is more than the budget of the entire northern region of old. Can we please emulate the glowing examples of Sardauna?
My take is that they were not corrupt and that was the reason they achieved so much with so little. What is really happening now with all these huge sums? These local government areas do not even repair township drainages. They do not maintain existing markets and motor parks amongst many other things that would take a while to mention. Nobody knows what they generate as revenue internally because all the sums quoted in the reports and newspapers are just what they get from the federation account monthly. They hardly meet in council except when there are subventions to be shared. Local government is the nearest to the people and also has the easiest funds being stolen by corrupt officials and their collaborators.
The state governments are mostly not fairing any better. Some of the states have governors that are doing some commendable developmental initiatives but many of them just need our prayers. Governance has been reduced to periodic elections. Once a governor gets elected, he or she will start planning for a second term; and as soon he or she gets a second term, the scheme to be president or vice president will start being initiated. For those who are not going to be either president or vice president, the retirement house for many governors is now the Senate on top of installing his preferred successor. .
The constitution enshrines a three tier government of local, state and federal levels. At each level there are supposed to be three arms of government – executive, legislature and judiciary. From all indications the legislators have become, in most cases, rubber stamps. They are supposed to appropriate money for the executives. They are supposed to do oversight functions. In short, they are supposed to check the excesses of the other arms of government.
Today, if the legislators are doing their work effectively, many who are appointed ministers or commissioners wouldn't have been there. Their oversight functions are now reduced to visit to ministries and agencies to get packages. Even monies that are appropriated as budgets, the committees of the legislature are part of those being awarded contracts by these departments in addition to their very generous constituency allowance that is not subject to any check and balances.  To make matters worse, many legislators, especially from the northern states, hardly attend sittings to defend the interests of their constituents. They are mostly busy traveling  to various parts of the world with their new found wealth. There are a few of them who are very good but I do not know when most of these distinguished and honorables will sit down to really distinguish themselves in their primary duties of making laws for the good governance of the society.
The judiciary is supposed to be the last hope of the common man. Justice is an attribute of God and is the real foundation of any egalitarian society. It is sad to say that the judiciary in Nigeria has of recent times become the main legitimizing institution for any corrupt practice. When you rig an election, it is the judiciary that gives validity to that election. When the politicians are not in agreement, a judge will give a helping hand to the one with more power and money. When you steal public money and the anti corruption  agencies charge you to court it is the judiciary that cleanse that illegally acquired  wealth and make what is unlawful, Haram, to be lawful, Halal. It may be made Halal by the judges but the society knows it is not and God knows. One day we will account for all these deeds, if not now then certainly later; and if not here then definitely in the hereafter.
There are two institutions that throughout our history are very critical to any reform of the society – religious leaders and traditional rulers. In this part of the world, we have a model for reforming society as espoused by Shehu Usman dan Fodio and his disciples. They did the 19th century revolution to establish justice, ensure equity and entrench intellectual pursuit for public good. Resisting evil and enjoining good was the foundation of that order.
Today, most of the custodians of our cherished cultural values are those who help the oppressive status quo to get entrenched. Except for a few, most of our traditional rulers are part and parcel of the ongoing corruption. They did not inherit this system from our revered grandparents and parents. The subordination of these institutions to the whims and caprices of state governments has made many of them subservient to the corrupt system.
Similarly, a lot of the religious leaders we have today stopped talking the truth to power. The Ulama and clergies are supposed to be the successors of the divine prophetic messages. They are often reduced to various pathetically sycophantic prayers for the success of oppressors and corrupt people in power, or if they are not duping their congregations, then they are busy attending to weekly ceremonies for marriages, turbanning ceremonies or burials across the land. They do not pray for the poor or for genuine peace and progress of the people and society. So what do we do or what is the way forward?
Many people hold the view that the solutions to our problems lie with leadership. Yes, they are right, and they also believe that the leadership is at the highest level. Anything short of an honest, fair, just, modern and courageous leadership at that level in Nigeria today will not bring us back to the glorious days of the past. The blame generally is to the governors for the sorry state of affairs, but governors are not in charge of enforcement in Nigeria. Any society that does not enforce its laws properly will end up in chaos, lawlessness, indiscipline, insecurity, dishonesty and corruption. And this is the situation of Nigeria, period. That leadership in Nigeria must lead in the fight against corruption. It will take a  fearless and upright president to  stop  corrupt governors doing what they like with their state's money. The fight against corruption has to begin from there for it to be meaningful.
All of us must be involved in every way to raise the educational standard of our people at all levels in both western and eastern senses. It is not easy to mobilize an illiterate citizenry. We must enlighten and mobilize our people to be conscious of national and global trends and events, to fight election rigging and all forms of extremism in our communities. We must help in every way, individually and collectively, to get the right people to do the right things in the right ways. We must start naming and shaming corrupt people in our communities. In short, there is need for structural, institutional and attitudinal changes that should be deepened and widened all over our communities.
Today, whoever wants to get elected in Kano and many other parts of especially the north, one has to evoke the name of late Mallam Aminu Kano of blessed memory. How much did he leave or what did he leave behind? Only his good name and good deeds! When President Shehu Shagari was overthrown by the military in 1983, he had only N64,000 in his account. This is what the driver of a commissioner gives out daily, and yet he was president for more than four years in Nigeria. Many other examples abound in many parts of our beloved country, before and even now: it was done before and it can be done again.
The irony of the fight against corruption in Nigeria today is that even the corrupt ones are pretending to be fighting corruption. A corrupt person cannot be in the lead in the war against corruption. We are deceived constantly by people in government and those outside government who are desperate for power or attention. These are the conmen under the guises of politicians. There are also a few conmen in the name of religious leaders. I appeal to these characters to please repackage. Kindly engage in other things that can bring you attention, drop this issue about "fighting corruption" that has now turned into a cliché that you are using to bring confusion to Nigerians.
There are sufficient laws and institutions to fight corruption in Nigeria today. What is needed more is the honesty, determination and competence to carry out the fight effectively at both the executive and judiciary level.
For now, let us not be just spectators in the affairs of our country. Corruption is denying us national development. Let the good ones amongst us get involved in politics and activism. Let us keep putting pressure on our corrupt leaders. My good friend, Rotimi Fashakin of the CPC, says "the corruption in the past is mere bazooka and that the corruption of the present has gone nuclear". We need to work hard to deactivate this nuclear weapon as soon as we can otherwise it will explode on us all.
I thank you all for listening. God bless us all.
*Nuhu Ribadu is former chairman of the Economic and Financial Crimes Commission. This paper was delivered at the two-day summit organised by the Northern Development Focus Initiative (NDFI).