-Elections in Ghana, chaos in Francophone Africa, misguided praise for Rawlings, the African Union, Obama and Africa et al
 -Ghanaian Professor George Ayittey shares perspectives on challenging times in the continent
 By Ajong Mbapndah L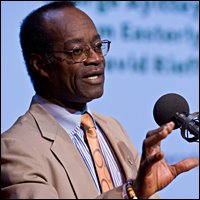 An interview with Professor George Ayittey is always exciting. He has a mastery of facts, broad knowledge of the continent and major events. A prolific writer, Prof Ayittey who heads the Free Africa Foundation is one of those uncompromising critics of poor leadership in Africa. Ayittey expresses regret that the Arab Spring did not extend to Sub Saharan Africa but remains optimistic with the emergence of a more critical and dynamic younger generation. Unlike the last couple of elections which have made Ghana a reference in the continent, results of the 2011 elections were contested by the opposition but Prof Ayittey believes that the elections were free and fair. Ayittey also cautions Africans to lower their expectations of President Obama in a broad interview which also discusses the African Union, crisis in Francophone Africa, controversies on the Rawlings legacy in Ghana and more.
 Prof Ayittey, looking back at 2012, what worked and what did not, in what areas or sectors did you see encouraging developments for the continent?
The year 2012 provided a sobering reality check into the Arab Spring. The euphoria that greeted the initial ouster of Ben Ali and Hosni Mubarak had subsided somewhat and terms such as Arab Autumn were being used instead. The revolutions, started by the youth in Tunisia and Egypt had been hijacked by senile clerics – some in exile for decades. Rival militias occasionally battled each other in Libya. And Bashar al-Assad continues to slaughter his people with impunity. Over 60,000 so far have been killed. Was the euphoria and bubbling optimism justified?
Rather disappointingly, the Arab Spring did not spread down to Sub-Saharan Africa and dictators, such as Paul Biya of Cameroon and Isaiah Afewerki of Eritrea continue to hold sway. There were even set-backs in Mali, where a democratically elected government was overthrown in a military coup in April, 2012 and another coup in Guinea-Bissau a month later. The coup in Mali sparked a rebellion by the Tuaregs and, in alliance with the terrorist group, Ansar Dine, declared the northern part of Mali as independent state of Azawad. This of course has created a major international crisis that has led the French to intervene in Mali.
2012 offers some poignant lessons to democracy activists. Topping a dictator is only the first step in establishing a free society. The next step is dismantling the dictatorship itself. It is analogous to having a bad driver with a defective vehicle. After sacking the driver, the vehicle itself must be fixed or else the new driver will quickly land in a ditch.
In far too many countries, the second step is either not attempted or botched, which leads to a reversal or hijacking of the revolution. This happens when a "crocodile liberator," such as Charles Taylor of Liberia, turns out to be far worse than the dictator he claims to have overthrown. It can also occur when quack revolutionaries flaunting fake democratic credentials hijack revolutions to stay in power and serve their own megalomaniacal agendas. Recall that a reversal of Mali's 1991 revolution occurred when mutinous soldiers overthrew the democratically elected government. As seemingly stable Mali revealed, hard-won democratic gains in Africa remain fragile.
In addition to the dictator's willingness to accept change, three factors will determine the success or failure of revolutionary upheavals: the duration of the transition process; who manages the transition; and implementation of constitutional and institutional reforms.
A hasty transition process almost always leads to failure. After all, it took the United States 13 years to transition from independence in 1776 to democratic rule in 1789. South Africa took three. A short transition period — say, six months — does not allow new parties time to organize and gives old opposition parties an edge. This is what happened in Tunisia and Egypt. Prime Minister Hamadi Jebali of Tunisia said in Germany, "We toppled the dictator but the whole system has not been overturned."
After the transition, a whole battery of reforms must be implemented. For a revolution to be sustained, the constitution must be revamped and institutions cleansed of the "nomenklatura." Sadly, in many countries, real reforms were not implemented, allowing the return of authoritarianism from Ethiopia to Uganda.
And it is clear that wherever the transition was managed by the military or a rebel group, the outcome has been disastrous. Military dictators simply manipulated the process, created their own parties, shooed in their favorite parties or "civilianized" themselves by shedding military uniforms and donning civilian clothes.
Nigeria's transition by its military dictators was the most egregious. General Ibrahim Babangida began it in 1985. He created two parties for Nigeria and wrote their manifestoes, too. When the 1993 presidential elections produced a winner he didn't like, he annulled the elections. Egypt's transition today is similarly flawed; the Supreme Council of the Armed Forced botched it so badly that protesters are now demanding its resignation.
Hopefully in 2013, we will draw lessons from our mistakes.
Now to specifics and we start with the good ones, another election in Ghana with the success tainted by cries of foul play from the opposition, what happened and did the opposition have any case against the victory of Mr Mahama?
The elections where free and fair and there were few reports of voter intimidation, harassment or stuffed ballots. But it was in the counting of the votes and tallying the results that problems emerged. The main opposition party has mounted a challenge and have amassed what they claim to be "incontrovertible evidence of fraud." They have filed a petition before Ghana Supreme Court. Since John Mahama has already been sworn in as president, it means the Supreme Court can invalidate his election and install a new president. This is the first time a case like this has come before the Supreme Curt, so everyone is waiting with baited breath.
For someone who hits so hard on leaders and flawed elections in the continent, what does the example of Ghana tell us about the complexities of more democracy with free and fair elections across the continent?
Holding elections should not be that complicated. There are 5 stages of the electoral process:
1.     Registering and compiling a list of eligible voters (voter's registry), identifying polling stations and setting a date for elections.
2.    Transporting ballots, ballot boxes and other materials to the polling stations and allowing people to vote freely without any hindrance or intimidation.
3.    Counting the votes in a transparent manner with representatives of all political parties present. There is a "collation sheet" at each polling station which they must sign to verify that the counting was accurate.
4.    Transmitting the results from the polling stations to the strong room of the Electoral Commission and resolving any discrepancies in the numbers and any other disputes to the satisfaction of all parties.
5.    Announcing the results.
Problems can occur at each of these stages:
1.     Ineligible voters may be registered – for example, minors or citizens of neighboring countries; some eligible voters – say supporters of a particular party – purged from the voter rolls. Or the register may be inflated with fictitious or ghost names.
2.    On election day, ballot materials may not arrive on time; ballot boxes may arrive already stuffed; voters may be prevented from casting their ballots through intimidation, beatings by hired thugs; indelible ink can easily be washed off, allowing some people to vote multiple times, though this is not possible with the current biometric system but the machines can break down, etc.
3.    In vote counting, the media and election observers – both foreign and domestic – may be debarred from polling stations to witness the actual voting. Not all ballots may be properly marked and must be rejected. There may be a sudden black-out, forcing votes to be counted in the dark or by candles, flashlight and lanterns. A fake tally sheet may be substituted for the real one and polling agents may be bribed to sign off on it. Polling agents of some parties may not even be there.
4.    Transmitting the results from the polling stations and resolving inconsistencies, discrepancies and disputes. This stage may be skipped altogether. The Electoral Commissioner may act arbitrarily, refuse to engage or consult with reps of the political parties, and rush to announce the results. Or he may engage them but intimidate, bludgeon or railroad them into accepting his final results.
5.    The last stage is announcing the results. Obviously, the final results must be certified by all parties BEFORE they are announced. This is to ensure that all issues – inconsistencies, discrepancies, etc. – have been resolved to the satisfaction of all parties before the results are announced. What if voting in some polling station is not complete or votes are still being counted, or some ballot boxes are missing?
Certainly, there were problems during Ghana's elections: Allegations that the voters' register had been padded with over 5 million ghost names; ballot papers did not arrive on time, forcing the extension of voting to the next day, instances of voter intimidation, etc. The following incidents were reported on Twitter: #ghanaelections: https://twitter.com/ghanaelections
·       Ayigya EC polling officer arrested for not stamping over 200 ballots cast!
·               Snatching of #BallotBoxes here and there… Manhyia, Kentinkrono, Ablekuma,
·               Chaos at Ablekuma North constituency. Voting has been halted.
·               Voting in Mbrom polling centre to be deferred
·               The DCE of Walewale has reportedly been arrested for allegedly snatching a ballot box but was later released.
·               Unconfirmed report says there are still no materials at the Dome Kwabenya constituency
·               The citizens of Nkwanta South in the Volta Region say they are not voting for lack of dev. in the area.
·               Reports that an NDC supporter has just been beaten to death in the Ashanti region?
·               A tear gas shot at the Ablekuma North Constituency to deter people from creating confusion
·               Just heard of a guy who got lynched while running with a ballot box at Ayeduase, Kumasi.
·               Verification machine not recognizing the thumb of Dr Wireko Brobbey
Considering the fact that there were over 26,000 polling stations, these incidents were minor. The Coalition of Domestic Election Observers (CODEO), for example, reported incidents of intimidation and harassment at only 13 polling stations – less than 0.01 percent. http://bit.ly/STqAqe. Media access was also generally free. Here are the views of Rebecca, a first time voter on video http://bit.ly/TYtHMo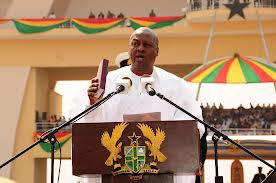 Stages 1, 2, and 3 appeared to have gone smoothly, earning the Electoral Commissioner, Dr. Kwadwo Afari-Gyan, high praise from all quarters – from ECOWAS, AU, both foreign and domestic observers. However, it appears stages 4 and 5 were seriously compromised. I warned about this, referencing Josef Stalin, who once quipped: "It is not those who vote that count (matter) but rather those who count the votes." Voting can occur smoothly – free and fair without intimidation or violence, as was observed on Dec 7 and 8. But that is not the full story. Counting of the votes and tabulation of the results can be falsified or doctored. Furthermore, fake results can be transmitted to the Electoral Commission. But such errors can be easily detected and rectified.
The main opposition party, the New Patriotic Pary (NPP) claimed that there were 1.5 million invalid votes, coming from three sources: over-voting, where more people voted than registered; people voting without biometric verification, which is illegal; and cases where the collation sheets were not signed by the Returning Officer of the Electoral Commission, thereby invalidating the results.
Ghana's Constitution allows any citizen to file a petition before the Supreme Court to challenge the validity of a president election. Nana Akufo-Addo, the main opposition challenger, has filed such a petition before the Supreme Court and Ghanaians are anxiously awaiting it ruling.
So even though the elections in Ghana were ostensibly free and fair, it appears fraudulent results were announced and the Supreme Court will decide the issue. Still, Ghanaians must be commended for being patient and following through with the Constitutional challenge. They have refrained from going on to the streets to vent their anger, which could have resulted in violence.
Prior to those elections you penned a very interesting piece on why democracy seems to be working in Ghana, citing amongst others the role of the media, can you use the analysis to sum up a picture of how democracy could thrive more in the continent?
Yes I did but the price of democracy is eternal vigilance. Three factors are needed to make democracy work. The first is the existence of a free media; in particular, print and broadcast media. In Africa, radio is the life and death of information transmission and the proliferation of FM radio stations in Ghana provided an invaluable tool to expose problems, hold government accountable and ensure transparent elections. In the 2000 elections, for example, FM Radio stations sent their reporters to every polling station. Anything suspicious or unseemly was immediately reported on the air, leading electoral officers and observers to rush to the scene and fix the problem on the spot.  They did not have to wait months for a voluminous report to expose the problem, by which time it would have been too late. Thus, the FM Radio stations ensured a level of transparency seldom seen in African elections. So impressed was New York Times columnist, Thomas Friedman that he wrote: "Let's stop sending Africa lectures on democracy. Let's instead make all aid, all I.M.F.-World Bank loans, all debt relief conditional on African governments' permitting free FM radio stations. Africans will do the rest," he wrote ("Low Tech Democracy," The New York Times, May 1, 2001; p.A13).
The second is the existence of a vibrant and vigilant civil society groups and NGOs – all made possible by freedom of association, of expression and movement, as well as improvements in communication technology such as cell phones and text messaging. There are hordes of NGOs – promoting a diverse range of issues such as good governance combatting corruption, among others. Some have been formed specifically to oversee the Dec 7 elections. One with impressive credentials is the Institute of Economic Affairs (IEA), which organized the presidential debates. The IEA also facilitated the crafting of a "Political Parties Code of Conduct" and the setting up of a National Enforcement Body to enforce the code. Eight parties have signed on. The code ensures that the political parties behave responsibly and can be held liable for any unlawful or unethical acts they commit. Nearly all civil society groups, including religious leaders have been preaching peaceful elections.
To this group may be added Ghanaians in the diaspora, who have a passionate interest in the affairs of their home country. Annually, they send some $2 billion in remittances to their country. They can shape and influence political opinion, as well as support various political candidates. With access to the foreign media, governments and institutions, they can raise a stink over electoral shenanigans in Ghana.
Third, and strong and well-prepared opposition is needed to make democracy work in Africa. In 2012, the opposition seemed better prepared this time around and had done its homework. It mapped out areas where fraud was possible and prepared documents, identifying these areas, as well as crafting procedures to counter fraud at polling stations. These documents were handed over to both domestic and foreign election observers. For example, fraud is likely to take place in the big cities like Tamale, Bolgatanga, Accra, Kumasi, Cape Coast and Sekondi Takoradi.
Certainly, the media has a strong role to play but a strong civil society group is needed as well.
Ivory Coast, then Mali and now Central Africa Republic, what is happening to the Francophone Africa, are we seeing the end of the French empire or what?
The ex-French colonies have been imploding with deafening staccato. Recall that there was Rwanda, then Zaire (nor Congo DR), Tunisia and Libya before Ivory Coast, Mali and Central African Republic. My view is that we should look at French colonial policies. France never prepared its African colonies for real independence.
French colonial policies were highly centralized and authoritarian. The French adopted a policy of deliberate destruction of the great paramount chieftaincies. By 1937 only 50 of them remained, most of which had been deprived of their prestige. French colonial policy had two strands. One was assimilation, the approach taken by Louis Faidherbe in Senegal under which the colony became an integral part of the mother country rather than a separate but protected state. Further, the colonized were expected to assimilate French culture. The rationale for assimilation was based on the belief of French cultural superiority. In fact, French colonialists felt they had a "mission civilisatrice."
The other strand in French colonial policy was association. This concept was developed and applied by Savorgnan de Brazza in Central Africa. Those advocating association believed that, though assimilation was desirable, it was impracticable because non‑Western people were racially inferior and would never be accepted, even if fully assimilated. Association, on the other hand, would permit the subject people to develop within their own cultures.
Association was akin to the British policy of indirect rule. The French version differed in some fundamental respects, however. The French colony was part of France rather than a separate political entity. The French also had no intention of using Africa's traditional rulers as intermediaries. They allied themselves with African rulers in order to neutralize them until they could be eliminated or deposed at convenience. Those who remained were put in the position of serving as agents of the colonial state rather than rulers in their own right. For example, when the French conquered Dahomey in 1894, General Dodds dismembered the kingdom. Only the central province, the area around the capital of Abomey, remained; the rest of the provinces were placed under direct French rule or made into new kingdoms. Where there were no central authorities, as in stateless African societies such as the Fulani and Somali, the French created new canton chiefs.
INDEPENDENCE AND AFTERMATH
When Guinea voted "No" to association with France and proclaimed its independence on October 2, 1958, France was miffed. It was not supposed to happen that way, up-setting French scheme of things. Viewed as a defiance, Charles de Gaulle ordered the withdrawal of all French functionaries from Guinea. Two weeks later, only 15 of the 4,000 French officials remained.  The French emptied their cash registers and shipped the weapons of the police, the library of the Ministry of Justice, and the furniture of the governor's palace back to France. In a burst of vindictiveness, some Frenchmen went so far as to rip out telephone wires and electrical fixtures, cut fruit trees, uproot gardens, tear down walls, scrawl obscene curses on buildings, and reroute a ship carrying 5,000 tons of rice.
The harsh treatment of Guinea was meant to give the other French colonies a warning. They could be next if they contemplated any such moves. When the clamor for independence was becoming insistent in the 1960s,to appease it, token independence was granted the colonies while France controlled everything from behind the scenes.
The French never equated decolonization with retreat. Charles de Gaulle, assisted by a handful of competent and ruthless men, managed an incredible sleight of hand: not a termination of France's control over its former African colonies, but a transformation of its control into something quite original — a community of nations, sharing one currency, that was tied to France economically, politically, culturally and, of course, militarily. African children were taught that their ancestors were Gaulles and that the deserving among them would gain French citizenship.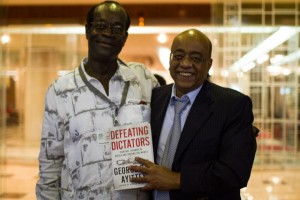 France left hundreds of officials in Africa as "advisers." Behind the doors of many key ministries in the Ivory Coast and Senegal or Gabon, discreet but powerful French officials kept a close eye on policy. The French also sent teachers to Africa and brought African students and civil servants to France for training. France's primacy as an external actor in central and western Africa thus continued largely unabated after colonialism. In fact, in 1993, there were more French citizens — about 100,000 — in post-colonial Africa than at independence.
A web of controls was also spun around the economies of its colonies in order to advance French economic interests. Special budgetary arrangements were made with France and the sister franc Communaute Financiere Africain (CFA) was created for the former French colonies in 1948 with its valued pegged at 50 CFA to 1 French franc (FF). France also set up a Department of Cooperation to provide French colonies with financial aid, tariff concessions, and support for their currencies. The department had an African aid budget five times greater than that of Britain. In 1988, for example, France spent $2,591 million in aid to Africa; Britain spent $516 million. More than half of French foreign aid went to Africa, making France the continent's foremost patron. In 1993, for example, France's budget for overseas aid was $7.9 billion (The Economist, Aug 12, 1995; p.35). And bailing out Francophone African governments by financing budget deficits was becoming expensive, costing the French treasury $2 to $3 billion annually. But much of that aid was nearly 100 percent tied; it was spent on French contractors, French goods and services. By tying aid to French suppliers, it denied Francophone countries the opportunity to shop around for cheaper bargains. Further, it denied Africans the opportunity to develop their skills as work on projects was contracted out to skilled French workers.
The common currency (CFA) and its link to the FF stabilized prices in Francophone Africa but at a tremendous geopolitical cost. By linking the CFA to the French franc and by insisting that Francophone African countries keep 30 to 35 percent of their deposits with the Bank of France, French banking connections were able to exercise "a far more effective system of control than any form of colonization." Furthermore, the linkage of the monetary system accelerated flight of capital out of Francophone Africa: "Over $500 million worth of local CFA currency was being illegally shipped out every year, about one-third of all the notes in circulation." On January 11, 1994, the CFA was devalued from 50 CFA to 100 CFA for a French franc, touching off a wave of demonstrations, labor disputes, prices increases and clashes across West Africa. The devaluation was deemed necessary in order for France to comply with entry requirements in the European Union (EU).
FRENCH INTERESTS PARAMOUNT
In dealing with its colonies, French interests were paramount; the people of the colonies were unimportant. The French did not hesitate to remove African despots who did not serve their interests or install those who would. After 1960, the French intervened on many occasions to prop up unpopular African regimes against internal dissatisfaction and disorders. The most notorious such occasion was in Gabon in 1964, when French troops were used to reinstate President Mba after a coup. Noting that the French did not intervene to save President Youlou in Brazzaville in 1963, critics charged that intervention was predicated on mineral wealth and the fact that Gabon is rich in oil.
When it came to defending its interests in Africa, the French were the most ferocious. In 2002, when Ivorian government planes accidentally dropped bombs on rebel positions, killing three French peacekeepers, France reacted swiftly and viciously. It sent in war planes to destroy Ivory Coast's entire air force!  Another instance was in May 1991, when 9 million rounds of ammunition arrived in Cameroon on a ship from France, destined for the authoritarian government of President Paul Biya. The ammunition helped Biya brutally suppress political opponents, enabling him to win the October 1992 presidential election in a vote that observers said was fraudulent. As The Economist (29 May, 1993) observed, As The Economist (29 May, 1993) observed,
"Two months later France gave Cameroon FF600 million [$110 million] in new loans. In May 1993, Mr. Biya was welcomed in Paris by both Mr. Mitterand and the new French prime minister, Edouard Balladur. In Rwanda soldiers loyal to President Juvenal Habyarimana have been responsible for atrocities against the Rwanda's Tutsi minority. Yet Mr. Mitterrand continues to help the regime" (46).
The French would also aggressively defend their language and culture. They were singularly culpable in the 1994 Rwandan genocide. The Hutu-dominated government of Juvenal Habyarimana was French-speaking. Paul Kagame and his Rwanda Patriotic Front (RPF) trained in Uganda, an English-speaking country, and were closing in. Chafing under the prospect that Rwanda would become an English-speaking country, panicky French officials provided aid and ammunition to the Hutu government. In fact, it was claimed that Habyarimana's plane was piloted by French officers. And after 800,000 Tutsis were slaughtered, the French provided a "safe passage" to the genocidaires to escape to the then Zaire, another French-speaking country.
The late President Mitterrand was severely rebuked at a French-African summit at Biarritz on 8 November 1994: "Human rights groups said Mitterrand's decision to invite Mobutu, along with other notorious, long-standing leaders, such as Togo's Gnassingbe Eyadema, was a betrayal of his promises at the 1990 summit in La Baule, in northwestern France, to terminate the autocratic rule of `Africa's dinosaurs'" (The Washington Post, 9 November 1994, A41).
During a visit to Yaounde, Paris mayor Jacques Chirac, then campaigning for the presidency of France, declared that "the continent was not yet mature enough for Western-style democracy, which he called a luxury that Africa cannot afford now" (The Washington Times, 20 April, 1995, A13). According to The Washington Times (16 July 1996),
"Paris has tolerated a high level of corruption and economic mismanagement among the pro-French governments in Africa. The French giant Elf-Aquitaine virtually operates Gabon's oil industry. France is by far Gabon's biggest trade partner, supplying 44 percent of its imports and 80 percent of its foreign aid. Three-quarters of all foreign investment in the country comes from France. Gabon and Elf's subsidiary there have long been a source of funding for French political parties, especially Mr. Chirac's Gaullists. (A11)
So the ex-French colonies were never prepared to serve the people; only France. The Arab Spring caught the French completely by surprise and they will continue to be caught off guard if they continue to cozy up with despicable despots and ignore African people's demands for change.
"If we are present, it is not to protect a regime, it is to protect our nationals and our interests, and in no way to intervene in the internal affairs of a country, in this case Central Africa,Those days are over," that was the response of French President Francois Hollande to calls from President Bozize of Central Africa for help to fend off the rebellion, what reading should we make of this statement and how could it affect politics in the continent?
I would like to think that this reflects a new change of attitude of France. Though President Francois Holllande seems to be a new kind of French leader, his rhetoric does not match post-colonial history of Francophone Africa, as explained above. He has already sent French troops into Mali and there are already 500 of them in CAR. But let us give him the benefit of the doubt.
You also do not seem to agree with those who credit former President Rawlings of the turn around in Ghana, in neighboring Nigeria, former President Obasanjo has been at odds with several public criticisms of the current President, what role do you see for former leaders?
I have had several arguments with Nigerians who praise Rawlings to the sky. I can understand their adulation given what the military rulers did in Nigeria. But I tell them that they can't denounce a military dictator in their country and praise another in a different country. A military coconut is a mili9tary coconut no matter where he serves. No military dictator has brought lasting prosperity to any African nation nation and no educated African with an iota of common sense would support, much less serve in a military dictatorship. If Rawlings was good for Ghana, then General Sani Abacha ("The Butcher of Abuja") was good for Nigeria. After all, they were pals. But let's get down to some specifics;
On the economy: When Rawlings seized power in 1981, Ghana's income per capita was $410 and the cedi was exchanging at 2.45 to the dollar. When Rawling left office in 2000, income per capita was $395 and the cedi was 10,000 to the dollar.
On Human Rights: The Rawlings regime did not believe in freedom of expression and human rights. When his NDC government feared that the outcome of a coming event may not be in its favor, it resorted to sheer terror, brutal tactics and violent intimidation of law-abiding citizens. It also did not hesitate to unleash its savage thugs against perceived critics of the regime. Here is a pattern of brutalities that characterized the regime's record since 1993. Note that the "Red Terror Days" of the PNDC era (1981-1992) have been excluded, during which more than 200 persons "disappeared," according to Amnesty International.
On March 22, 1993, Legon university students began a boycott of classes to press their demands for an increase in student loans. They had persistently complained that the 90,000 cedis per head for the year (for books, food, medical expenses, transportation, etc.) was grossly inadequate. The police was called into action and beat the students mercilessly.
The same year, 1993, security agents splattered human excreta all over the offices of the Ghanaian Chronicle. On May 12, 1994, "persons believed to be agents of [ruling] P\NDC sneaked into the premises of The Free Press and littered the whole place with human excrement" (The Free Press, June 10-16, 1994; p.7).
Then on Dec 4, 1994, the police raided the premises of Dr. Charles Wereko-Brobbey and seized the transmission equipment of Radio Eye and arrested 5 persons, including two Britons (Brian Shone and Tim Freeman — note foreign investment implications). The operators of the "illegal" radio station, Dr. Wereko-Brobbey and Victor Newmann, decided to present a petition to parliament. They were joined by supporters numbering about 1,000. But the marchers were attacked by government-hired thugs.
On May 12, 1995, ACDR thugs opened fire on peaceful Kuma Preko demonstrations organized by the AFC, killing four of them. Did that kill the AFC or stop the demonstrations? NOOO! More people turned out in greater numbers for the subsequent demonstrations in Kumasi, Cape Coast, and other cities. They never learn, do they? Did the Police arrest any of the killers? Nope. If a white man had killed four blacks we would have opened our stinking mouths wide open and screamed "Racism!"
Then on Dec 28, 1995, they beat up Vice President Arkaah. That instantly transformed him into a popular hero easily winning the PCP presidential nomination. Recall that in 1988, they made an attempt on Professor Adu Boahene's life. That too made Prof Adu Boahene a hero and became the NPP presidential candidate.
On June 1, 1996, the NDC regime unleashed thugs on peaceful university students demonstrators — AGAIN!! The vehicle that transported the thugs bore registration number ASA 4733 and was decked with NDC colours. Did the Police apprehend the driver and the vehicle? Nope.
It happened again on Tuesday, 25 August 1998 when unarmed university students marched peacefully to the Ministry of Education to protest exorbitant fees being heaped upon them. They were confronted by hundreds of riot policemen armed to the teeth, who charged with naked violence, simultaneously spraying hot water on the students, mercilessly beating them with truncheons and opening fire on them.
On the Media: Criminal libel suits became a weapon of choice of a brutal and increasingly discredited regime. When newspapers tried to expose corruption and wrongdoing by NDC government officials, they were slapped with criminal libel suits.  By 1998, libel suits filed by government officials had reached 350.
In August 1998, Kwaku Baako Jnr., editor of The Guide newspaper, and Abdul Harruna Atta, editor of the Statesman, were jailed one month each for contempt by the Court of Appeal in criminal libel suits against them. The court also fined their publishers, Western Publications for the Guide and Kinesic Publications for the Statesman, 10 million cedis each for the same offence.
Immediately, a group of journalists, media practitioners, academicians, Members of Parliament and other media sympathizers bearing placards and singing staged a three‑hour march to the Supreme Court buildings in Accra to protest against what they said was growing threats to press freedom in the country. Some of the placards read "Prison or no prison we will write," "we are not afraid of prison," "we will not surrender," and "How fair is press freedom in Ghana."
Mr. Kwame Karikari, the Acting Director, of the School of Communications Studies, University of Ghana, leader of the demonstrators presented a 5‑page petition to the Deputy Judicial Secretary, Mr. George Afflah Aryeetey. In the petition, the Friends of Freedom of Expression said since the return of constitutional rule, there has been an emerging trend from the decisions and sentences, which show that the courts are using the law to cripple the media.
The petition said the spate of sentences and orders for arrest and detention of journalists increasingly serve to cow courageous journalists and a threat to others. It said the courts are now becoming an institution to subvert press freedom," adding that the fines being slapped on journalists and publishers over the months point to a weakening of the media. The group said the overwhelming majority of the sentences, decisions, fines and damages are from cases involving high public officials or top functionaries of the ruling government or people very close to them. They pointed out that they are not against the courts performing their normal functions of interpreting the law and upholding justice nor do they intend to defend any act of irresponsibility by any journalist if and when that occur. The group said it is concerned with developments, which are tending to weaken the judicial system and the democratic process. The petition fell on deaf ears.
In June 1999, an Accra High Court ordered The Ghanaian Chronicle to pay an unprecedented fine of 42 million cedis ($16,540) for libel against Mr. Edward Salla, Minister of Roads and Transport. It followed an article in the Chronicle entitled "Vetting begins, Minister in a bribery scandal," which alleged that Salia had requested $25,000 from Milicom Ghana, a cell phone operator ((Index on Censorship, July/August 1999; p.134).
During the early hours of October 2, 2000, unidentified persons smeared human exrement on the entrance of the officies of the Accra bi-weekly, Crusading Guide. The incident is the third time under the Rawlings regime that human waste has been used as weapon of intimidation against the private press. Other media houses to have suffered the same fate — known as "shit bombing" in the local press — are the Ghanaian Chronicle and the Free Press  (Index on Censorship, Nov/Dec  2000; p.175).
If Nigeria admirers want Rawlings, Ghanaians would be more than happy to ship him to Nigeria pronto – together with his wife, cats, dogs and goats, plus the kitchen sink.
The African Union will also be having its first female Chairperson in Dlamini Zuma, do you expect the change to jolt the continental body out of its lethargy?
The comments she made that were posted at allafrica.com leads me to believe that she is unlikely to shake the AU out of its perennial lethargy but give us more of the same. http://allafrica.com/stories/201301030870.html
Perhaps this criticism is unfair to her because the AU itself needs some structural reform and I don't think she can bring that about. The AU was hurriedly crafted in 2003 by the late Muammar Khaddafi of Libya – largely to nurse his own inflated ego. It was a copy-cat notion: Europe has the European Union, therefore Africa must have the African Union. Later, Khaddafi tried to change it to the United States of Africa.
Nonetheless, the AU's record has been appalling. A den of unrepentant despots, it can't even define "democracy" and there is no election in Africa the AU doesn't like. It certified all as "free and fair." In 2011, Teodoro Obiang, the long-serving dictator of Equatorial Guinea was the Chairman of the AU, sent to Libya to mediate the crisis there!
There is not a single conflict the AU has successfully resolved. Each time a conflict erupts in Africa, its instinctive reaction is to appeal, appeal and appeal to the international community for aid. For example, when the Darfur crisis erupted in Sudan, the AU sent troops there. But when the troops came under sustained rebel assault at their camp in Haskanita on Oct 11, 2007, ten were killed and "at least 40 fled into the bush" (The Economist, Oct 11, 2007)
Then the AU unveiled the New Economic Partnership for African Development (NEPAD) in 2004 amid much pomp and pageantry. Nobody has heard of NEPAD since. Even one of its architects, Abdoulaye Wade, the former president of Senegal, dismissed it as a failure.
As the new Chairwoman of the AU Commission, Dr. Zuma has a tall task before her to make the AU, not only relevant to the lives of ordinary Africans but also effective. To start, she must, at the minimum, ensure that members of the AU pay their bills and respect the AU's own Charter of Human and People's Rights. Article 9 of that Charter guarantees freedom of expression. Any member who does not respect that Charter should expel from the AU. Even in the European Union, there are eligibility requirements; it is not just any rogue state that can become a member of the EU. But in Africa, a free media exists in only 8 African countries; journalists are hounded, harassed, jailed and even assassinated. Yet, the countries that perpetrate such heinous acts are members of the AU!
Second, the AU must come up with a clear definition of democracy. Not just any rogue country can hold coconut elections and be certified by the AU as "democratic." Democracy requires more than just holding elections. It also requires a constitution that is freely negotiated, checks and balances, an independent judiciary, an independent central bank, an independent electoral commission, a free and independent media, etc.
These are the tasks the new chairman must accomplish in order to win the hearts and minds of ordinary Africans. Otherwise, she will be dismissed as "all talk, no action."
President Obama is equally taking up a second term and in the first we know he visited Africa just once, what is it he could do in the second term that will be of benefit to Africa?
I think we need to lower our expectations of what Obama can do for Africa. Africa's problems are not for Obama to solve but ourselves. I coined the term, "African solutions for African problems" and have always preached that the solutions to the myriad of African problems can be found in Africa itself. They do not lie in the halls of US Congress, the White House, the corridors of the World Bank, the inner sanctum of the Chinese communist politburo or in the steamy sex antics of cockroaches on Jupiter. They lie in Africa itself.
Even then, I doubt if Obama can do much for Africa in his second term because he has become distracted by the events in Mali and Algeria. Focusing more on terrorism in Africa means shifting emphasis from democracy and good governance. Back in Sept 2001 when former president Bush announced the "war on terrorism," all sorts of scrofulous African dictators also claimed they were fighting against terrorists when they themselves were the real state terrorists. They employed this ruse in order to secure more US aid. For example, Charles Taylor set up an "Anti-terrorism Unit" ran by his son. Meles Zenawi of Ethiopia, Yoweri Museveni of Uganda and Robert Mugabe of Zimbabwe all claimed they too were fighting against terrorists when, in fact, they were standing on the necks of their people.
So, in my view, the best Obama can do for Africa is just suspend foreign aid to those African countries that do not have a free media. So impressed was New York Times columnist, Thomas Friedman, about the role of the media in Ghana's elections in 2000 that he wrote: "Let's stop sending Africa lectures on democracy. Let's instead make all aid, all I.M.F.-World Bank loans, all debt relief conditional on African governments' permitting free FM radio stations. Africans will do the rest," he wrote ("Low Tech Democracy," The New York Times, May 1, 2001; p.A13). Sadly, Africans have not been able to do the rest because, currently, only 8 of the 54 African countries have a free media. In Ethiopia, for example, there is only one government-controlled radio station for 83 million people.
The criticisms aside Prof, what is it that makes you hopeful for Africa in 2013 and beyond?
I am hopeful about the Cheetah Generation: The Force for Positive Change in Africa. Watch out for the 2013 Cheetahs. They are a new breed of young and angry Africans, engineering a revolution to take back Africa – one village at a time. They just don't sit there and whine about Western colonialism, the slave trade and government dysfunction. Mentally agile and tech-savvy, they are taking the destiny of Africa into their own hands – setting up businesses, employing people and creating wealth with the abiding philosophy of poverty alleviation through entrepreneurship. We salute thee.
The list of 10:
1. Africa Straight Up http://www.youtube.com/watch?feature=player_embedded&v=qKUVfcXB14w
2. Camilla Barungi (Ugandan): http://tiny.cc/1e51f,
3. Emeka Okafor, Africa Unchained http://africaunchained.blogspot.com/, Timbuktu Chronicles http://timbuktuchronicles.blogspot.com/
4. Kwame Marfo http://d-cap.org/
5. Nii Simmonds (Nubian Cheetah) http://nubiancheetah.blogspot.com/2007/08/it-is-now-time-for-meso-financing-for.html
6. Oluwaseun Fakuade http://seunfakze.wordpress.com/
7. Uganda Sings http://www.reverbnation.com/UgandaSings
8. Mugure Mugo, a lady entrpreneur based in Nairobi, Kenya. http://www.odesk.com/groups/cheetahs
9. Sam Kodo, Togolese Cheetah builds robots http://bit.ly/KDfC3y
10. The Team at African Liberty http://www.africanliberty.org/content/about