George Clooney: Sudan Village Burnings A War Crime
By JASON STRAZIUSO*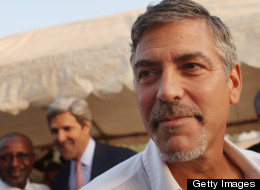 NAIROBI, Kenya — Actor George Clooney and a group of U.S. genocide scholars in the United States are warning that war crimes are taking place in an obscure conflict in Sudan's southern region.
Clooney has long worked to prevent conflict in Sudan and South Sudan, and he co-founded a group that uses satellite imagery to monitor acts of war there. That group, the Satellite Sentinel Project, said Thursday that 26 villages were intentionally set on fire last month by Sudanese forces.
"Razing a village is a war crime, and the torching of now at least 26 Nuban villages, plus the systematic destruction of crops and grasslands for cattle, is a crime against humanity, Clooney said. "What we're seeing here is a widespread campaign of village and crop burning. We've seen this in Darfur, and it's happening again in South Kordofan and Blue Nile," he said, referring to two states in southern Sudan that border the separate country of South Sudan.
"The international community must act more robustly to counter and create a consequence for these crimes," he said.
Sudanese troops are fighting rebels in the Nuba Mountains who were once aligned with what is now South Sudan. When South Sudan peacefully broke away from Sudan last year, following decades of civil war, the rebels' region was placed in the Sudan side, though many there say they wish they would have been put with South Sudan.
Antonov airplanes have routinely bombed the rebels' region over the last year, resulting in farmers fleeing their fields. John Prendergast, a co-founder of the satellite project, said Sudan is carrying out a strategy of "starvation warfare." More than 100,000 Nuba residents have fled across the border to refugee camps in South Sudan.
The United States under President George W. Bush played a large role in ending decades of conflict between Sudan and what is now South Sudan. But the fighting in Sudan's South Kordofan and Blue Nile states – between Sudanese forces and rebels known as the SPLM-North – is not generating much international attention by comparison.
Samuel Totten, a professor at the University of Arkansas and the author of "Genocide by Attrition: The Nuba Mountains of Sudan," leads an online discussion with scholars and human rights activists about events in Sudan. On Wednesday he submitted a letter signed by more than 70 scholars to the Atrocities Prevention Board, a U.S. government panel. President Barack Obama created the board in August 2011, when he declared that the prevention of mass atrocities and genocide to be a "core national security interest and core moral responsibility."
Totten's letter said Sudan is carrying out attacks in Nuba much like it once did in Darfur, a region in western Sudan that benefited from an international outcry against atrocities committed there. The letter said the U.S. and international community are doing little or nothing to prevent the violence, despite Obama's 2011 directive.
"There is a point, we believe, when it should become self-evident that the continuation of talk, talk and more talk with a state that has engaged in serial crimes against humanity, genocidal-like actions, ethnic cleansing … is all but a total waste of time," Totten wrote. "As hundreds of thousands of innocents needlessly suffer, there is a moral imperative that the continual `diplomatic' talking, negotiating, pleading, and ultimately begging with leaders of such openly deceptive and destructive strategies must be replaced by concrete and effective action … ."
Preventing a return to war between Sudan and South Sudan appears to be the international community's first priority. A border has not yet been defined, and major oil disagreements over the last year have seen the South half its oil production, costing its own government and that of Khartoum's millions of dollars in lost revenue. Border skirmishes broke out in April.
The U.S. special envoy to Sudan and South Sudan, Princeton Lyman, traveled to the region in late November. Lyman said that without ending the conflict in the Nuba Mountains it will be hard for Sudan and South Sudan to sort their outstanding issues. Khartoum accuses South Sudan of aiding the SPLM-N rebels, a charge officials in Juba, South Sudan's capital, deny.
"There has to be, and I think everybody really recognizes this, a political channel inside Sudan between the government and the SPLM-N, to bring this conflict to a close. And the first step has to be a cessation of hostilities," Lyman said.
E.J. Hogendoorn, a Horn of Africa expert at the International Crisis Group, a think tank that tracks conflicts, said Sudanese forces aren't strong enough to take the Nuba Mountains without heavy casualties, and the SPLM-N isn't strong enough to push outside of Nuba.
"You have a strategic stalemate that if the international community doesn't do anything about it could last for a very long time, and the knock on-effect is that the civilian population is going to get screwed," he said.
* Source Huffington Post