Total sells Nigeria oil stake to China's Sinopec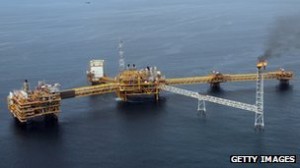 Total has announced the sale of its 20% stake in a Nigerian offshore oilfield to the Chinese state-owned Sinopec.
The French oil firm said its Chinese counterpart was paying $2.5bn (£1.6bn) for the stake in the OML 138 oil block.
The block includes the Usan oilfield, which began producing in February, and is jointly owned with Chevron, Exxon and Canada's Nexen.
Total said in September it aimed to sell $15bn-$20bn in oil assets by 2014 to raise cash for new projects.
The sale, which will be paid for in cash, still needs to be approved by the Nigerian authorities.
The Nigerian state oil company, NNPC, holds the concession on the oilfield.
"Usan accounts for less than 10% of the group's equity production in Nigeria," said Yves-Louis Darricarrère, who heads up Total's oil drilling business.
"This sale of an asset operated from a minority position will allow us to focus our resources on the material growth opportunities in Total's portfolio."
Sinopec's purchase is just the latest example of China buying up commodities and developing mineral resources in Africa.
However, it comes at a time when the Chinese economy has slowed its rapid growth. Last month, Sinopec reported a drop in profits in the three months to September, due to weak Chinese demand for petrochemicals.
*Source BBC